Saucony Flo50 XC Countdown: #21 UTEP Men
Saucony Flo50 XC Countdown: #21 UTEP Men
​Update: ​After publication, ​UTEP added freshmen Emmanuel Korir and Michael Saruni to its roster.Check out the Saucony Flo50 XC Countdown, where FloTrack r
Aug 5, 2016
by Dennis Young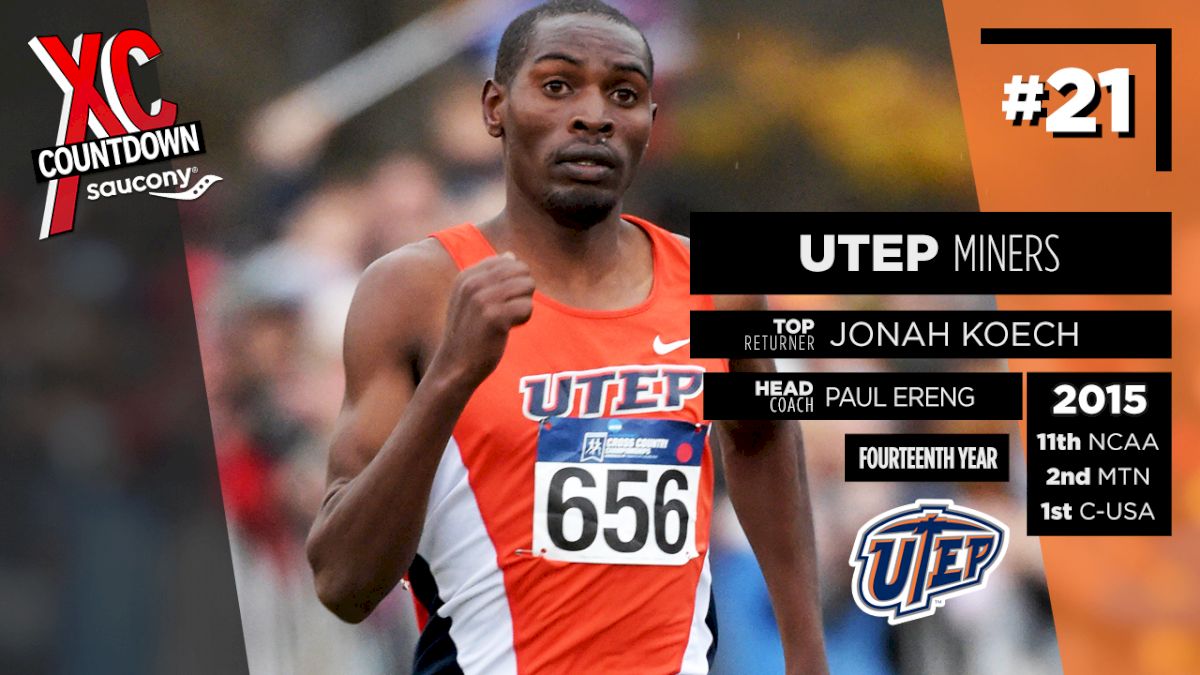 ​Update:
​After publication,
​UTEP added freshmen Emmanuel Korir and Michael Saruni to its roster.
Check out the Saucony Flo50 XC Countdown, where FloTrack ranks the top 31 cross country teams in the NCAA this season. The No. 21 spot goes to UTEP this year, and here's why:
Definite Top Five:
SO Jonah Koech (4:00 Mile; 11th at '15 NCAA XC)
SR Cosmas Boit (8:01 3K; 13:56 5K; 111th at '15 NCAA XC)
SO Antony Kosgei (14:21 5K; 30:20 10K; 108th at '15 NCAA XC)
SR Daniel Cheruiyot (14:28 5K; 31:05 10K; 192nd at '15 NCAA XC)
SR Evans Kiprono (14:53 5K; 31:09 10K; 245th at '15 NCAA XC)


Analysis:

UTEP
only has five men
on its roster this year--one less than last year after NCAA all-timer Anthony Rotich graduated from last year's 11th-place team. So if anyone gets a little banged up physically or in the classroom, the team's season is over. But if everyone stays healthy, the team's success will hinge on how much Cheruiyot and Kiprono improve.
Koech is a near-certain low stick. His 11th-place finish at last year's NCAA meet was the only race of his
entire freshman year
in which he finished outside the top 10. Boit and Kosgei have the potential to be top-75 finishers, though their track seasons were a little rocky--Boit ran 25 seconds slower in the 5K than he did in 2015, and Kosgei only raced six times total.
But any questions surrounding Boit and Kosgei pale in comparison to the ones following Cheruiyot and Kiprono. The two are seniors (TFRRS lists Cheruiyot as a junior, but he ran for Florida A&M for a year before transferring to UTEP) who have never broken 31:00 for 10K on the track, much less in cross country--for comparison, 31:00 on the grass would not have broken the top 100 at NCAAs last year. There is one reason to believe the duo can step up and become elite for UTEP this year, though: Their improvement curves are unusually steep. When they got to El Paso, both were incredibly raw. Kiprono ran a 27:55 8K and 9:09 3K in his first year as a collegian, and Cheruiyot ran multiple 3Ks over 8:40 in his first year with the Miners. They've both improved by huge amounts already, and if that trend continues, UTEP has a chance to make NCAAs and beat its ranking.
Previously:

#22 Oklahoma State
#23 Michigan

#24 Washington State
#25 Michigan State
#26 Villanova
#27 Louisville
#28 Tulsa
#29 Iowa State
#30 Illinois
#31 North Carolina State
Watch UTEP coach Paul Ereng win the 1988 Olympic 800m (and get misidentified by the announcers):