Saucony Flo50 XC Countdown: #20 Portland Men
Saucony Flo50 XC Countdown: #20 Portland Men
Check out the Saucony Flo50 XC Countdown, where FloTrack ranks the top 31 cross country teams in the NCAA this season. The No. 20 spot goes to Portland this
Aug 5, 2016
by Gordon Mack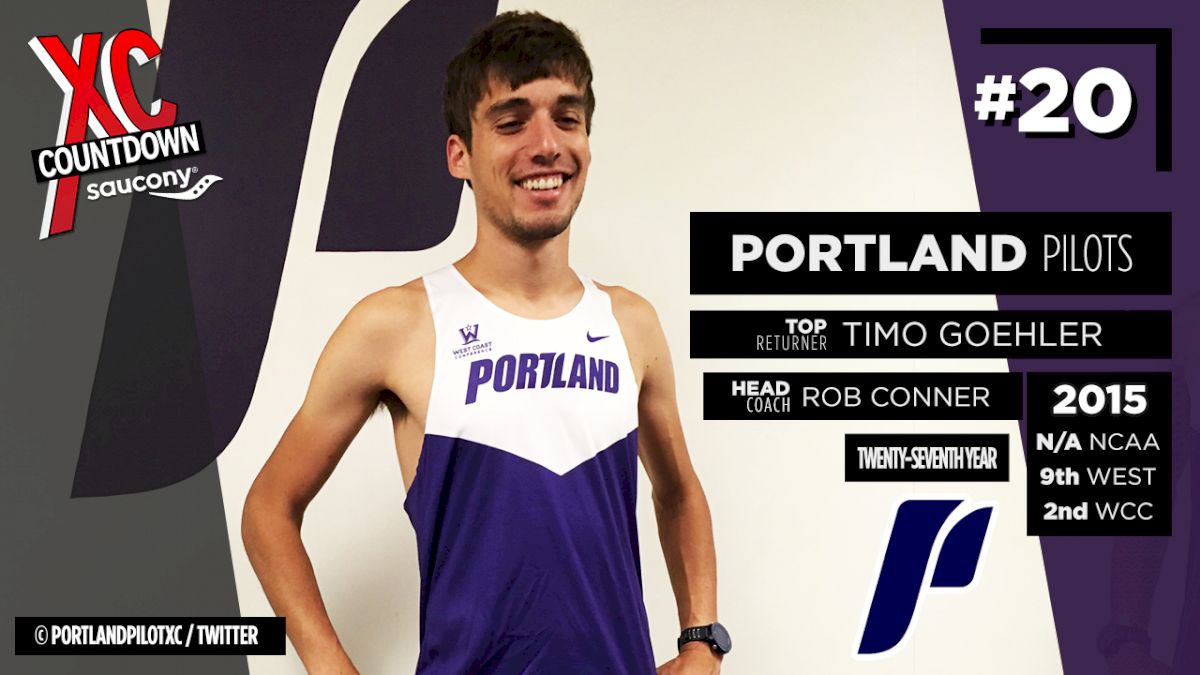 Check out the Saucony Flo50 XC Countdown, where FloTrack ranks the top 31 cross country teams in the NCAA this season. The No. 20 spot goes to Portland this year, and here's why:
Probable Top Four:
SR Timo Goehler (14:03 5K; 28:47 10K; 44th at '14 NCAA XC)
SR Danny Martinez (14:15 5K; 29:27 10K; 59th at '14 NCAA XC)
SR Alex Dillard (14:06 5K; 29:05 10K; 48th at '15 NCAA West XC)
JR Jeff Thies (8:14 3K; 14:11 5K; 21st at '15 NCAA West XC)
Fifth Man Battle:
SO Nick Hauger (8:14 3K; 14:03 5K; 46th at '15 NCAA West XC)
SO Gabe Haughey (14:16 5K; 29:45 10K; 57th at '15 NCAA West XC)
FR Caleb Webb (4:11 1600; 8:47 3200; 3rd at '14 NXN; Redshirted 2015-16)
FR Tristan Peloquin (4:13 1600; 9:04 3200; Redshirted 2015-16)
Impact Freshmen/Transfers:
FR Reuben Kiprono via Kenya (29:51 10K; Arrived Jan 2016)
Head coach Rob Conner's last two seasons were polar opposites. In 2014, the Pilots reached the podium for the first time in program history by taking third. In 2015, the team failed to qualify for NCAAs due to injuries and graduation. But 2016 looks to be their comeback year, as the Pilots return a strong and healthy squad ready to get back to Terre Haute, Indiana. The Pilots are led by senior duo Timo Geohler and Danny Martinez. Geohler and Martinez were both part of the 2014 squad finishing 44th and 59th, respectively. Look for them to lead the charge along with fellow upperclassmen Alex Dillard and Jeff Thies.
The X-factors for the Pilots will be redshirt freshman Caleb Webb and freshman transfer Reuben Kiprono. Webb was a star in high school who ran 8:47 in the 3200m and finishing third at NXN. With a year of redshirt training under his belt, he could be a strong top-five runner for the Pilots. Kiprono arrived on campus back in January from Kenya, and ran a sub-30 10k at the West Coast Invitational. He remains an unknown for now, but could become a factor for the Pilots this season.
Previously:
#21 UTEP
#22 Oklahoma State
#23 Michigan

#24 Washington State
#25 Michigan State
#26 Villanova
#27 Louisville
#28 Tulsa
#29 Iowa State
#30 Illinois
#31 North Carolina State