Saucony Flo50 XC Countdown: #19 Boise State Men
Saucony Flo50 XC Countdown: #19 Boise State Men
Check out the Saucony Flo50 XC Countdown, where FloTrack ranks the top 31 cross country teams in the NCAA this season. The No. 19 spot goes to Boise State t
Aug 6, 2016
by Dennis Young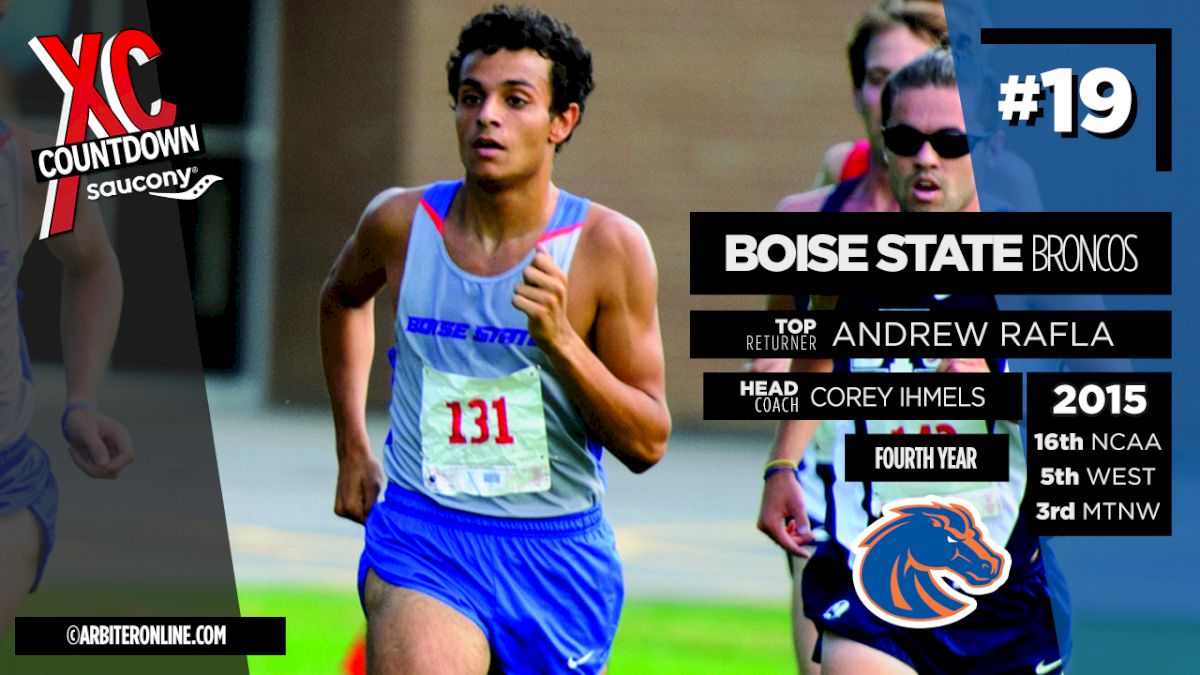 Check out the Saucony Flo50 XC Countdown, where FloTrack ranks the top 31 cross country teams in the NCAA this season. The No. 19 spot goes to Boise State this year, and here's why:
Probable Top Four:
SO Andrew Rafla (7:57 3K; 14:01 5K; 83rd at '14 NCAA XC)
JR Michael Vennard (13:51 5K; 29:55 10K; 58th at '15 NCAA XC)
JR Louis McAfee (14:15 5K; 30:22 10K; 99th at '15 NCAA XC)
JR Yusuke Uchikoshi (8:14 3K; 13:59 5K)
Fifth Man Battle:

JR Rhys Park (8:16 3K; 14:14 5K; 120th at '15 NCAA XC)
SO Addison DeHaven (8:11 3K; 167th at '15 NCAA XC)
SO Chandler Austin (14:30 5K; 31:10 10K; 168th at '15 NCAA XC)
FR Miler Haller (14:12 5K; 30:19 10K)
Impact Freshmen/Transfers:

SO Albert Meier via Butler Community College (14:30 5K)


Analysis:

Boise State returns six of its top seven from last year's 16th-place NCAA team as top returner Elijah Armstrong is going on a Mormon mission. The question of the year for the Broncos is if what they've added will make up for temporarily losing Armstrong. Andrew Rafla redshirted last fall and looks to be back on his 83rd-place 2014 form, as he ran 7:57 and 14:01 on the track.
Miler Haller--an early contender for the best name of the 2016 XC season--also redshirted his freshman cross season and ran 14:12 and 30:19 on the track. He could be ready for the sophomore leap.
The biggest potential addition, though, is Yusuke Uchikoshi, who signed with the Broncos in December and will make his cross country debut as a junior this fall. Uchikoshi ran 13:59 and 8:14 in high school in Japan in 2011 and 2012, and originally signed with
Indiana in 2013
but never ran a race for the Hoosiers. (For context, only eight American high school boys have ever broken 14:00 for 5K.) His 2016 track season for Boise was not quite up to that standard. He ran a solid but unspectacular 8:19 and 14:13 this spring, and if he can run to his ability, then the Broncos have four potential top-100 finishers in Terre Haute this fall.
If not, the cabinet is still plenty full. Rhys Park, Addison DeHaven, and Chandler Austin all ran at NCAAs last year and come back with another year of experience.
​
​​Previously:
#20 Portland

​
​#21 UTEP
​
#22 Oklahoma State
#23 Michigan

#24 Washington State
#25 Michigan State
#26 Villanova
#27 Louisville
#28 Tulsa
#29 Iowa State
#30 Illinois
#31 North Carolina State