Saucony Flo50 XC Countdown: #17 Indiana Men
Saucony Flo50 XC Countdown: #17 Indiana Men
Check out the Saucony Flo50 XC Countdown, where FloTrack ranks the top 31 cross country teams in the NCAA this season. The No. 17 spot goes to Indiana this
Aug 7, 2016
by Gordon Mack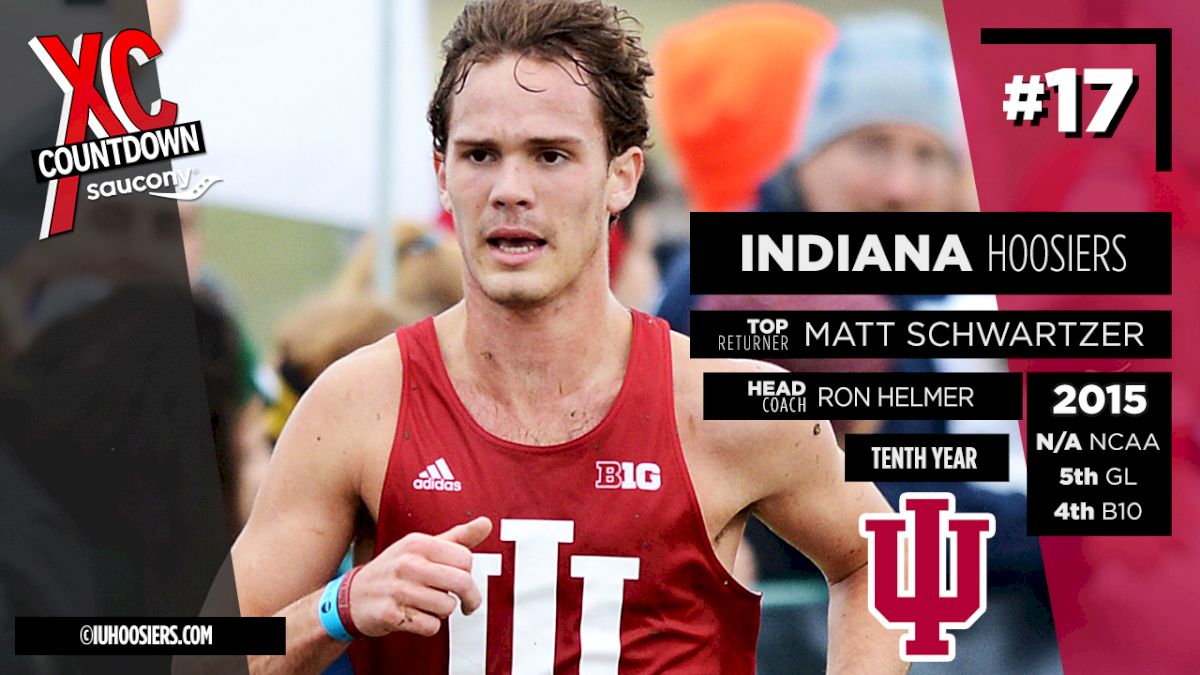 Check out the Saucony Flo50 XC Countdown, where FloTrack ranks the top 31 cross country teams in the NCAA this season. The No. 17 spot goes to Indiana this year, and here's why:
Probable Top Four:
SR Matthew Schwartzer (7:59 3K; 13:56 5K: 29:32 10K; 43rd at '14 NCAA XC)
FR Ben Veatch (4:08 1600; 8:50 2 Mile; 3rd at '15 FL XC; 2nd at '15 NXN)
SR Jason Crist (8:04 3K; 13:58 5K; 8:51 3K SC; 65th at '14 NCAA XC)
SR Mark Chandler (8:05 3K; 13:59 5K)
Fifth Man Battle:
FR Bryce Millar (14:12 5K)
JR Jeremy Coughler (14:00 5K; 8:58 3K SC)
SR Carl Smith (8:09 3K; 52nd at '13 NCAA XC)
Impact Freshmen/Transfers:
Ben Veatch via Carmel, IN (4:08 1600; 8:50 2 Mile; 3rd at '15 FL XC; 2nd at '15 NXN)
Cameron Clements via Fort Wayne, IN (4:15 Mile; 9:07 3200)
Griffin Tichenor via Villanova University (9:07 3200)
Analysis:
Ron Helmer's Indiana men have the ingredients to be a strong team in 2016 with senior leadership, team depth, and a 5-star freshman recruit.
Four seniors lead the way with NCAA experience and strong personal bests. Matthew Schwartzer has run 13:56 in the 5K and was 43rd at NCAAs two years ago. Jason Crist and Mark Chandler have run sub-14 in the 5k. And, Carl Smith who was 52nd overall at NCAAs his redshirt freshman year returns from injury as a redshirt senior. These four men will be looked upon to lead the Hoosiers back to Terre Haute in 2016.
Coach Helmer will also look upon incoming 5-star recruit, Ben Veatch. Veatch was an absolute stud in high school running a 4:08 1600, 8:50 2-mile, and a top three finish at Foot Locker, NXN and Brooks PR 2 Mile. Veatch was the third best all-around recruit behind Drew Hunter (pro) and Micheal Slagowski (Penn State). If Veatch is able to make a quick transition to the 8k/10k distance the Hoosiers might have a future all-american freshman on their squad.
Previously:

#18 Oklahoma
#19 Boise State
#20 Portland
#21 UTEP
#22 Oklahoma State
#23 Michigan
#24 Washington State
#25 Michigan State
#26 Villanova
#27 Louisville
#28 Tulsa
#29 Iowa State
#30 Illinois
#31 North Carolina State