Saucony Flo50 XC Countdown: #15 Washington Men
Saucony Flo50 XC Countdown: #15 Washington Men
Check out the Saucony Flo50 XC Countdown, where FloTrack ranks the top 31 cross country teams in the NCAA this season. The No. 15 spot goes to Washington th
Aug 8, 2016
by Gordon Mack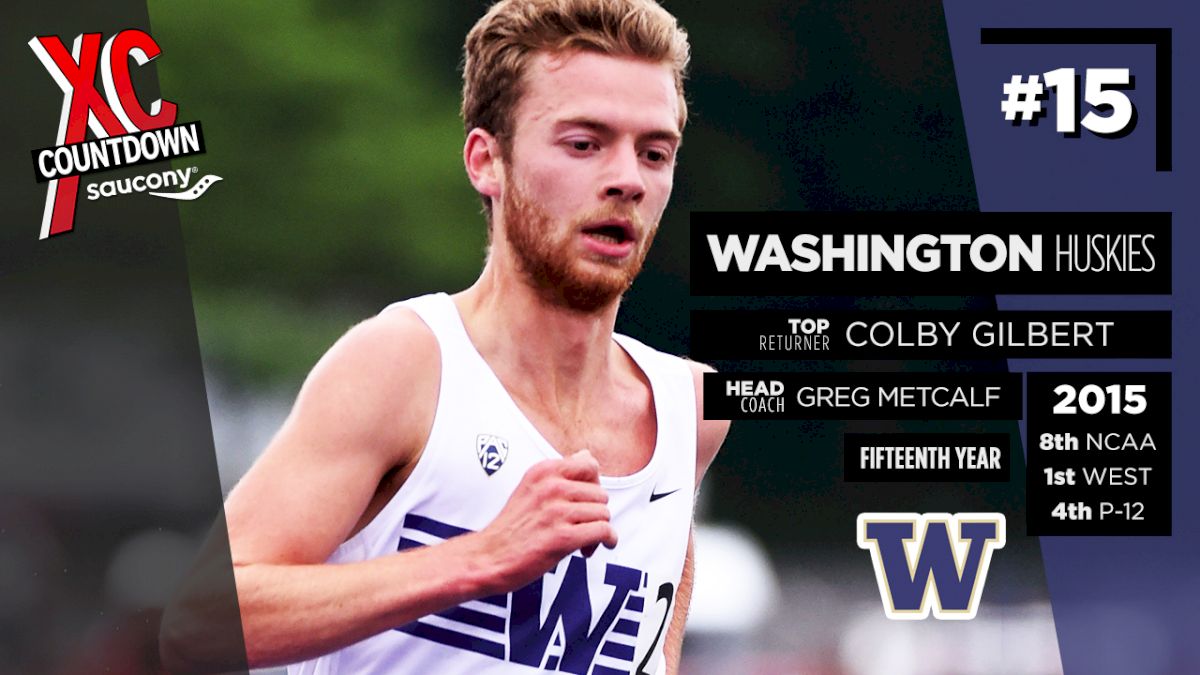 Check out the Saucony Flo50 XC Countdown, where FloTrack ranks the top 31 cross country teams in the NCAA this season. The No. 15 spot goes to Washington this year, and here's why:
Probable Top Six:
JR Colby Gilbert (3:59 Mile; 7:49 3K; 13:35 5K; 32nd at '15 NCAA XC)
JR Fred Huxham (8:08 3K; 13:44 5K; 100th at '15 NCAA XC)
JR Andrew Gardner (8:44 3K SC; 13:59 5K; 96th at '15 NCAA XC)
JR Johnathan Stevens (13:57 5K; 178th at '15 NCAA XC)
SR Blake Nelson (4:00 Mile)
SO Mahmoud Moussa (8:19 3K; 14:25 5K; 237th at '15 NCAA XC)
Impact Freshmen/Transfers:
David Strome via Colleyville, TX (9:12 3200)
Nathan Beamer via Arlington, WA (9:11 3200; 2nd at '15 3A WIAA XC)
Nicholas Laccinole via Kenmore, WA (4:10 1600; 9:06 3200)
Analysis:
A few months ago, we
highlighted
the rise of Washington's distance program after they dominated the Pac-12 Championships in May. Head coach Greg Metcalf will look to ride his team's momentum into the 2016 cross country season with a squad of five upperclassmen. The Huskies will have a solid low stick in junior Colby Gilbert, who came on strong this past year by setting PBs of 3:59, 7:49, 13:35 and
beating King Cheserek
on his home track. Gilbert was a modest 32nd at NCAAs last year, but look for him to be a top-20 guy in Terre Haute, Indiana.
After Gilbert, fellow juniors Fred Huxham, Andrew Gardner and Johnathan Stevens will be vital. All three have run sub-14 minutes in the 5K. With another year of NCAA experience under their belts, these three plus Gilbert make a formidable top four.
The Achilles heel for the Huskies will be their fifth man. Two potential fifth men are sophomore Mahmoud Moussa, who was 237th last year for the Huskies, and senior Blake Nelson, who ran 4:00 for the mile, but has yet to show range in the 8K/10K. If the Huskies want to be back in the top 10, they certainly will need a breakout season from one of these men, or have an incoming freshman such as Nathan Beamer or Nicholas Laccinole step up.
Previously:

#16 Furman
#17 Indiana
#18 Oklahoma
#19 Boise State
#20 Portland
#21 UTEP
#22 Oklahoma State
#23 Michigan
#24 Washington State
#25 Michigan State
#26 Villanova
#27 Louisville
#28 Tulsa
#29 Iowa State
#30 Illinois
#31 North Carolina State