Saucony Flo50 XC Countdown: #14 BYU Men
Saucony Flo50 XC Countdown: #14 BYU Men
Check out the Saucony Flo50 XC Countdown, where FloTrack ranks the top 31 cross country teams in the NCAA this season. The No. 14 men's spot goes to Brigham
Aug 8, 2016
by Dennis Young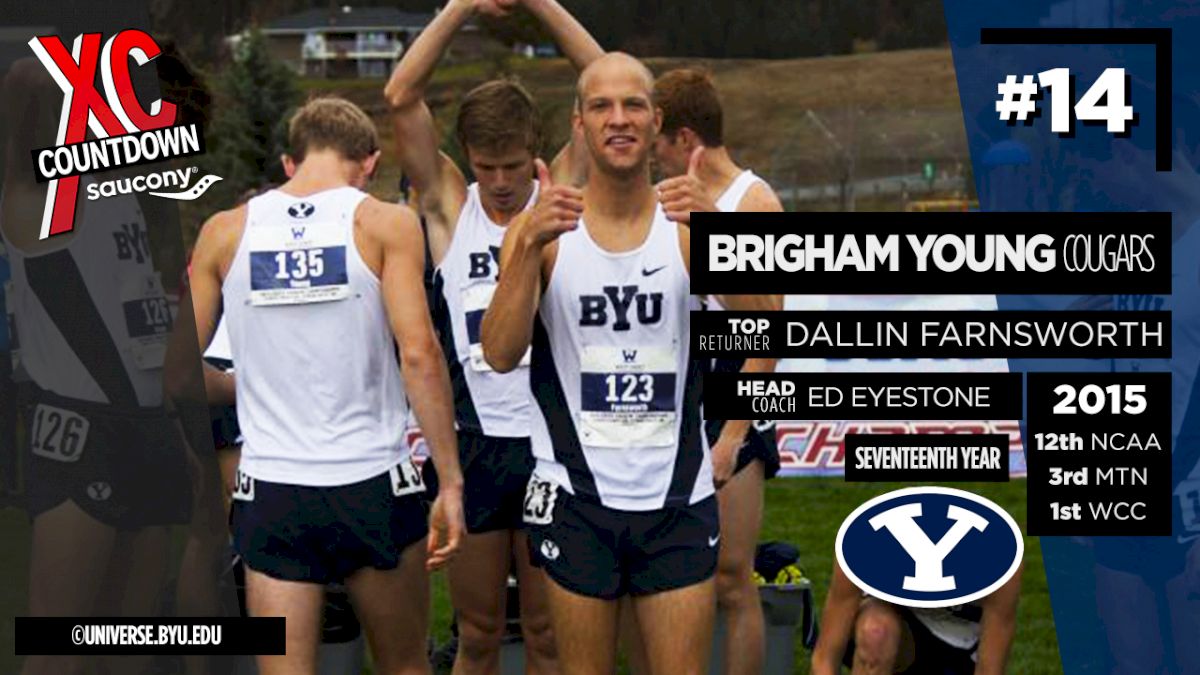 Check out the Saucony Flo50 XC Countdown, where FloTrack ranks the top 31 cross country teams in the NCAA this season. The No. 14 men's spot goes to Brigham Young this year, and here's why:
Probable Top Three:
SO Dallin Farnsworth (13:53 5K; 29:25 10K; 74th at '15 NCAA XC)
SO Rory Linkletter (8:07 3K; 13:52 5K)
JR Connor McMillan (13:53 5K; 29:12 10K; 84th at '15 NCAA XC)
Fourth/Fifth Man Battle:

JR Spencer Hanson (14:13 5K; 29:22 10K)
JR Jonathan Harper (8:00 3K; 14:16 5K; 29:26 10K; 225th at '15 NCAA XC)
JR Dallin Taylor (9:08 3K SC; 132nd at '15 NCAA XC)
SO Clayton Young (14:04 5K; 29:34 10K)
Impact Freshmen/Transfers:
Logan Mackay via Kaysville, UT (1:49 800; 4:13 1600)
Will Handley via Orem, UT (9:04 3200; 25th at '15 NXN)
Note: BYU does not have any freshmen or transfers listed on its 2016 roster.

Analysis:
BYU loses runners Nos. 2, 5, and 6 from last year's 12th-place squad. But our preseason projections only have that resulting in a two-slot slide, because the graduating trio is nearly cancelled out by the addition of three men who didn't run cross country last year. Check out the tradeoff:
​Coming

Rory Linkletter (8:07/13:52), Spencer Harper (14:16/29:26), Clayton Young (14:04/29:34)
​Going
​

Aaron Fletcher (8:36 SC/13:55), Nicolas Montanez (14:38/29:56), Dylan Shawhan (8:19/13:58)
Add Linkletter, Harper, and Young to a quartet that ran at NCAAs last fall, and BYU truly goes seven deep. The Cougars were 12th a year ago thanks to a 39-second spread that separated their first runner from their fifth; this year's scoring will be a little different. Farnsworth, Linkletter, and McMillan are all capable of finishing in the top 70, which would add up to roughly 150 points if all three finished in the 60-70 range. If BYU can get two of Hanson, Harper, Taylor, and Young to score 100 points or less in the team scoring (125th overall), then that's 350 points--which would have been 10th place last year.
Taylor, the most proven XC runner in that group--he was 132nd in Louisville--had a quiet track season in which he ran just five steeples with the last two slower than 9:30. But Hanson, Harper, and Young all ran 29:34 or faster for 10K this spring. That makes them one of two teams in the country with four returners that fast at 10K in 2016. The other is Northern Arizona, who you'll see in the top 10 of these rankings.
Previously:

​#15 Washington

#16 Furman
#17 Indiana
#18 Oklahoma
#19 Boise State
#20 Portland
#21 UTEP
#22 Oklahoma State
#23 Michigan
#24 Washington State
#25 Michigan State
#26 Villanova
#27 Louisville
#28 Tulsa
#29 Iowa State
#30 Illinois
#31 North Carolina State