Saucony Flo50 XC Countdown: #12 Virginia Men
Saucony Flo50 XC Countdown: #12 Virginia Men
Check out the Saucony Flo50 XC Countdown, where FloTrack ranks the top 31 cross country teams in the NCAA this season. The No. 12 men's spot goes to Virgini
Aug 9, 2016
by Dennis Young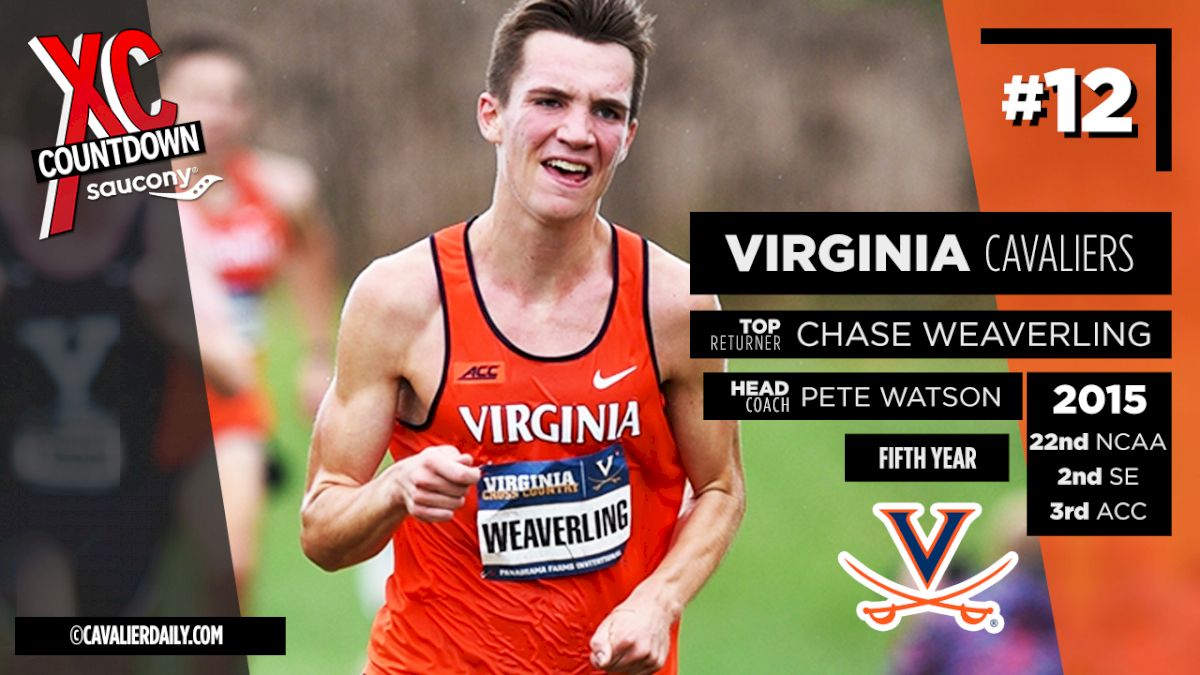 Check out the Saucony Flo50 XC Countdown, where FloTrack ranks the top 31 cross country teams in the NCAA this season. The No. 12 men's spot goes to Virginia this year, and here's why:
Probable Top Five:
JR Chase Weaverling (14:01 5K; 29:39 10K; 55th at '15 NCAA XC)
JR Henry Wynne (3:38 1500; 7:53 3K; 13:49 5K; 59th at '15 NCAA XC)
SR Zach Herriott (13:57 5K; 29:08 10K; 171st at '15 NCAA XC)
JR Brent Demarest (14:09 5K; 29:24 10K; 166th at '15 NCAA XC)
SR Thomas Madden (13:57 5K; 29:54 10K; 150th at '15 NCAA XC)
Impact Freshmen/Transfers:
Lachlan Cook via Australia (8:15 3K)
Analysis:
Virginia has all five of its scorers from last year's meet, and no obvious candidates from the track season or its recruiting class to break into the top five. So assessing the squad's chances in 2016 should be as easy as checking in on how their top five have performed since racing in Louisville last November.
Chase Weaverling: PR'd in the 5K, broke 30:00 in the 10K. ​
Should be at least as good as last year​.​
Henry Wynne: Had a massive breakout season by winning the NCAA indoor mile, finishing third in the outdoor 1500m behind Clayton Murphy and Izaic Yorks, reducing 3K PR by about 30 seconds, made 5K debut in 13:49. ​
Should be a bit better than last year.
​Zach Herriott: Only ran four indoor races, but two of them were an 11-second 3K PR and 20-second 5K PR. ​
Wild card based on health.
Brent Demarest: Mostly killed it. Had a rough ending with 14:48/31:34 double at ACCs, but lowered 10K PR by eight seconds and 5K PR by five.
​Should be slightly better than last year.

Thomas Madden: Has raced zero times since XC nationals.
​Total wild card​.​
Applying those extremely scientific calculations to last year's results puts Weaverling at 40 points, Wynne at 34, and Demarest at 110. Leaving Herriott at 119 and Madden at 138--what they scored last November--would be 441 points, which would have been good for 17th place. 17th could reasonably represent a midpoint of the Cavaliers' potential--meaning a great day in Terre Haute would be 10th place and a nightmare day would be 24th. On the balance, we're betting on Weaverling and Wynne being really low sticks, Demarest being a reliable No. 3, and the Hoos being able to cobble together the last two spots to get close to the high end of their potential.​
Previously:

#13 Mississippi

#14 BYU

#15 Washington

#16 Furman
#17 Indiana
#18 Oklahoma
#19 Boise State
#20 Portland
#21 UTEP
#22 Oklahoma State
#23 Michigan
#24 Washington State
#25 Michigan State
#26 Villanova
#27 Louisville
#28 Tulsa
#29 Iowa State
#30 Illinois
#31 North Carolina State