Saucony Flo50 XC Countdown: #9 Northern Arizona Men
Saucony Flo50 XC Countdown: #9 Northern Arizona Men
Check out the Saucony Flo50 XC Countdown, where FloTrack ranks the top 31 cross country teams in the NCAA this season. The No. 9 men's spot goes to Northern
Aug 11, 2016
by Dennis Young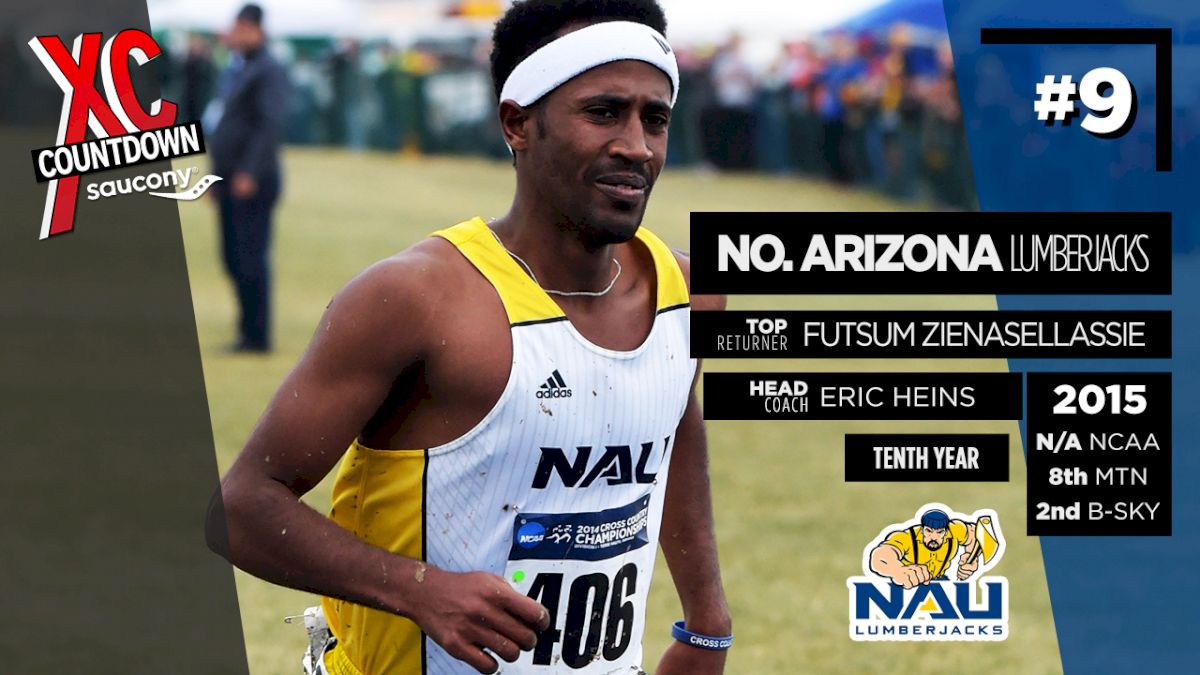 Check out the Saucony Flo50 XC Countdown, where FloTrack ranks the top 31 cross country teams in the NCAA this season. The No. 9 men's spot goes to Northern Arizona this year, and here's why:
Probable Top Four:
SR Futsum Zienasellassie (13:37 5K; 27:52 10K; 2nd at '16 NCAA 10K; 3rd at '14 NCAA XC)
JR Cory Glines (13:58 5K; 29:11 10K)
SO Tyler Day (14:05 5K; 29:06 10K; 14th at '15 NCAA Mountain XC)
SR Nathan Weitz (7:56 3K; 13:55 5K; 118th at '14 NCAA XC)
Fifth Man Battle:

JR Matt Baxter (14:10 5K; 29:19 10K)
SO Geordie Beamish (14:10 5K)
Impact Freshmen/Transfers:
Blaise Ferro via Lincroft, NJ (9:03 3200; 20th at '15 NXN)
Analysis:
Futsum Zienasellassie will finish first, second, or third in the team scoring, which makes the math extremely simple for NAU. If their other four scorers cobble together roughly 330 points in the team scoring, that's typically good for a top-10 finish (10th place in the men's NCAA Championship race the last seven years: 352, 335, 329, 327, 282, 329, 354). That would be an average of 82.5 points for runners Nos. 2-5; 82 points was the score for the 104th finisher at last year's NCAA meet.
So, can the Lumberjacks squeeze four top-100 finishes out of Cory Glines, Tyler Day, Nathan Weitz, Matt Baxter, and Geordie Beamish?
The answer seems like a resounding yes. Weitz was 118th at 2014 NCAAs and has only improved since then. Day, Glines, and Baxter were 21st, 32nd, and 48th on the 2016 descending order list in the 10K; nearly half of the athletes ahead of Baxter on the national 10K list were seniors. And this is all without throwing in Beamish--who, like Baxter--joined NAU from New Zealand. Beamish has serious talent--he's the younger brother of Villanova alum Hugo Beamish, who was in the top 85 at NCAAs in 2008 and 2009.
There's a tremendous amount of pressure on this season. NAU redshirted its studs last fall with the intent of loading up for this year, and it's head coach Eric Heins'
last season
as head coach--he's leaving after the 2017 track season.
This is the last countdown entry before taking a break for the Olympics. We'll resume with the men's and women's top eight on Monday, August 22.
Previously:

#10 Colorado State

#11 Eastern Kentucky

#12 Virginia

#13 Mississippi

#14 BYU

#15 Washington

#16 Furman
#17 Indiana
#18 Oklahoma
#19 Boise State
#20 Portland
#21 UTEP
#22 Oklahoma State
#23 Michigan
#24 Washington State
#25 Michigan State
#26 Villanova
#27 Louisville
#28 Tulsa
#29 Iowa State
#30 Illinois
#31 North Carolina State