2016 Olympic Games
Eliud Kipchoge Wins Olympic Marathon, Galen Rupp Takes Bronze
Eliud Kipchoge Wins Olympic Marathon, Galen Rupp Takes Bronze
Eliud Kipchoge won the Olympic marathon with a searing last nine miles, and Galen Rupp capped a spectacular Games for American distance running with a bronz
Aug 21, 2016
by Dennis Young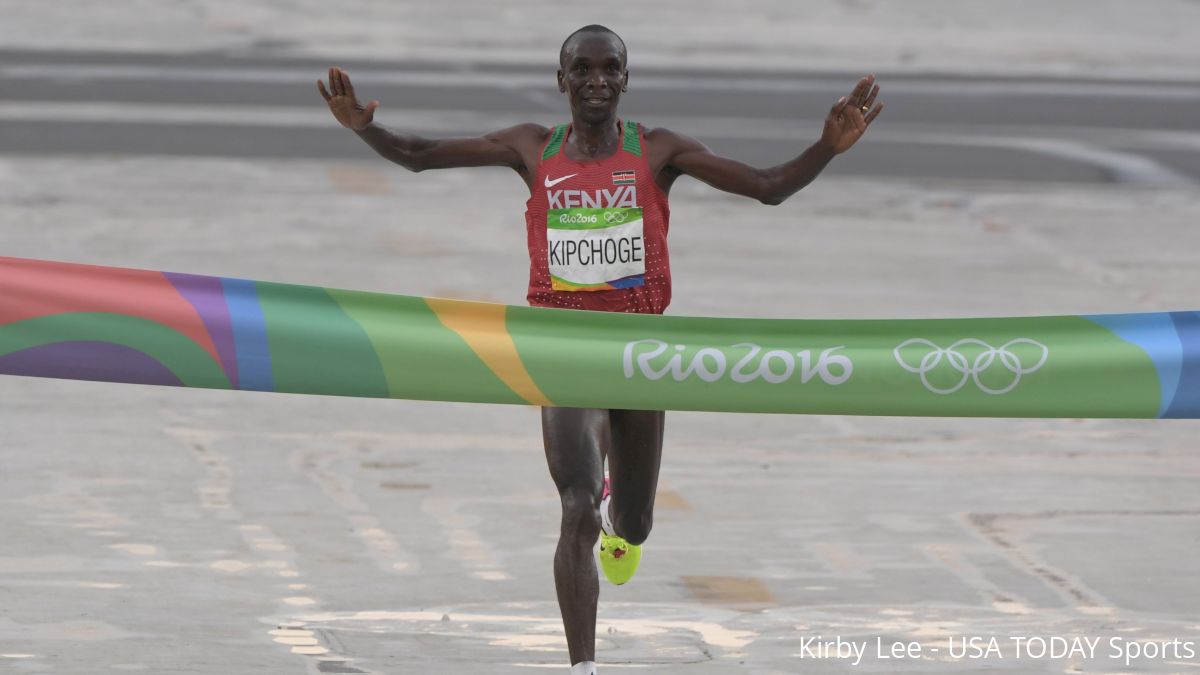 Eliud Kipchoge won the Olympic marathon with a searing last nine miles, and Galen Rupp capped a spectacular Games for American distance running with a bronze medal. Feyisa Lilesa was second. American Jared Ward ran a PR for sixth place, while Meb Keflezighi was 33rd in 2:16:46 with apparent stomach problems.
​Results
​:
​
1. 2:08:44 Eliud Kipchoge (Kenya)
2. 2:09:54 Feyisa Lilesa (Ethiopia)
3. 2:10:05 Galen Rupp (USA)
4. 2:11:04 Ghirmay Ghebreslassie (Eritrea)
5. 2:11:15 Alphonce Felix Simbu (Tanzania)
6. 2:11:30 Jared Ward (USA)
33. 2:16:46 Meb Keflezighi (USA)

Rupp's 5K splits were 15:32, 15:38, 15:44, 15:35, 15:44, 15:02, 14:26, 15:31, 6:53 (2.2K). Kipchoge's splits were the same for the first 35K, but he ran 14:44 from 35K to 40K and 6:20 from 40K to the finish. Complete 5K splits for every finisher are embedded at the bottom of the article.

Kipchoge's half splits were 65:55, 62:49. The negative split all came in the last nine miles, as Kipchoge abruptly cranked the pace from roughly five-minutes miles down to a 4:45 nineteenth mile. From there, things only got spicier. He covered 30K to 35K in 14:25, and then ran his 22nd and 23rd miles in 9:13--roughly 4:36 pace for approximately miles 18-23.

After 17 miles at 5:00ish pace, a dozen men were in the lead pack. The first surge knocked that down to seven--the three medalists plus Kenyans Stanley Biwott and Wesley Korir, Ethiopian Lemi Berhanu, and Ugandan Solomon Mutai.

97 minutes into the race--just after the 19-mile mark--Kipchoge tossed his hat off the course with a comically exaggerated motion. His surge after that dropped everyone but Rupp, Lilesa, and Berhanu; at 20 miles, Berhanu dropped out.

Lilesa and Rupp were tracking Kipchoge's every step, until they weren't. At 35K/right before 22 miles, Rupp dropped off hard, and at roughly 36K/right after 22 miles, Lilesa fell off. Only Kipchoge could sustain the grind.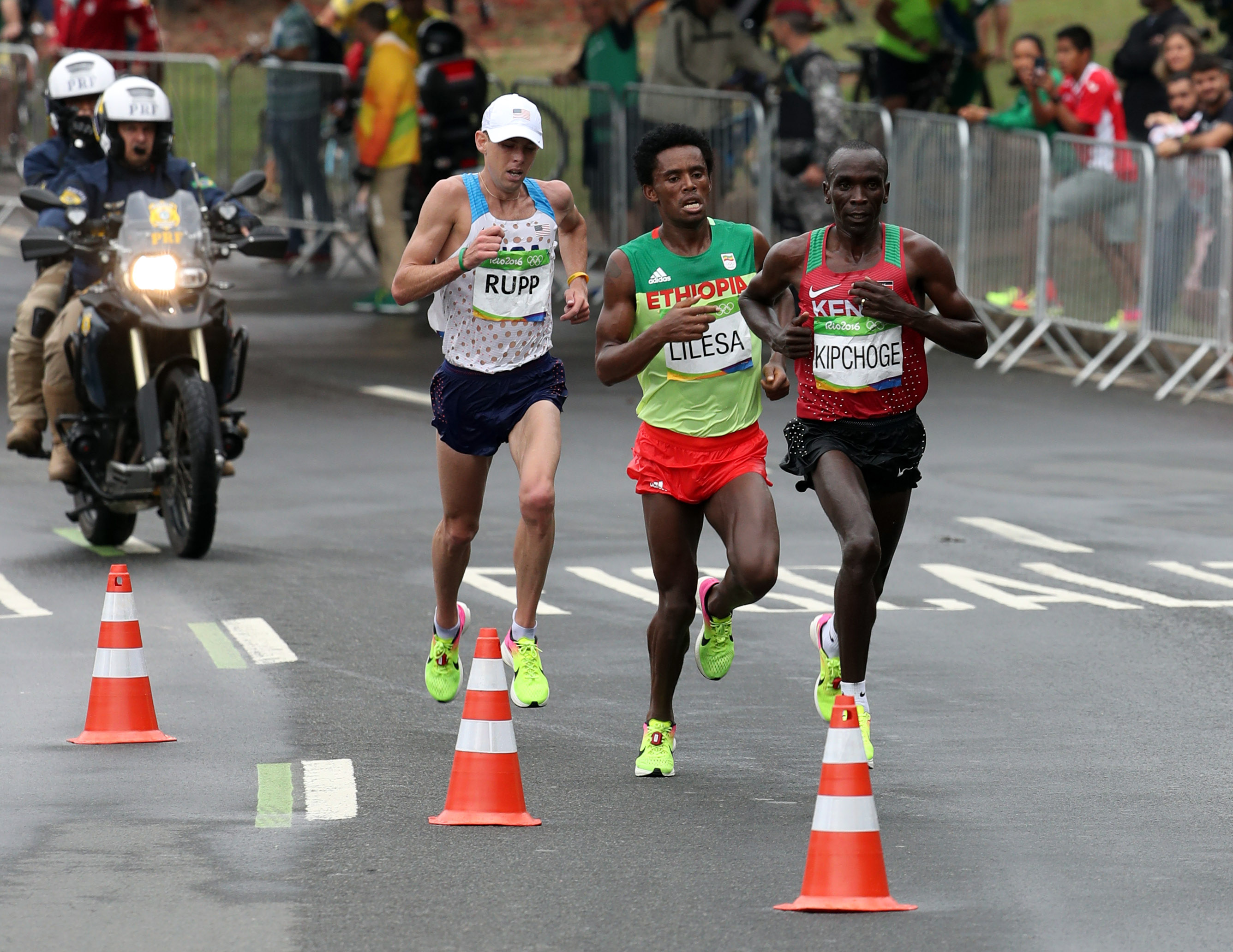 The Kenyan gapped Lilesa and Rupp by 70 seconds in the last 4+ miles, which is the largest margin of victory in a men's Olympic marathon since Frank Shorter's two-minute win in 1972.

This is the apex of a marathon career that began for Kipchoge after he finished seventh in the 5K at the 2012 Kenyan Olympic trials. He debuted in 2013 with a 2:05:30 win in Hamburg. Since then, his marathons have gone, in order:

2:04:05 (second in Berlin)
2:05:00 (Rotterdam win)
2:04:11 (Chicago win)
2:04:42 (London win)
2:04:00 (Berlin win)
2:03:05 (London win, #2 all time)
2:08:44 (Olympic gold medal)

It was an obviously painful last four miles for Rupp and Lilesa. The closing miles of the course featured hairpin turns around cones in the road and 90-degree turns around the Museum of Tomorrow. Every time the camera showed Rupp taking one of those hairpin turns in the last 20 minutes of the race, he took it broadly and uncomfortably. But Rupp gutted out bronze in only his second career marathon. He finished just 11 seconds behind Lilesa, who sports a 2:04:52 PR and won in Tokyo earlier this year.

Kipchoge and Rupp are both converted track runners. Kipchoge took bronze and silver in the 2004 and 2008 Olympic 5Ks, while Rupp took silver in the 2012 Olympic 10K and fifth in the 10K in Rio. Kipchoge appeared to say after the race that he believed that Rupp would eventually break the marathon world record. He said it once, and then NBC's Lewis Johnson asked him for clarification, and he said it again.


Olympic Champ Eliud Kipchoge just said "I expect him (Galen Rupp) to run the fastest time ever in the marathon" #Rio2016

— FloTrack (@FloTrack) August 21, 2016

Rupp, meanwhile, said after the race that he was the track equivalent of Happy Gilmore--a hockey player who refused to admit that he was actually a golfer--because he wants to be a track runner, but the marathon is his best event.

It was only Rupp's second career marathon after winning the Olympic Trials in 2:11 in February. His bronze is part of an unforgettable Olympic performance for American distance, particularly the men, who medalled in every distance event except for the 10K. Here's the full list of distance medals:
Gold
: Matt Centrowitz, men's 1500m
​Silver
: Evan Jager, men's 3000m steeplechase ​
​
Silver
: Paul Chelimo, men's 5000m
Bronze: Jenny Simpson, women's 1500m ​​​
Bronze: Emma Coburn, women's 3000m steeplechase ​​
Bronze: Clayton Murphy, men's 800m​
​Bronze​: Galen Rupp, marathon​

Molly Huddle also broke the American record in the 10K, while Rupp and Centrowitz's Oregon Project teammate Mo Farah won the 5K and 10K. Somehow, Alberto Salazar's athletes topped the Farah-Rupp 1-2 finish from the London 10K.​