Sauncony Flo50 XC Countdown: #8 Wisconsin Men
Sauncony Flo50 XC Countdown: #8 Wisconsin Men
Check out the Saucony Flo50 XC Countdown, where FloTrack ranks the top 31 cross country teams in the NCAA this season. The No. 8 men's spot goes to Wisconsi
Aug 22, 2016
by Gordon Mack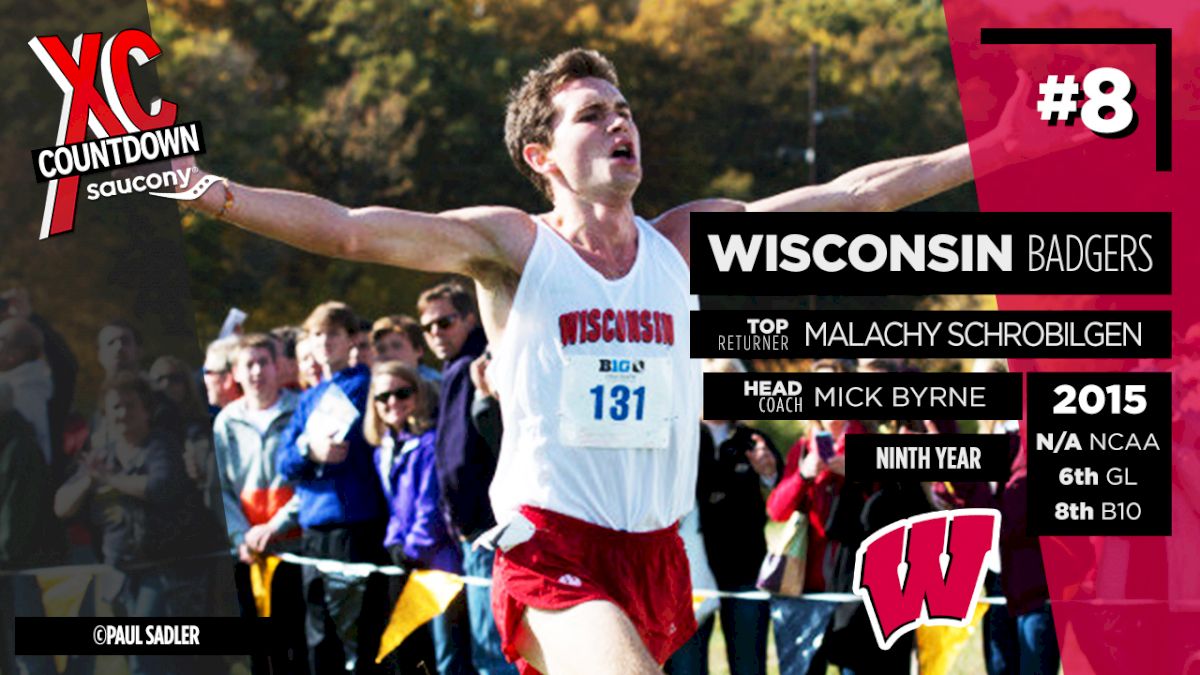 Check out the Saucony Flo50 XC Countdown, where FloTrack ranks the top 31 cross country teams in the NCAA this season. The No. 8 men's spot goes to Wisconsin this year, and here's why:
Probable Top Two:
SR Malachy Schrobilgen (7:56 3K; 13:51 5K; 29:17 10K; 10th at '14 NCAA XC)
JR Morgan McDonald (7:52 3K; 13:29 5K; 5th at '16 NCAA 5K)
3rd-7th Man Battle:
FR Zack Snider (8:06 3K; 14:06 5K; 16th at '16 World U20 5K; Redshirted 2015)
FR Olin Hacker (14:18 5K; 19th at '16 World U20 5K; Redshirted 2015)
FR Oliver Hoare (3:46 1500; 8:09 3K)
SO Ryan Kromer (99th at '14 NCAA XC; Redshirted 2015)
JR Carl Hirsch (107th at '14 NCAA XC)
JR Joe Hardy (14:00 5K; 10th at '15 Big Ten XC)
JR Joe McAsey (128th at '14 NCAA XC)
JR Russell Sandvold (8:02 3K; 14:08 5K)
Impact Freshmen/Transfers:
Oliver Hoare via Australia (3:46 1500; 8:09 3K)
Analysis:
Who could forget Wisconsin's 2015 cross country season? From jog-gate in Louisville to Malachy Schrobilgen's injury at the Big Ten Conference meet, everything that could go wrong did go wrong for the Badgers. Based on the 2015-2016 season, it would be easy to write Wisconsin off. But if you look closer, Coach Mick Byrne has more than a few reasons to be optimistic about a top-10 finish in Terre Haute.
The 2016 Badgers will be led by two potential top-10 sticks in Schrobilgen and Morgan McDonald. Schrobilgen was 10th at NCAAs in 2014. After taking time to recover from his leg injury and get some solid training in, Schrobilgen should be back to his normal self. And McDonald was legit on the track this past season—he ran 13:29 and finished fifth in the NCAA Outdoor 5K. These two men will be the backbone for a top-10 NCAA team finish.
The other major difference-maker for the Badgers will be the debut of redshirt freshmen Zack Snider and Olin Hacker. Both Snider and Hacker were top-tier recruits in high school who represented Team USA in the 5K at the IAAF U20 Championships in Poland this summer. The Badgers will also welcome the return sophomore Ryan Kromer, who redshirted last season. In addition, four rising juniors will help round out the Badger pack.
One bad season shouldn't end the program's success. In fact, Wisconsin wasn't the only perennially strong cross country program to falter in 2015. Both NAU and Portland failed to make NCAAs last year, and Oklahoma State finished 18th. Though rare, these programs occasionally have off years, and if anyone is allowed one bad season, it's Byrne—he has been to the NCAA Championship 19 times with eight podium finishes.
Previously:
#9 Northern Arizona
#10 Colorado State

#11 Eastern Kentucky

#12 Virginia

#13 Mississippi

#14 BYU

#15 Washington

#16 Furman
#17 Indiana
#18 Oklahoma
#19 Boise State
#20 Portland
#21 UTEP
#22 Oklahoma State
#23 Michigan
#24 Washington State
#25 Michigan State
#26 Villanova
#27 Louisville
#28 Tulsa
#29 Iowa State
#30 Illinois
#31 North Carolina State