Saucony Flo50 XC Countdown: #7 Iona Men
Saucony Flo50 XC Countdown: #7 Iona Men
Check out the Saucony Flo50 XC Countdown, where FloTrack ranks the top 31 cross country teams in the NCAA this season. The No. 7 men's spot goes to Iona thi
Aug 23, 2016
by Dennis Young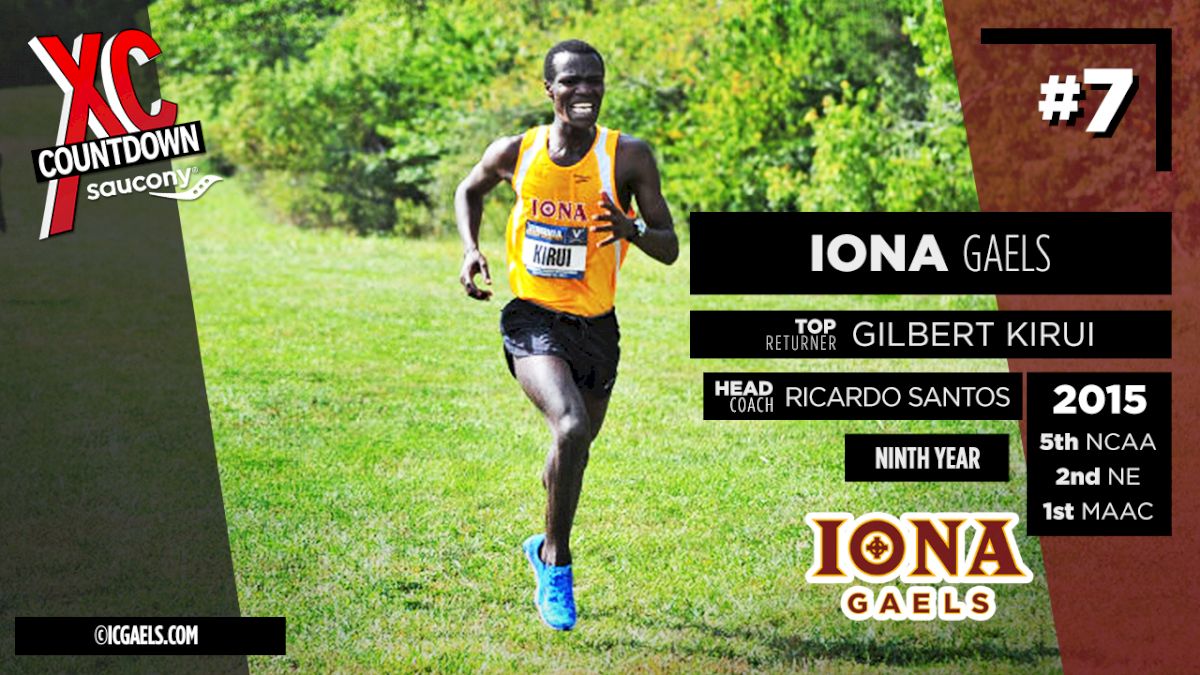 Check out the Saucony Flo50 XC Countdown, where FloTrack ranks the top 31 cross country teams in the NCAA this season. The No. 7 men's spot goes to Iona this year, and here's why:
Probable Top Four:
JR Gilbert Kirui (13:50 5K; 29:16 10K; 20th at '15 NCAA XC)
JR Chartt Miller (14:01 5K; 43rd at '15 NCAA XC)
SR Kieran Clements (13:53 5K; 28:57 10K; 58th at '15 NCAA XC)
SO Liam Dee (14:04 5K; 110th at '15 NCAA XC)
Fifth Man Battle:
JR Brandon Allen (8:42 3K SC; 14:21 5K; 152nd at '15 NCAA XC)
JR Johannes Motschmann (8:46 3K SC; 14:14 5K; 209th at '15 NCAA XC)
JR Andrew Tario (14:17 5K; 29:52 10K)
Impact Freshmen/Transfers:
Ehab El-Sandali via Canada (8:13 3K; 30:15 10K; 17th at '16 World U20 10K)
Jack O'Leary via Ireland (8:14 3K; 14:28 5K; 25th at '16 World U20 5K)
Analysis:
The Iona men haven't made the podium since finishing second in 2008--the first year after Ricardo Santos replaced Mick Byrne as head coach. But Iona has beaten Byrne's Wisconsin men at NCAA Nationals the last three years, and missed the podium by just 48 points this year. They could easily be standing on the podium in Terre Haute this fall.
The Gaels return six of their seven from last year's fifth-place team, but the one loss is large: No. 4 man Mike O'Dowd, who was 62nd at Nationals last November. Iona's three finishers behind him were all out of the top 100, and will need to make a jump if their team is going to reach the podium this year.
Iona can bank on a top-10 finish because of a rock-solid top three in Gilbert Kirui, Chartt Miller, and Kieran Clements, who could all be All-Americans in November. If two of Liam Dee, Brandon Allen, Johannes Motschmann, and Andrew Tario can join them in the top 80, Iona will be a podium team. If Dee and Allen just finish more like where they did last year--110th and 152nd, respectively--then Iona will likely finish somewhere in the back half of the top 10.
It's hard
to finish in the top four as a private school. Syracuse, Portland, Stanford, and BYU are the only private schools to make the men's podium since Iona did it eight years ago.
Previously:

#8 Wisconsin
#9 Northern Arizona
#10 Colorado State

#11 Eastern Kentucky

#12 Virginia

#13 Mississippi

#14 BYU

#15 Washington

#16 Furman
#17 Indiana
#18 Oklahoma
#19 Boise State
#20 Portland
#21 UTEP
#22 Oklahoma State
#23 Michigan
#24 Washington State
#25 Michigan State
#26 Villanova
#27 Louisville
#28 Tulsa
#29 Iowa State
#30 Illinois
#31 North Carolina State