Saucony Flo50 XC Countdown: #6 Colorado Men
Saucony Flo50 XC Countdown: #6 Colorado Men
Check out the Saucony Flo50 XC Countdown, where FloTrack ranks the top 31 cross country teams in the NCAA this season. The No. 6 men's spot goes to Colorado
Aug 24, 2016
by Dennis Young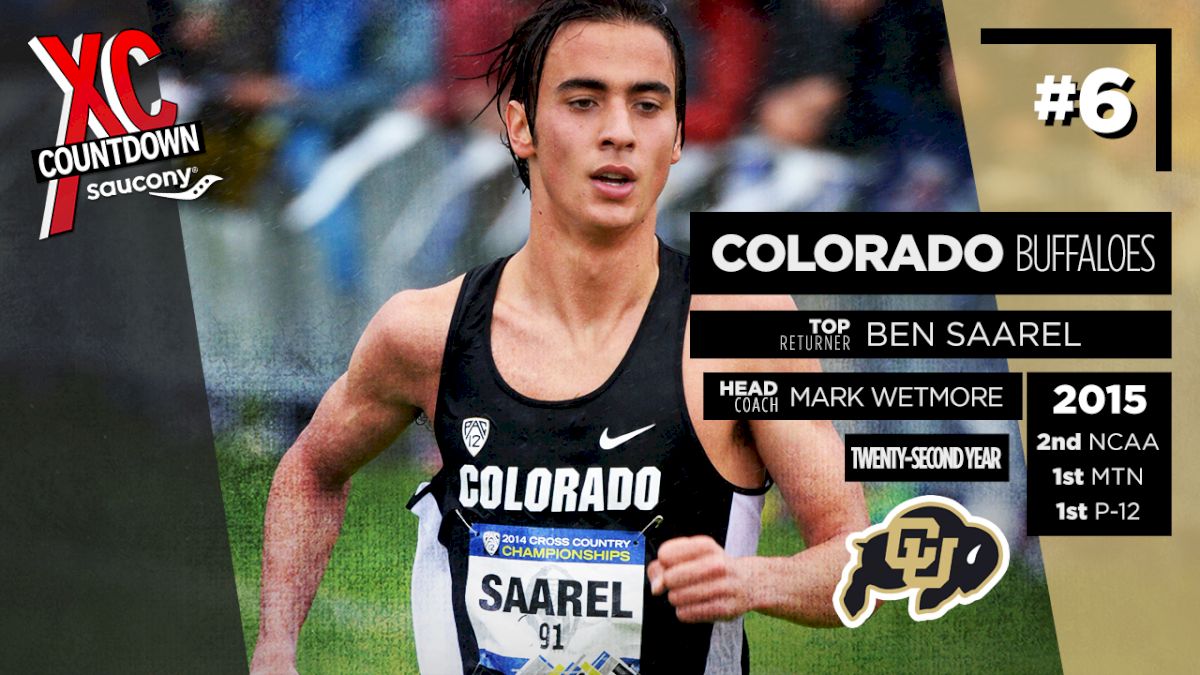 Check out the Saucony Flo50 XC Countdown, where FloTrack ranks the top 31 cross country teams in the NCAA this season. The No. 6 men's spot goes to Colorado this year, and here's why:
Probable Top Three:
SR Ben Saarel (13:48 5K; 31st at '15 NCAA XC; 7th at '14 NCAA XC; 8th at '13 NCAA XC)
SO John Dressel (13:48 5K; 29:20 10K; 26th at '15 NCAA XC)
FR Joe Klecker (7:59 3K; 13:44 5K)
Fourth-Fifth Man Battle:
SO Adam Peterman (8:43 3K SC; 202nd at '14 NCAA XC)
FR Eduardo Herrera (4:04 Mile; 8:15 3K; 5th at '15 NXN)
FR Phillip Rocha (8:59 3200; 2nd at '15 FL XC)
JR Zach Perrin (14:16 5K; 195th at '15 NCAA XC)
Impact Freshmen/Transfers:
Eduardo Herrera via Madera, CA (4:04 Mile; 8:15 3K; 5th at '15 NXN)
Phillip Rocha via Arcadia, CA (8:59 3200; 2nd at '15 FL XC)
Connor Dunne via San Clemente, CA (1:50 800; 4:04 Mile)
Analysis:
Colorado has massive question marks on either end of its top five. But here's one answer: its finishes at cross country nationals this century have been second, first, first, third, third, 15th, sixth, 12th, seventh, first, fifth, first, sixth, fourth, first, second. Someone will step up; but the questions are who, and how much?
In Ben Saarel's first year and a half of college, he was eighth at cross country nationals, third at indoor nationals in the 3K, and seventh at cross country nationals. Since November of 2014, per TFRRS, Saarel has only run four races longer than 1500 meters--a 3K and 5K in the 2015 indoor season, and cross country regionals and nationals last year. He had a nice redshirt season on the track, and eventually ran 3:38 for 1500m, but his long-distance fitness is relatively unknown after slipping from the top 10 to 31st last year.
Whether Saarel scores two points or 25 will only make a place or two of difference for the Buffaloes; it's just possible that those places could be incredibly consequential. The much bigger question is who will score behind Saarel, John Dressel, and redshirt freshman Joe Klecker. Adam Peterman was 202nd at nationals two years ago, and Zach Perrin was 195th last year. It's possible that they will grow Mark Wetmore's legend and transform from 6/7 man cannon fodder to double-digit scorers on a top-five team. It's also possible that Eduardo Herrera or Phillip Rocha will make an immediate impact. Both freshmen finished in the top five at one of the two high school cross country national championships. True freshman Grant Fisher, Dressel, and Tanner Anderson were 17th, 26th, and 56th at NCAAs last fall.
So a best-case scenario for Colorado looks something like this: Saarel fifth, Dressel 15th, Klecker 40th, one of Rocha or Herrera 50th, and one of Peterman or Perrin 75th. When lopping off points for individuals, that would be 115 or so points, which is almost always good for a podium finish. They'll just need a combination of freshmen stepping up and massive internal improvements to get there. Colorado's history says that will probably happen.
Previously:

#7 Iona

#8 Wisconsin
#9 Northern Arizona
#10 Colorado State

#11 Eastern Kentucky

#12 Virginia

#13 Mississippi

#14 BYU

#15 Washington

#16 Furman
#17 Indiana
#18 Oklahoma
#19 Boise State
#20 Portland
#21 UTEP
#22 Oklahoma State
#23 Michigan
#24 Washington State
#25 Michigan State
#26 Villanova
#27 Louisville
#28 Tulsa
#29 Iowa State
#30 Illinois
#31 North Carolina State