Saucony Flo50 XC Countdown: #5 Georgetown Men
Saucony Flo50 XC Countdown: #5 Georgetown Men
Check out the Saucony Flo50 XC Countdown, where FloTrack ranks the top 31 cross country teams in the NCAA this season. The No. 5 men's spot goes to Georgeto
Aug 25, 2016
by Gordon Mack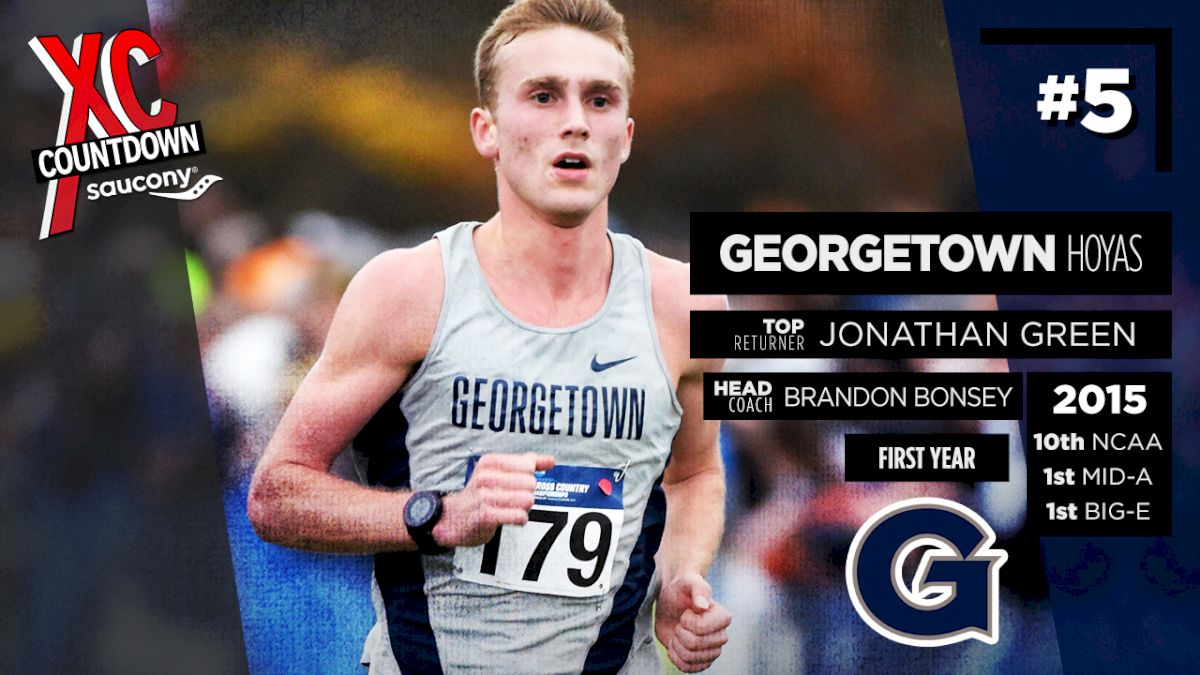 Check out the Saucony Flo50 XC Countdown, where FloTrack ranks the top 31 cross country teams in the NCAA this season. The No. 5 men's spot goes to Georgetown this year, and here's why:

Probable Top Four:
JR Jonathan Green (13:52 5K; 29:06 10K; 5th at '15 NCAA XC)
SR Michael Clevenger (8:06 3K; 13:53 5K; 38th at '15 NCAA XC)
SR Darren Fahy (8:35 3K SC; 14:13 5K; 49th at '15 NCAA XC)
SR Scott Carpenter (8:40 3K SC; 14:06 5K; 168th at '14 NCAA XC)
Fifth Man Battle:
FR Jack Salisbury (4:08 Mile; 9:01 2 Mile; 1st at '16 Dream Mile)
JR Amos Bartelsmeyer (3:58 Mile; 7:57 3K; 14:04 5K; 128th at '15 NCAA XC)
SR Michael Lederhouse (3:58 Mile; 7:58 3K; 14:15 5K; 158th at '15 NCAA XC)
Impact Freshmen/Transfers:
Michael Clevenger via University of Notre Dame (8:06 3K; 13:53 5K; 38th at '15 NCAA XC)
Jack Salisbury via Providence, RI (4:08 Mile; 9:01 2 Mile; 1st at '16 Dream Mile)
Jack Van Scoter via La Canada Flintridge, CA (8:51 3200; 27th at '15 FL XC)
Matthew Bouthillette via Providence, RI (8:53 2 Mile)
Analysis:
The Georgetown Hoyas will be a scary team in 2016. The Hoyas have all the ingredients for potential podium finish with a solid low stick, an All-American transfer, a senior-heavy squad, and a top-10 recruiting class.
Junior Jonathan Green returns after finishing an impressive fifth overall at NCAAs last year. Green will be relied on to repeat his 2015 performance in 2016. Right behind Green will be Notre Dame transfer Michael Clevenger, who finished 38th overall last year. Clevenger is the top grad-school transfer this season, and will be crucial for the Hoyas as they try to fill the hole left by the departure of 3:37 1500m runner Ahmed Bile. After Clevenger, several fellow upperclassmen will return from impressive 2016 track seasons. Both Darren Fahy and Scott Carpenter ran 8:35 and 8:40 respectively in the 3K steeplechase, as well as sub-8:00 3K runners Amos Bartelsmeyer and Michael Lederhouse. It's more than likely that a majority of Georgetown's top seven will be seniors, which will give them an advantage come championship season.
And we should also not overlook the Hoyas' No. 8-ranked incoming freshmen class led by Dream Mile champion Jack Salisbury out of Providence, Rhode Island. He will be joined by fellow New Englander Matthew Bouthillette, who owns an 8:53 two mile PB, and Calfornia's Jack Van Scooter, who has an 8:51 3200m personal best.
Previously:
#6 Colorado
#7 Iona

#8 Wisconsin
#9 Northern Arizona
#10 Colorado State

#11 Eastern Kentucky

#12 Virginia

#13 Mississippi

#14 BYU

#15 Washington

#16 Furman
#17 Indiana
#18 Oklahoma
#19 Boise State
#20 Portland
#21 UTEP
#22 Oklahoma State
#23 Michigan
#24 Washington State
#25 Michigan State
#26 Villanova
#27 Louisville
#28 Tulsa
#29 Iowa State
#30 Illinois
#31 North Carolina State