Saucony Flo50 XC Countdown: #4 Arkansas Men
Saucony Flo50 XC Countdown: #4 Arkansas Men
Check out the Saucony Flo50 XC Countdown, where FloTrack ranks the top 31 cross country teams in the NCAA this season. The No. 4 men's spot goes to Arkansas
Aug 26, 2016
by Dennis Young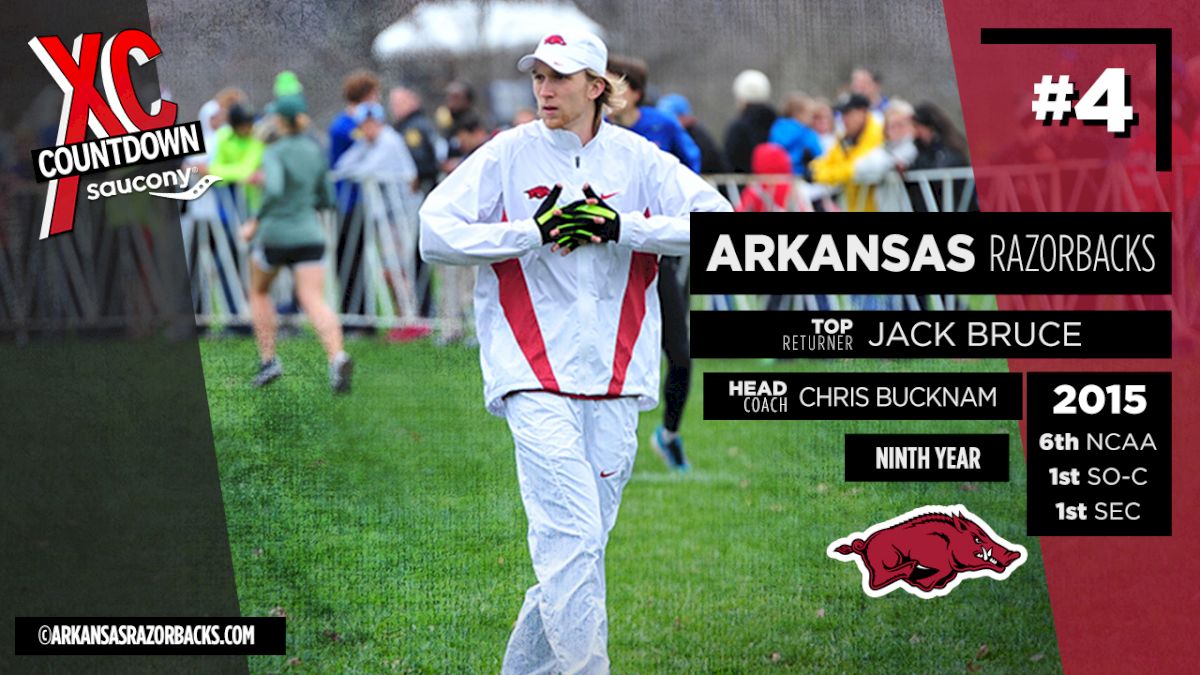 Check out the Saucony Flo50 XC Countdown, where FloTrack ranks the top 31 cross country teams in the NCAA this season. The No. 4 men's spot goes to Arkansas this year, and here's why:

Probable Top Four:
JR Jack Bruce (13:54 5K; 23rd at '15 NCAA XC)
SR Frankline Tonui (8:30 3K SC; 29:14 10K; 2nd at '16 NCAA 3K SC; 40th at '15 NCAA XC)
SO Andrew Ronoh (14:15 5K; 28:36 10K; Arrived Jan 2016)
JR Austen Dalquist (14:17 5K; 89th at '15 NCAA XC)


Fifth Man Battle:

JR Alex George (13:49 5K; 176th at '15 NCAA XC)
SR Christian Heymsfield (170th at '15 NCAA XC)
Impact Transfers:
Andrew Ronoh via Iowa Central CC (14:15 5K; 28:36 10K; Arrived Jan 2016)
Analysis:
Even though Arkansas loses two of its top five from last year's sixth-place team, the Razorbacks have the ingredients to improve and make the podium. The top four of Jack Bruce, Frankline Tonui, Andrew Ronoh, and Austen Dalquist is one of the most potent quartets in the country. Bruce and Tonui make Arkansas one of just six teams in the nation with two returners from last year's top 40.
They're joined up front by Andrew Ronoh, who ran the second-fastest 10K in all of Division I in the regular season. A 25th-place finish is a conservative estimate for Ronoh; a majority of the men who ran that fast in the last two regular seasons have a top-15 cross country finish on their TFRRS pages. But let's say Bruce finishes 20th, Ronoh 25th, and Tonui 35th--that's 62 points.
The last spot on the men's podium the last seven years has scored 183, 188, 267, 191, 203, 237, and 190 points. With two outliers, the typical fourth-place score has been 190-200 points. So that means, extremely unscientifically, Arkansas needs under 130 points from its fourth and fifth men to podium.
Dalquist should get them halfway there. He was 89th at nationals last year for 69 points in the team scoring, and mostly focused on the mile/1500m during track. Their next top returner is actually Christian Heymsfield, but Alex George made a huge jump in track. He improved from 8:08 and and 14:16 (3K/5K) in 2015 to 7:55 and 13:49 in 2016. There aren't
​that
​many sub-13:50 guys in the NCAA--31 this year outdoors, by my count--and if George can stretch that 5K brilliance to 10K on the track, Arkansas should be in the top four.
Previously:

​#5 Georgetown
#6 Colorado
#7 Iona

#8 Wisconsin
#9 Northern Arizona
#10 Colorado State

#11 Eastern Kentucky

#12 Virginia

#13 Mississippi

#14 BYU

#15 Washington

#16 Furman
#17 Indiana
#18 Oklahoma
#19 Boise State
#20 Portland
#21 UTEP
#22 Oklahoma State
#23 Michigan
#24 Washington State
#25 Michigan State
#26 Villanova
#27 Louisville
#28 Tulsa
#29 Iowa State
#30 Illinois
#31 North Carolina State