Saucony Flo50 XC Countdown: #3 Oregon Men
Saucony Flo50 XC Countdown: #3 Oregon Men
Check out the Saucony Flo50 XC Countdown, where FloTrack ranks the top 31 cross country teams in the NCAA this season. The No. 3 men's spot goes to Oregon t
Aug 27, 2016
by Dennis Young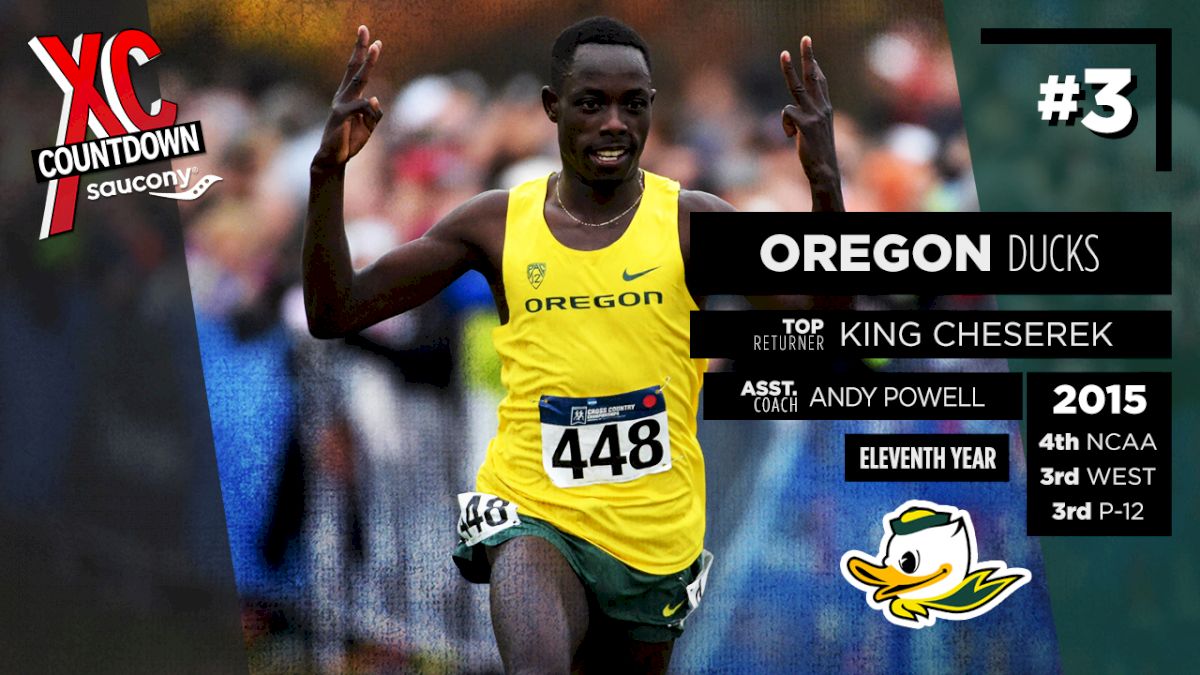 Check out the Saucony Flo50 XC Countdown, where FloTrack ranks the top 31 cross country teams in the NCAA this season. The No. 3 men's spot goes to Oregon this year, and here's why:

Probable Top Five:
SR Edward Cheserek (7:40 3K; 13:18 5K; 3x NCAA XC Champ)
JR Travis Neuman (13:55 5K; 29:09 10K; 46th at '15 NCAA XC)
SR Jake Leingang (13:43 5K; 50th at '15 NCAA XC)
SO Tanner Anderson (14:00 5K; 56th at '15 NCAA XC)
SO Matthew Maton (3:39 1500; 7:53 3K; 85th at '15 NCAA XC)


Impact Freshmen/Transfers:
Austin Tamagno via Brea, CA (4:01 Mile; 8:54 3200; 26th at '15 NXN)
Levi Thomet via Kodiak, AK (4:07 Mile, 8:48 2 Mile; Graduated 2015)
Analysis:
We'll never know if Oregon would have won a national championship with Drew Hunter, who signed with adidas eight months after signing with Oregon, but they might win one anyway. The Ducks return their entire top five and six of their top seven from last year's fourth-place team. That is, by definition, a team good enough to win a national championship. There just are also two other teams good enough to win a national championship.
We'll talk more about those teams on Monday. But Oregon starts with Edward Cheserek, the safest one-point in the NCAA. For the purposes of a team preview, there is nothing to say about King Ches. He'll almost definitely win; if he loses, he'll still finish second or third. If that doesn't happen, then Oregon isn't winning nationals or making the podium.
The other four are the key.
Travis Neuman was 46th at nationals last fall, but did not finish a race in track.
Jake Leingang was 50th last year, and ran 13:43 on the track.
Tanner Anderson was 56th, and redshirted track. He appears to be healthy, though, as he ran several track races, including a 14:00 5K.
Matthew Maton was 85th, and did not race a longer than 3K on the track. He ran 3:39 for 1500m and 7:53 for 3K.
Even if there are issues with two of those four, senior Ryan Gil--121st last year--could step up. Austin Tamagno could, too. He won his race at the California state meet, and was a major favorite heading into NXN before fading to 26th. As long as four of those six guys run to their top-75 potential, Oregon will be on the podium. If they do better than that, they could win.
Oregon won nationals during Galen Rupp's senior year in 2008. Since then, their best finish was second in 2009 with Luke Puskedra and Matt Centrowitz leading the way. This could be Oregon's best team since then. And if the right people on other teams underperform on the same day that Oregon's men overperform, Oregon could win. It would only be its second men's cross country title without Galen Rupp, Alberto Salazar, or Steve Prefontaine on the team.
Previously:

#4 Arkansas​
#5 Georgetown
#6 Colorado
#7 Iona

#8 Wisconsin
#9 Northern Arizona
#10 Colorado State

#11 Eastern Kentucky

#12 Virginia

#13 Mississippi

#14 BYU

#15 Washington

#16 Furman
#17 Indiana
#18 Oklahoma
#19 Boise State
#20 Portland
#21 UTEP
#22 Oklahoma State
#23 Michigan
#24 Washington State
#25 Michigan State
#26 Villanova
#27 Louisville
#28 Tulsa
#29 Iowa State
#30 Illinois
#31 North Carolina State