Saucony Flo50 XC Countdown: #2 Syracuse Men
Saucony Flo50 XC Countdown: #2 Syracuse Men
Check out the Saucony Flo50 XC Countdown, where FloTrack ranks the top 31 cross country teams in the NCAA this season. The No. 2 men's spot goes to Syracuse
Aug 29, 2016
by Dennis Young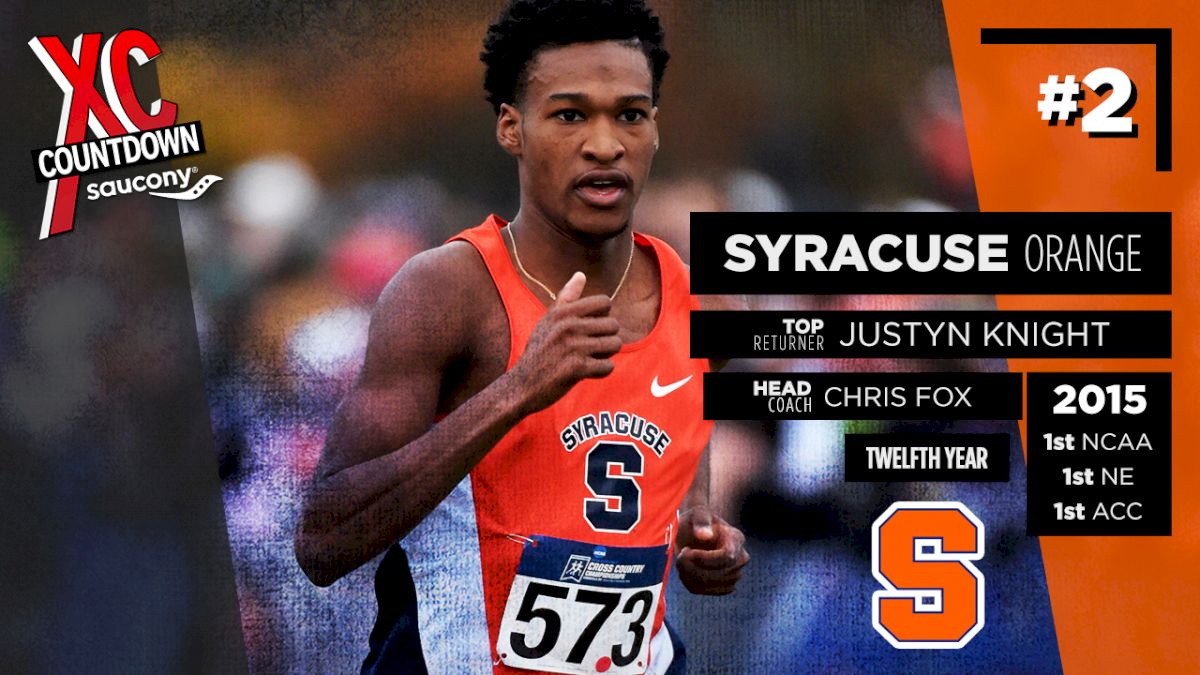 Check out the Saucony Flo50 XC Countdown, where FloTrack ranks the top 31 cross country teams in the NCAA this season. The No. 2 men's spot goes to Syracuse this year, and here's why:

Probable Top Four:
JR Justyn Knight (7:48 3K; 13:26 5K; 4th at '15 NCAA XC)
JR Colin Bennie (7:54 3K; 13:38 5K; 28:52 10K; 8th at '15 NCAA XC)
JR Philo Germano (14:00 5K; 29:04 10K; 39th at '15 NCAA XC)
SR Joel Hubbard (3:58 Mile; 14:06 5K; 47th at '15 NCAA XC)
Fifth Man Battle:

JR Adam Palamar (3:38 1500; 13:59 5K; 8th at '16 NCAA Mile)
SR Adam Visokay (7:54 3K; 8:43 3K SC; 14:07 5K; 222nd at '15 NCAA XC)
SO Iliass Aouani (8:02 3K; 13:55 5K; 185th at '15 NCAA XC)


Impact Freshmen/Transfers:
Aidan Tooker via Saratoga Springs, NY (4:09 Mile; 8:52 2 Mile; 9:06 3K SC)
Adam Visokay via University of Virginia (7:54 3K; 8:43 3K SC; 14:07 5K; 222nd at '15 NCAA XC)
Iliass Aouani via Lamar University (8:02 3K; 13:55 5K; 185th at '15 NCAA XC)
Analysis:
Syracuse clearly has the best returning top four in the nation. Justyn Knight and Colin Bennie were fourth and eighth at nationals last fall, and backed it up on the track. Both were All-Americans indoors, Knight in the 3K and Bennie in the 5K. Knight was tenth in the outdoor 5K and Bennie was tenth in the outdoor 10K. Even if they don't go 4-8 again, they're clearly ready to reprise very low finishes. That's a deadly combination to start the scoring for the Orange.
It won't be quite as deadly as last year, when Martin Hehir finished ninth behind Bennie and gave Syracuse 30 percent of the top 10. But Philo Germano and Joel Hubbard--39th and 47th at nationals last year--would potentially be the best Nos. 3 and 4 men on any team in the country. And they're going to be Syracuse's fourth and fifth men. Their 64 points as Syracuse's 4-5 men last year was a lower score than any other team's (except for Colorado and Stanford) 3-4 combo. And Colorado and Stanford's 2015 3-4 scorers are going to have to be in those teams' top two, unlike Germano and Hubbard.
So, two men in the top 10 at NCAAs last year, and the best 3-4 men in the country. Why isn't Syracuse ranked No. 1?
Syracuse absolutely could win nationals, and is essentially a co-favorite to get it done. Any team in the top three or four in the country can win on the right day. We're posting a full breakdown of Syracuse vs. Stanford later today, but the reason Syracuse comes in at No. 2 is they don't quite have a proven fifth man yet.
Three men will try to step into Syracuse's No. 5 slot to help them defend its national title: transfers Adam Palamar, Adam Visokay, and Iliass Aouani.
Palamar transferred in from Tulsa last year and had a stellar track season, running 13:59 and 3:39. Visokay and Aounai are transferring in this fall, and hope to get some of that Chris Fox magic on them after finishing outside of the top 180 at NCAAs last fall. If one of those three can crack the top 55 or so, Syracuse will probably win nationals. If they can't, Syracuse can still win. Its top four is that good.
Previously:

​#3 Oregon
​
#4 Arkansas
#5 Georgetown
#6 Colorado
#7 Iona

#8 Wisconsin
#9 Northern Arizona
#10 Colorado State

#11 Eastern Kentucky

#12 Virginia

#13 Mississippi

#14 BYU

#15 Washington

#16 Furman
#17 Indiana
#18 Oklahoma
#19 Boise State
#20 Portland
#21 UTEP
#22 Oklahoma State
#23 Michigan
#24 Washington State
#25 Michigan State
#26 Villanova
#27 Louisville
#28 Tulsa
#29 Iowa State
#30 Illinois
#31 North Carolina State