This Is How Much Nike Dominates American Track
This Is How Much Nike Dominates American Track
The 2016 Rio Olympic Games have come and gone, and they were historic for U.S. track and field--particularly, for the distance squads, but the Americans wer
Aug 29, 2016
by Adam Oestreich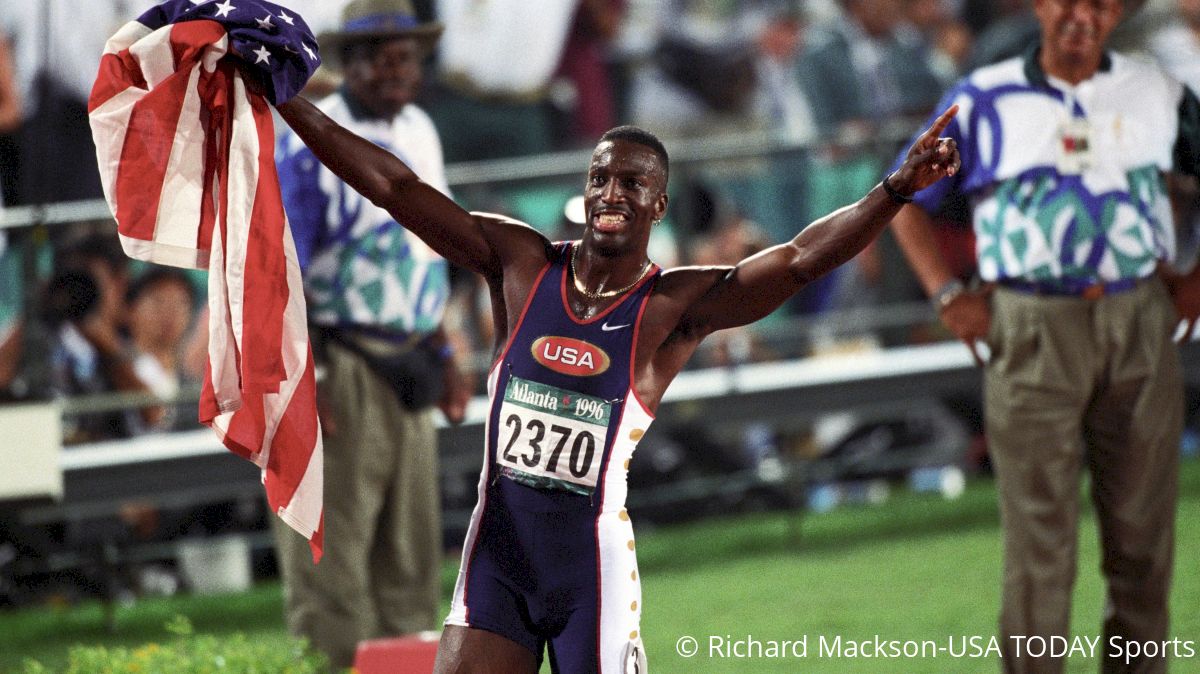 The 2016 Rio Olympic Games have come and gone, and they were historic for U.S. track and field--
particularly, for the distance squads
, but the Americans were dominant in the sprints and field categories, as well. After intently watching every session of Olympic track and field, a few thoughts crossed my mind.
Somewhere between Emma Coburn
perfectly placing her shoes
over her shoulder after collecting the first-ever women's steeplechase medal and Jenny Simpson winning the first-ever Olympic medal in the women's 1500m, I thought, "Wow, two Olympic medals for New Balance. Not a bad showing for Team NB."
Then, on the sixth night of competition, the medals really began to pour in. Brittney Reese and Tianna Bartoletta went 1-2 in the long jump, Tori Bowie brought home bronze in the 200m, and--like
Lil' Wayne
--we witnessed something no one had ever seen before when our 100m hurdle team of Bri Rollins, Nia Ali and Kristi Castlin swept the podium in that order.
#USA takes 1, 2 and 3 in the 100m hurdles for the first sweep in women's @usatf history! https://t.co/zCIBO09zPJ https://t.co/lEEi2mkyyO

— NBC Olympics (@NBCOlympics) August 18, 2016
Girl power. I loved it.
It was the perfect Olympics for 2016.
But how did it compare to previous Olympic Games? I wanted to know more. How have sponsors done in the past? What does the male-to-female breakdown of Olympic medals look like? HOW GREAT IS AMERICA, REALLY???!!!!
After doing some research, one thing was abundantly clear.
Holy shit, Nike dominates American track and field. - Adam Oestreich
Below, we outlined the sponsors of every American who placed at the Olympics, from Rio to Atlanta.
But first, a few notes:
We tallied the sponsors by medals, not event placement. Team USA won 32 events in Rio, including relay events, so we counted the number of medals received. With three relay titles, 12 athletes received a medal, and we only counted the members of the relay who ran in the Olympic final. So, instead of 32 medals, we're talking 41 for Team USA in Rio.
The sponsors listed are the ones that the athletes were registered with when they entered the Olympic Trials, per USATF.
Here's a breakdown of all the U.S. Olympic track and field medalists by sponsors, medal and gender: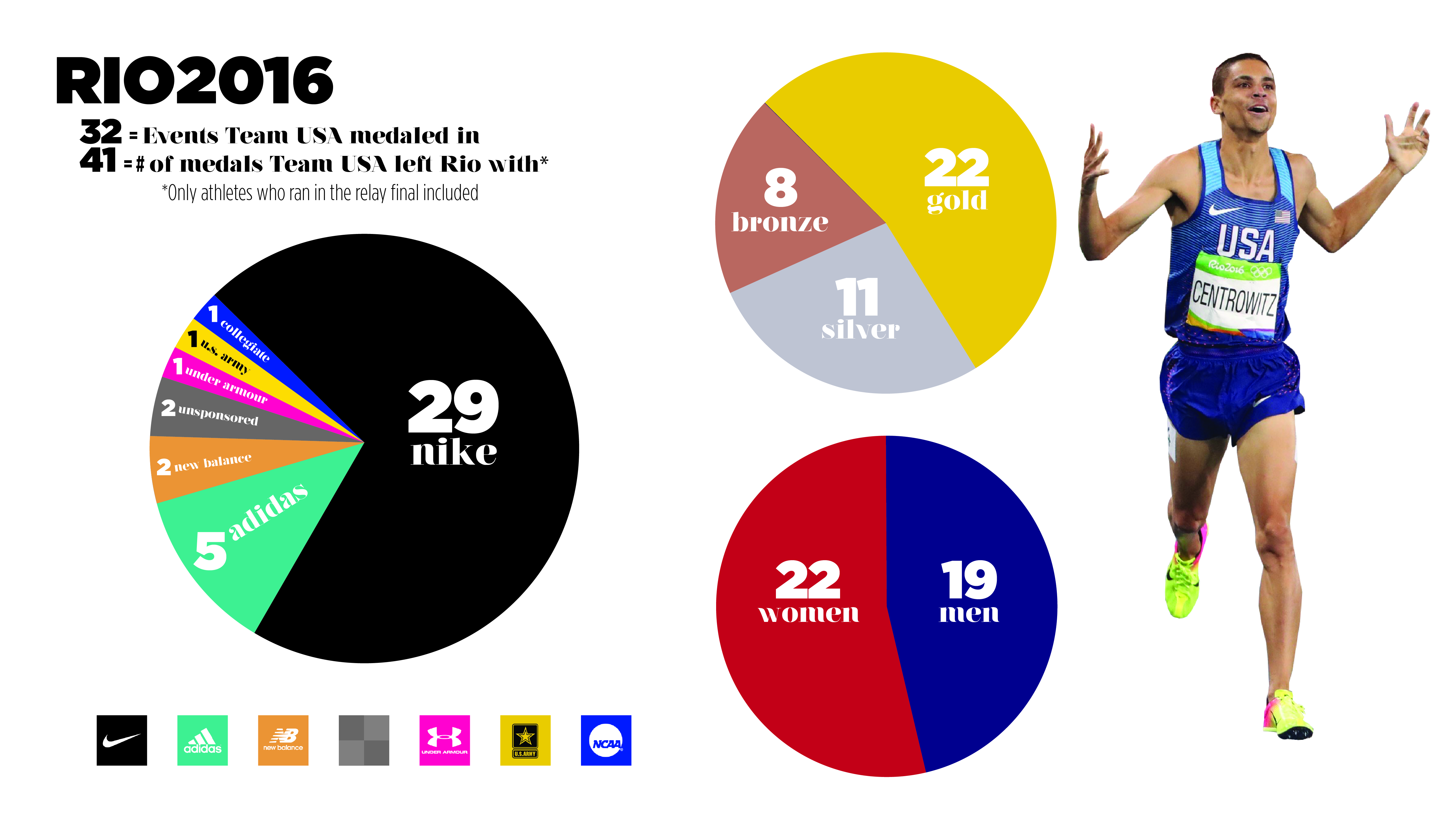 NOTE:
These are the first Olympic track and field medals for New Balance (Emma Coburn and Jenny Simpson), Under Armour (Natasha Hastings), and the U.S. Army (Paul Chelimo) since at least 1996.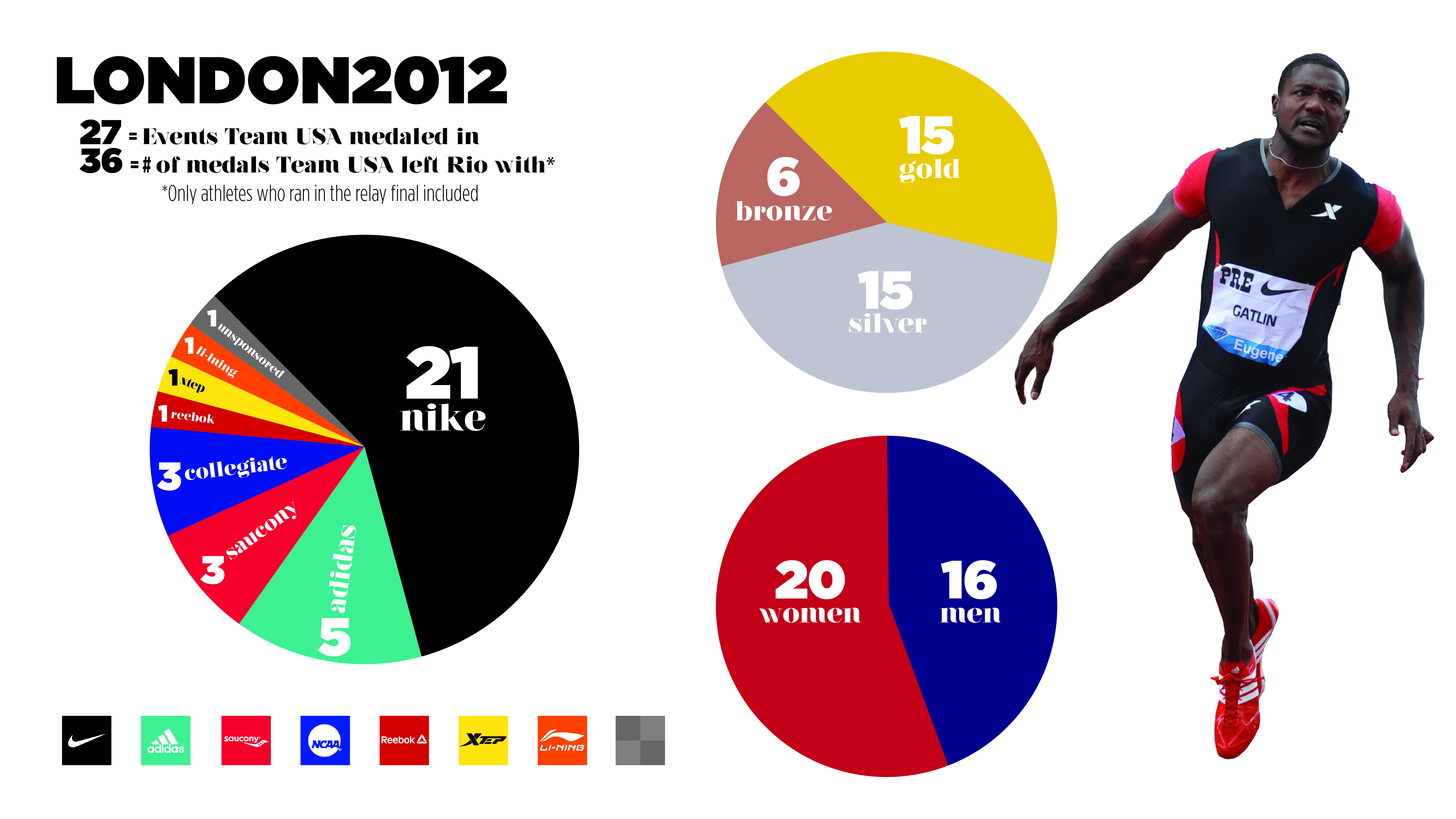 NOTE: Chinese sports company Li-Ning sponsored Christian Taylor in 2012 before he switched to Nike. Also, while previously sponsored by Nike and coming off a recent doping ban, Justin Gatlin entered the 2012 Olympic Trials as a Xtep athlete.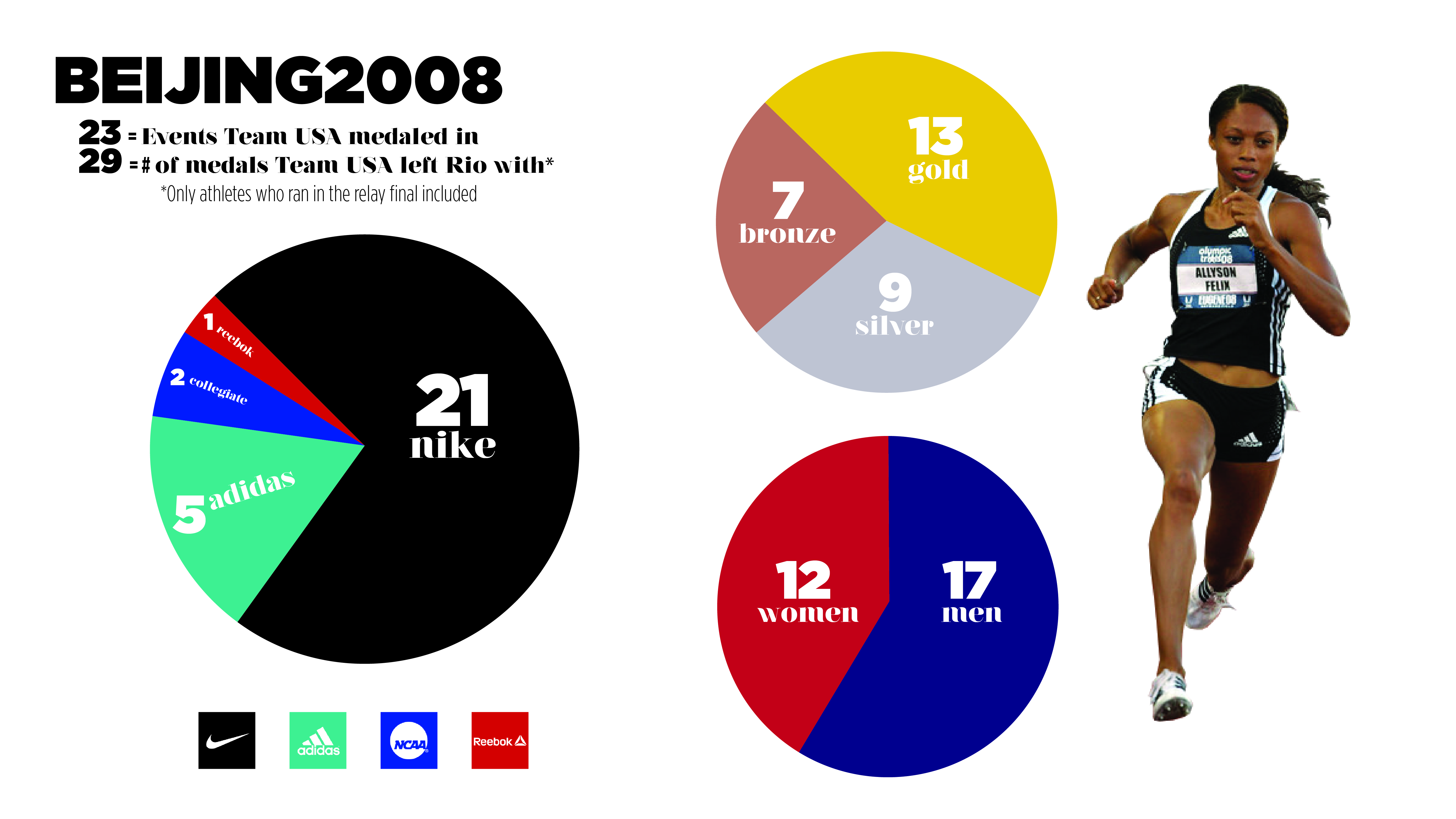 NOTE: Wait, the queen of American track and field, Allyson Felix, hasn't ALWAYS been a Nike athlete?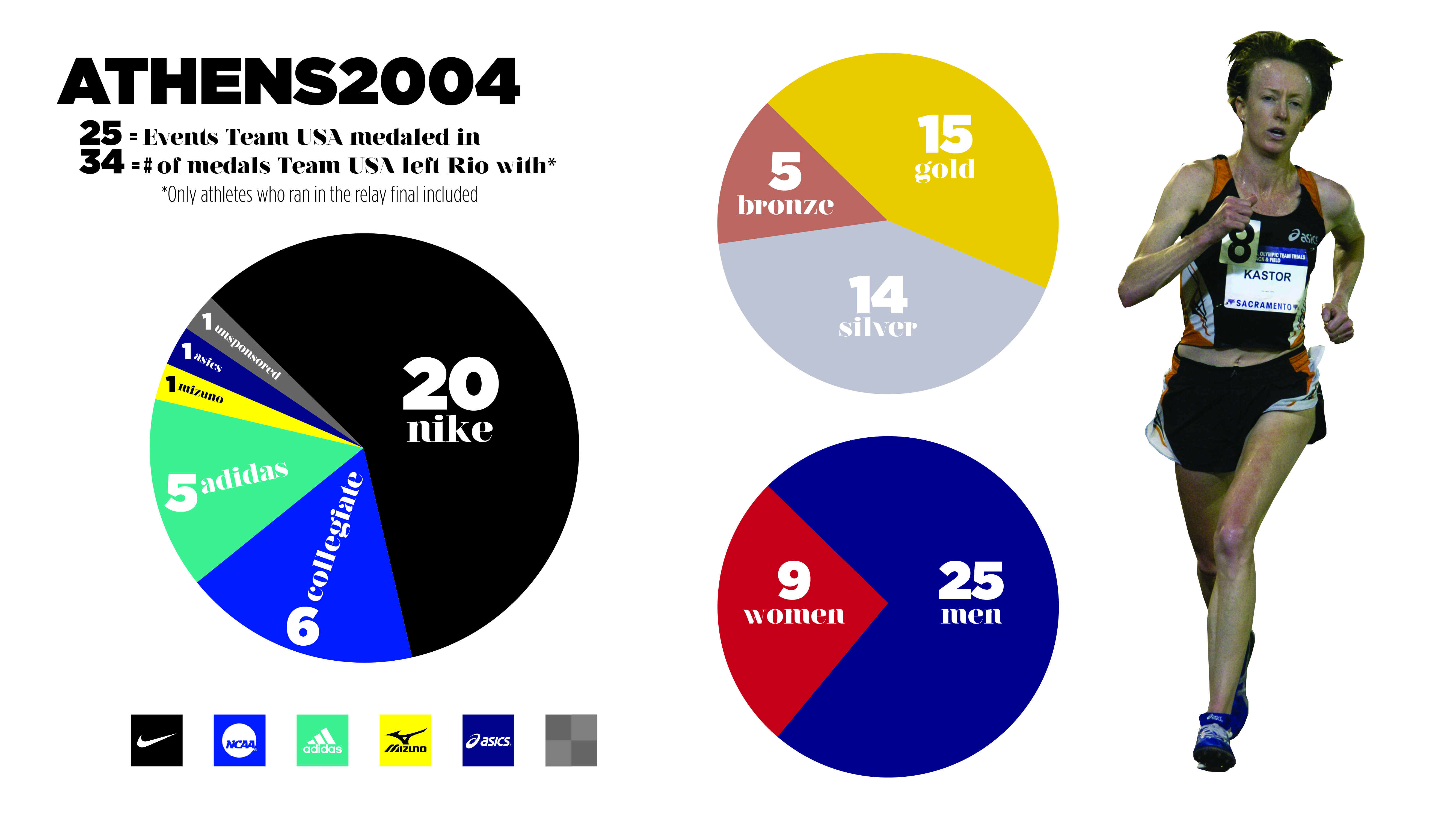 NOTE: In 2004, after winning the NCAA indoor and outdoor 400m titles for Baylor, Jeremy Wariner won Olympic gold in the 400m and 4x400m as a NCAA student-athlete. Other collegians who won medals in Athens include Darold Williamson (Baylor), DeeDee Trotter (Tennessee), Lauryn Williams (Miami), and Monique Henderson (UCLA).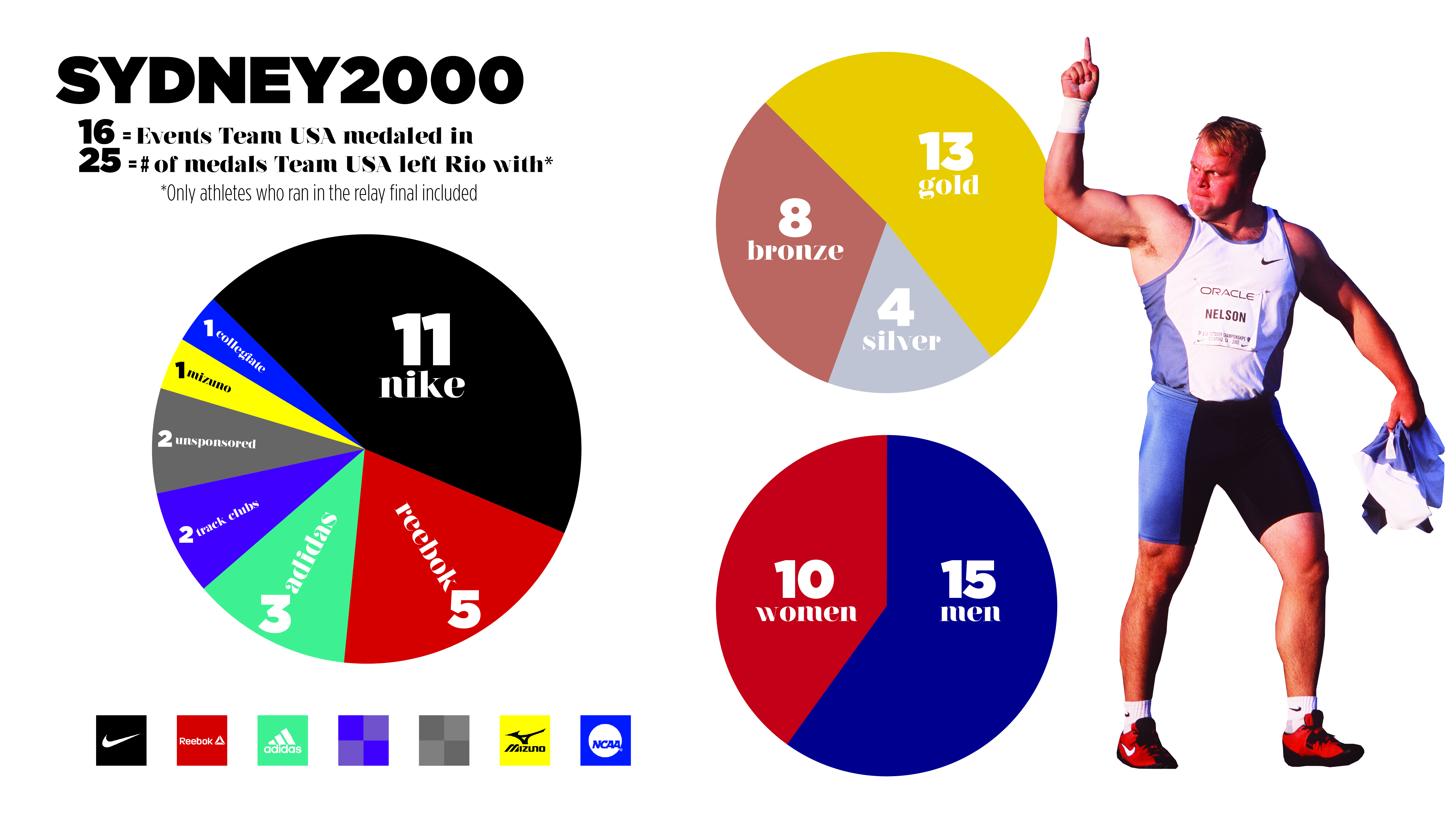 NOTE: Team USA didn't win an event longer than 400m in Sydney, and only won two field events: the shot put and the pole vault.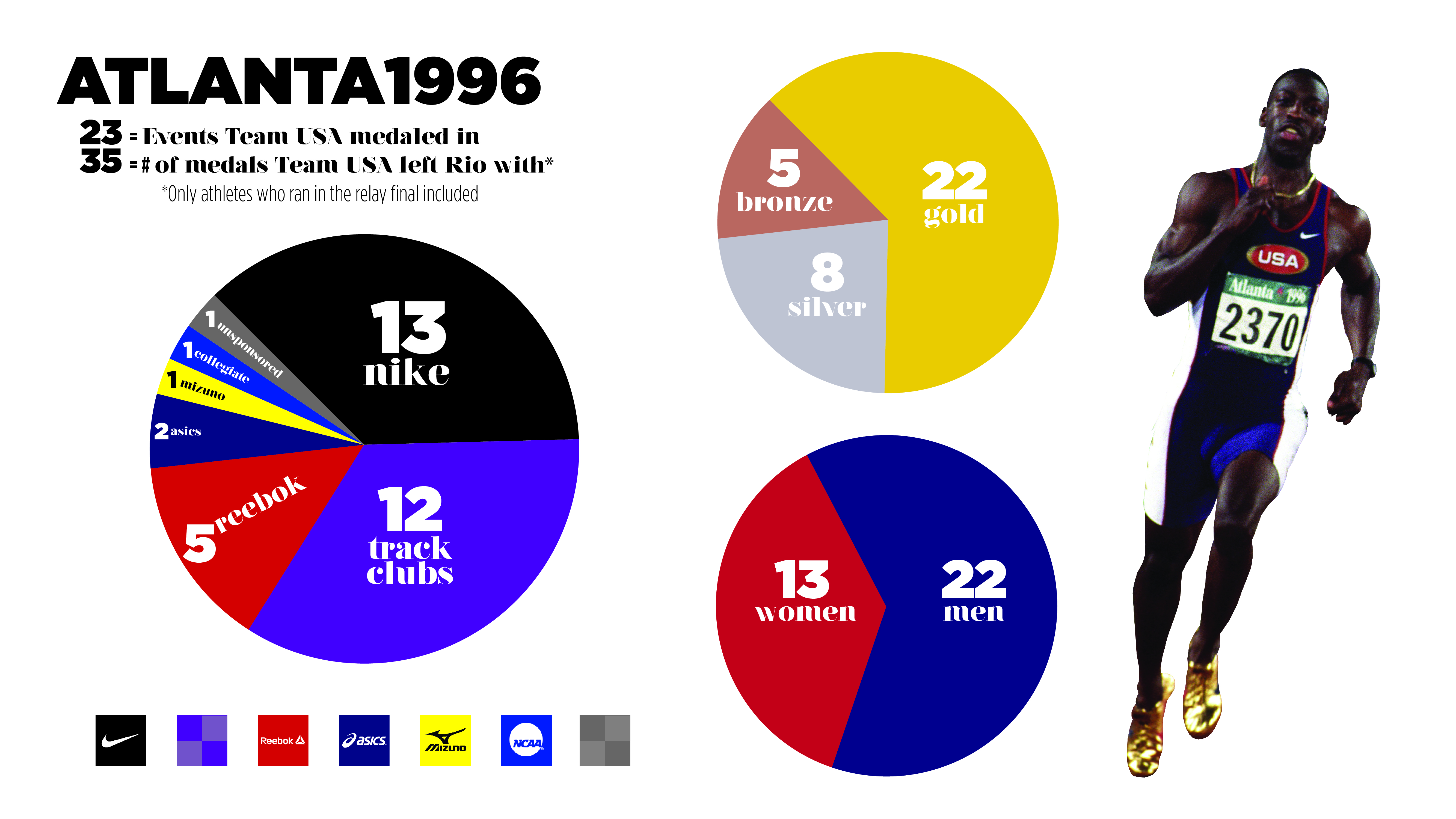 NOTE: In 1996, track clubs were all the rage, and Carl Lewis's Santa Monica Track Club was at the forefront. While not all track clubs had the same sponsorship, premier athletes like Lewis ran in Nike apparel, similar to Dan O'Brien of Foot Locker Athletic Club and Jackie Joyner-Kersee of Honda Track Club. If you only take brands into account, that Nike medal count increases to 17 in 1996.

Takeaways

Ever since the Atlanta Games in 1996, where Michael Johnson famously draped his gold Nike shoes around his neck, Nike has dominated track and field in this country.

Since 1996, Team USA has won 200 individual medals from athletes representing 14 different sponsors.
119 of those medals have gone to athletes that represent Nike
The next-closest sponsor is adidas with 23; its representatives never earned more than five at a single Olympics
At every Olympic Games since 1996, Nike has had at least twice as many Olympic medalists than the next-closest sponsor.
At every Olympics since Athens in 2004, Nike left the Games with more Olympic medalists than every other sponsor combined.
In 2016, when Team USA won the most Olympic medals dating back to 1996, the gap between Nike athletes winning medals and other sponsors winning medals has grown wider.

TOTAL SPONSOR OLYMPIC MEDAL COUNT SINCE 1996

​Nike = 119
adidas = 23
Collegiates = 14
Reebok = 12
Track Clubs = 10
Unsponsored = 7
ASICS = 3
Mizuno = 3
Saucony = 3
New Balance = 2
U.S. Army = 1
Under Armour = 1
XTep = 1
Li-Ning = 1