Simpson Wins, Jenkins Stuns Centrowitz at New Balance 5th Ave Mile
Simpson Wins, Jenkins Stuns Centrowitz at New Balance 5th Ave Mile
FULL RESULTSJenny Simpson ended her stellar 2016 season on a high note, running 4:18 to win her fifth New Balance Fifth Avenue Mile title.Simpson was front
Sep 3, 2016
by Meg Bellino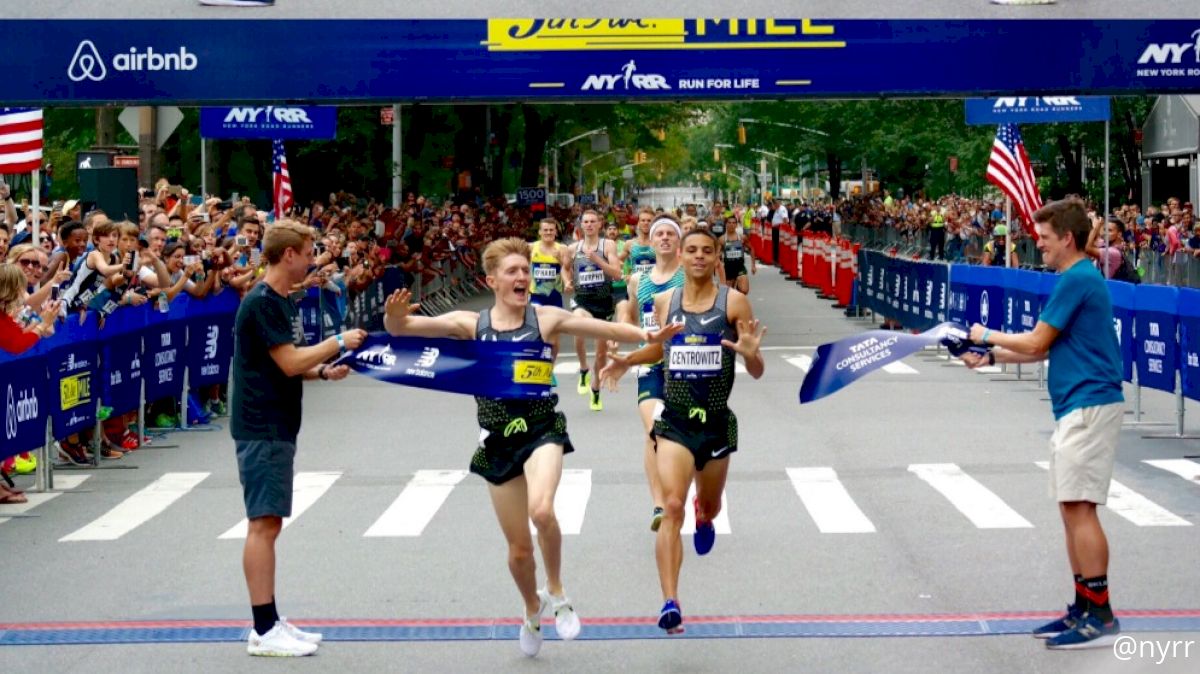 Jenny Simpson ended her stellar 2016 season on a high note, running 4:18 to win her fifth New Balance Fifth Avenue Mile title.
Simpson was front and center the entire race down 5th Avenue with Great Britain's Laura Muir, the 2016 Diamond League Champion, at her side.
Splits (unofficial) I took from truck for #NB5thAveMile --

60.0
2:11
3:15
4:18@trackjenny and @lauramuiruns fronted charge whole way.

— Chris Lotsbom (@ChrisLotsbom) September 3, 2016
Simpson and Muir were joined by Morgan Uceny, Kate Grace and Amanda Eccleston through 800m. But the second half of the race is where the two favorites pulled away and began to battle. Lauren Johnson and Heather Kampf made late surges after the three minute mark, but four-time champion Simpson pulled away over the final 10 seconds to win her fifth New Balance Fifth Avenue Mile title.
Muir finished a close second and Kampf settled for third.
"I care about all my races, but at the end of my season, trans atlantic flight, I had to care a lot to get this done," Simpson told USATF.tv after the race. "I'm really tired, but I'm so proud. New Balance owns 5th Avenue Mile."
In the men's race, 2016 Olympian Ben Blankenship took the field through the opening 400m in around 56 seconds with Olympic champion Matt Centrowitz and 800m bronze medalist Clayton Murphy remained close. Just before the halfway point, Murphy threw in an aggressive surge to earn the $1000 halfway bonus with a blazing 1:53.
Around 2:15, Centro and Blankenship passed Murphy and began to accelerate. Colby Alexander moved into third and passed Blankenship shortly after.
Around 3:30, Centro's Nike Oregon Project teammate Eric Jenkins, who finished fourth in the Olympic trials 5000m, surprised the field by moving into third and didn't stop there.
Centro pulled away from Alexander and didn't notice Jenkins charging hard. He nipped Centro at the line, 3:49.5 to 3:49.6.
MOM MADE PIZZA ROLLS

ICYMI, catch all the #NB5thAveMile action on demand on https://t.co/OydwxwT3i0 +PLUS! pic.twitter.com/AXSz9kBbuK

— USATF (@usatf) September 3, 2016