Last June, a somewhat banged-up Edward Cheserek swept the 10K and 5K national titles at the outdoor NCAA meet. Everyone else's last best chance to beat Ches for a meaningful in an Oregon uniform had clearly passed by, as Cheserek admitted after the 5K that he was feeling at best
90 percent
. And so as his final collegiate cross country season rounds the bend--next Saturday is his final
Pre-Nationals
--it feels more like a valedictory last lap than any kind of dramatic conclusion.
King Ches is the most dominant college runner of his era, and maybe any era. He might be the single most dominant and successful college athlete in any sport in his graduating class, though I'm not knowledgeable enough in other sports to make that proclamation. He's not going to lose a championship race this year, barring a really serious injury.
There are only two questions left before Ches leaves the college scene.
1. Why does he wear his uniform like that?

Even if you can't see it in
these
race
videos
--though you can if you're looking for it--I promise you the following is true. Edward Cheserek grabs at his shorts and adjusts them, usually in the waistband, even while kicking at extremely high speeds late in a championship race. I have stood next to the track in Eugene, OR during the last three NCAA outdoor 5K finals and either I am three years into a massive psychotic break, or this is actually the case.
And this fall, Ches has taken the uniform oddities to a new level. He wore a top at Washington on Saturday that completely covered his shorts. The fact that I'm going this in-depth into Cheserek's sartorial choices shows how little there is to say about Ches competitively. He always wins when it counts; that's it.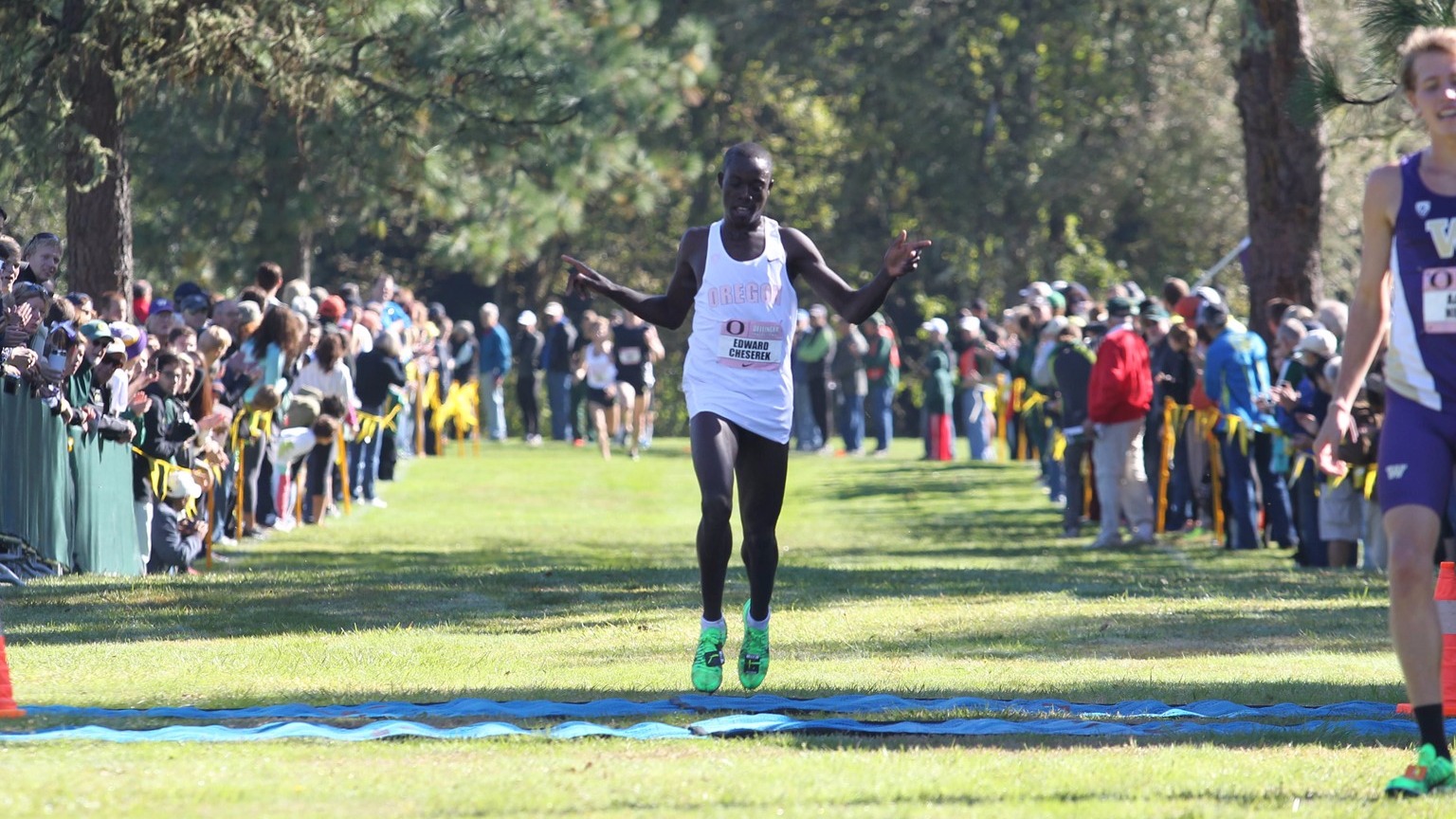 ​GoDucks.com
I've never seen an athlete of this caliber adjust his shorts while kicking or wear a singlet that long. Cheserek does both. Oregon spokesman Greg Walker said there's nothing remarkable about this, explaining, "That's just how he likes them. It's just standard-issue stuff."
2. Why is he still in college?

It's not normal for an NCAA athlete to stay in the NCAA system for four years when they're 1) much better than every other athlete in the NCAA and 2) in a sport where there is actual money available. (That money is limited in track, but it's there.) Assuredly, Cheserek loves the University of Oregon. There, he went from a shy teen to a confident man, became legendary, and had his talent almost perfectly incubated and managed. But that isn't why he still goes to class in Eugene.
The reason why is buried in the subtext of a fine but classically
​New York Times
​-ian piece
that contains lots of interesting and well-reported information, but either accidentally or willfully misses the actual point. The premise of Noah Gallagher Shannon's story is that one of the most successful runners in the United States couldn't compete in the Olympics because his application to become American is moving slowly, which is true enough.
​

But that ignores a much more interesting question--why the hell should Cheserek's immigration status matter? Cheserek, who was born in Kenya and ran 12 hours to test into American high school, could have competed at the Kenyan trials this summer if he wanted to.



Not a single Kenyan man made the Olympic 5K final this summer. With Cheserek's lethal kick, it's easy to say that he would have made the final in Rio this summer. But marketability is why Cheserek has decided to wait out the naturalization process while in college.
Kenyans can typically only get rich in distance running two ways. The first is by being a true world-beater--which, as good as Ches is, he isn't yet. The second is what I'll call the
Stephen Sambu route
, racking up prize money on the roads and depending on winnings instead of a salary. The risks there are obvious.
Even though Cheserek could probably beat Clayton Murphy in a mile right now, Murphy can command a much more lucrative salary as a professional because he can compete for American titles in front of rich American shoe-buying audiences. Cheserek can't yet, because he's not American yet. And therefore leaving college isn't worth it yet for Ches. Enjoy his final year as a Duck.