Triathlete Gwen Jorgensen Aces Pre-New York Marathon Test
Triathlete Gwen Jorgensen Aces Pre-New York Marathon Test
After Gwen Jorgensen finish third at the USATF 10 Mile Championships, it's certain her upcoming marathon debut in New York will be a sight to behold.
Oct 10, 2016
by Taylor Dutch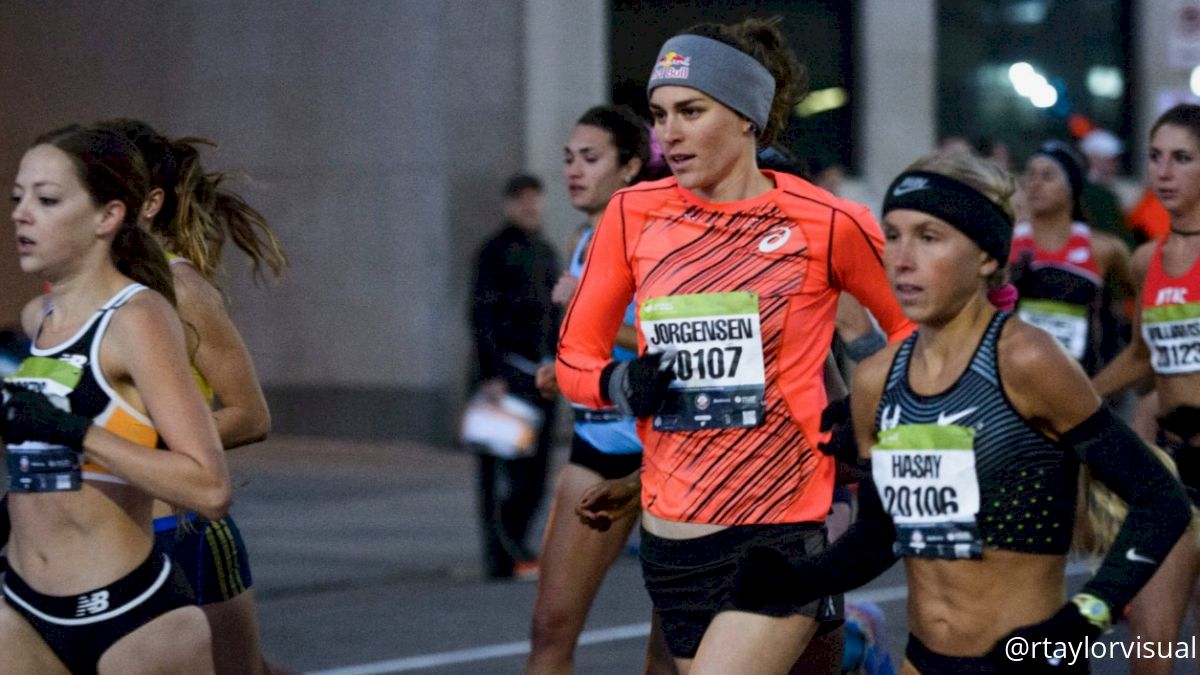 After watching triathlete Gwen Jorgensen finish third at the USATF 10 Mile Championships on Sunday, it's certain that her upcoming marathon debut in New York will be a sight to behold.
Not only did Jorgensen finish on the podium of a U.S. road racing championship next to race winner Jordan Hasay and Aliphine (Tuliamuk) Bolton, but she also beat several experienced professionals in the process. Jorgensen closed in 53:13, 10 seconds ahead of world championships finalist Sara Hall, All-American Mara Olson, and Olympic Trials finalists Maddie Van Beek and Natosha Rogers. Prior to the race, Jorgensen told
The Star Tribune
that she was not "naive" in thinking the race would be easy.
"I'm not naive. I'm not a professional runner, and I'm running against some of the best runners," Jorgensen said Saturday before the championship. "For me, it will be the longest running race I've ever done. It will be a challenge and will let me see where I'm at before the New York City Marathon."
Jorgensen may not be a professional runner, but she raced like one on Sunday.
I was 3rd today at the @usatf National 10 Mile Championship. It was tough but so fun! Congrats Jordan and Aliphine. : @rtaylorvisual pic.twitter.com/Ioee6JBm3T

— gwen jorgensen (@gwenjorgensen) October 9, 2016
Jorgensen is returning from winning Olympic gold in Rio de Janeiro and silver at the World Triathlon Championships in Cozumel, Mexico. Being a world-class triathlete, Jorgensen trains in all three disciplines--swim, bike, and run--which makes Sunday's performance in Minneapolis all the more impressive.
David Monti of Race Results Weekly was quick to point out the significance of Jorgensen's time and how the mark could translate over 26.2.
Wow. @gwenjorgensen ran 53:13 for 3rd place at @usatf 10 Mile Champs. That's equivalent to a 2:29:10 marathon. #TCSNYCMarathon.

— David Monti (@d9monti) October 9, 2016
Jorgensen's athletic background bodes well for a fast performance on the roads. She was an All-American on the track and in cross country and won 2009 Big Ten titles in the 5K and 3K while competing at Wisconsin. While in college, she collected personal bests of 4:21 in the 1500m, 9:10 in the 3K, and 15:52 in the 5K.
After accomplishing her dream of winning Olympic gold in the triathlon, Jorgensen has said that the marathon is a bucket list goal. With New York just a few weeks away and Jorgensen already acing her pre-marathon tests, this bucket list goal has the potential to be another opportunity for Jorgensen to display her unmatched athletic versatility.