The morning I called University of San Francisco head coach Helen Lehman-Winters, she was on her way to the team's practice and would later speak at career day for her kid's school. Our phone interview fit in the middle of a typical busy day for the mom of three and head coach of the men's and women's track programs at USF.
At first, Helen said she was unsure of what she would say to the kids at career day, but she quickly came to the conclusion that her profession is just like teaching, only more fun.
"It's actually pretty easy because essentially, I'm like a teacher, but I get to work with kids who really want to study track and field as opposed to being forced to do it [laughs]," she said. "Everybody wants to be there, everyone is excited about being there and I get to be outside so how much better of a job can you have right?"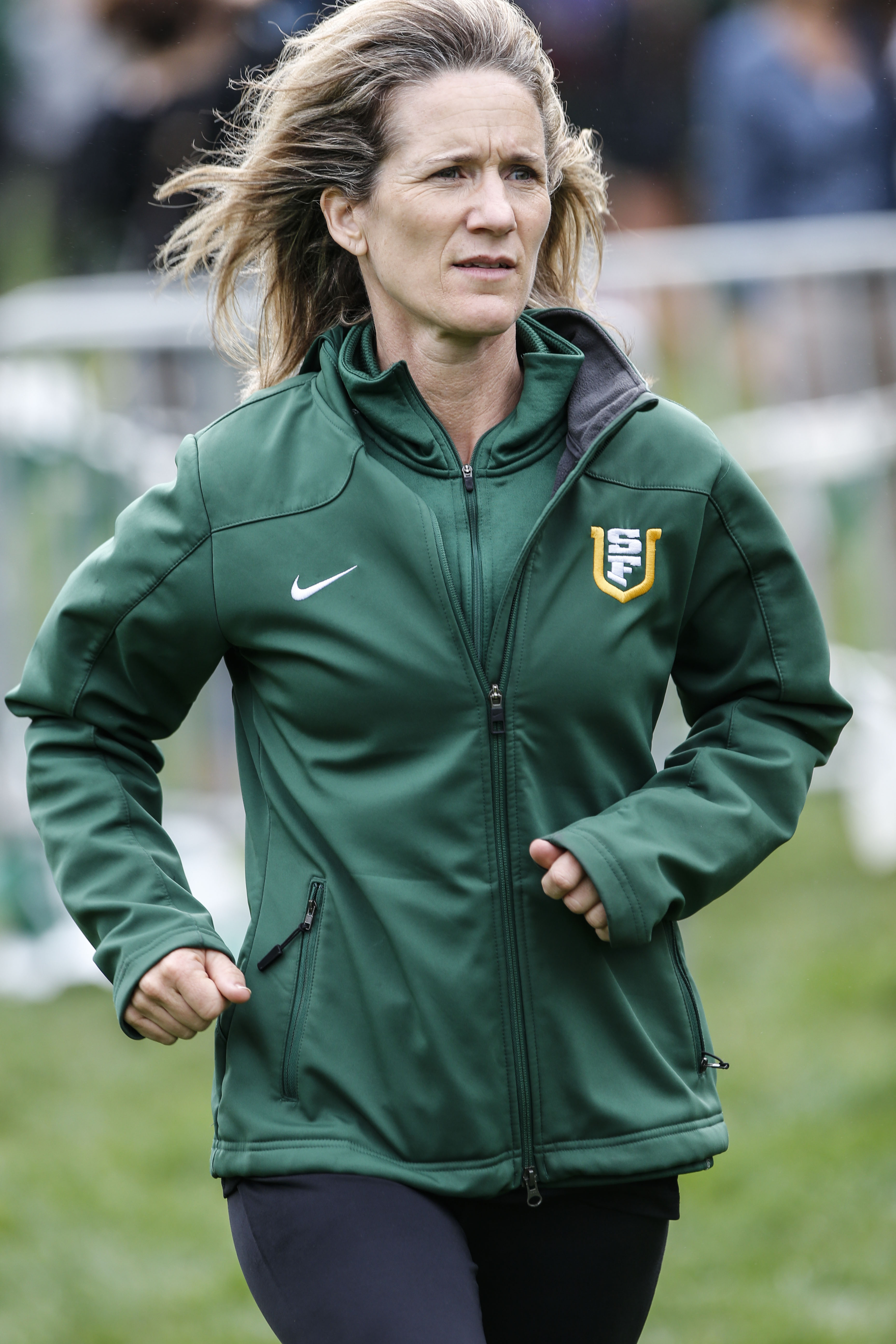 I met Helen when she recruited me as a high school senior. We connected instantly and even though I didn't join her team, we have remained close over the years. She's one of the few female head coaches I've met who coaches both men and women at the Division I level.
Helen is part of the 12 percent of females who work as head coaches for NCAA Division I men's cross country programs. Thirteen percent of head coaches for women's cross country programs are female, according to statistics provided by the
USTFCCCA
. In short, female head coaches--especially for men's and women's combined programs--are few and far between.
When I shared this statistic with Helen, she was pleasantly surprised. She assumed the percentage would be a lot smaller.
"Maybe it's because I've been coaching for so long, but I don't really focus a lot on any challenges because I don't really get outside of myself. I just focus on the coaching part of it," Helen said. "I know there's not a lot of women out there coaching men and women, but I don't really think about that. I just do what I do."
Building programs

The strategy of purely focusing on the coaching part of it has worked for Helen in her 30 years of experience. There's a theme in Helen's coaching past. She helps build programs. USF is just the most recent team.
Her first job came as the head cross country and track coach at El Cerrito High School (1985-89) and later Carondelet High School (1989-2000), where she led the teams to a combined nine California state meet cross country berths, eight North Coast Section titles, and 12 league titles. Both schools regularly finished last in the section before she arrived. From 2000-03, she worked as a volunteer assistant coach at UCLA, serving on the coaching staff for the Bruins' 2001 NCAA indoor championship team and runner-up NCAA outdoor team finishes in 2002 and 2003. She was then offered the job of head cross country coach at USF.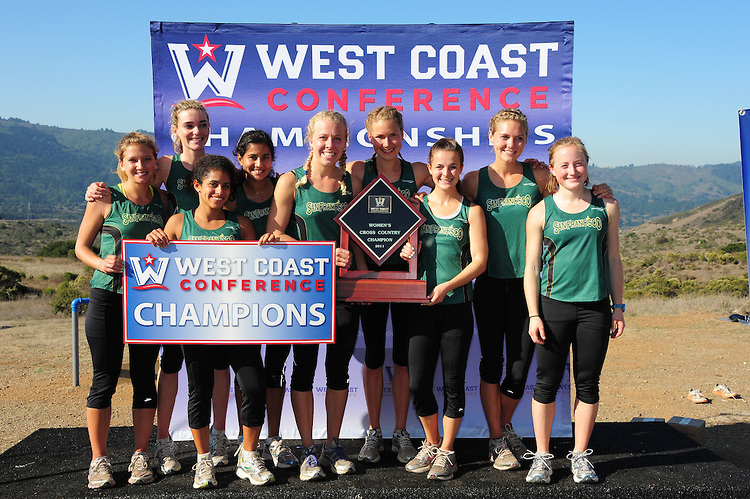 In her 13 years at USF, Helen has guided her women's team to five West Coast Conference titles, three NCAA Cross Country Championship berths, and eight individual All-American finishes. The highlights are vast improvements for a team that periodically finished last in the conference during the program's early years.
Although she has guided three male individuals and three women's teams to qualify for the NCAA Cross Country Championships, Helen maintains that one of her big professional goals is to finally qualify a men's team to the meet.
"Why is that a goal? Probably the same reason why it would be a goal for the women's side. As a coach, professionally, you want to compete at the highest level," Helen said.
"Coaching both men and women, it's important for me to compete at the highest level on the men's side as well as the women's side. It's no different. If it was flipped, I'd be saying the same thing about the women's side. I just like to compete, I like to win, and I like to compete at the highest level for both genders."
Staying in the profession

Competing at the highest level in the NCAA is a challenge in itself, but managing the job as head coach and as a parent to three kids between the ages of 10 and 14 sounds almost impossible. Helen thinks that being a parent is a large reason why many women leave the coaching profession.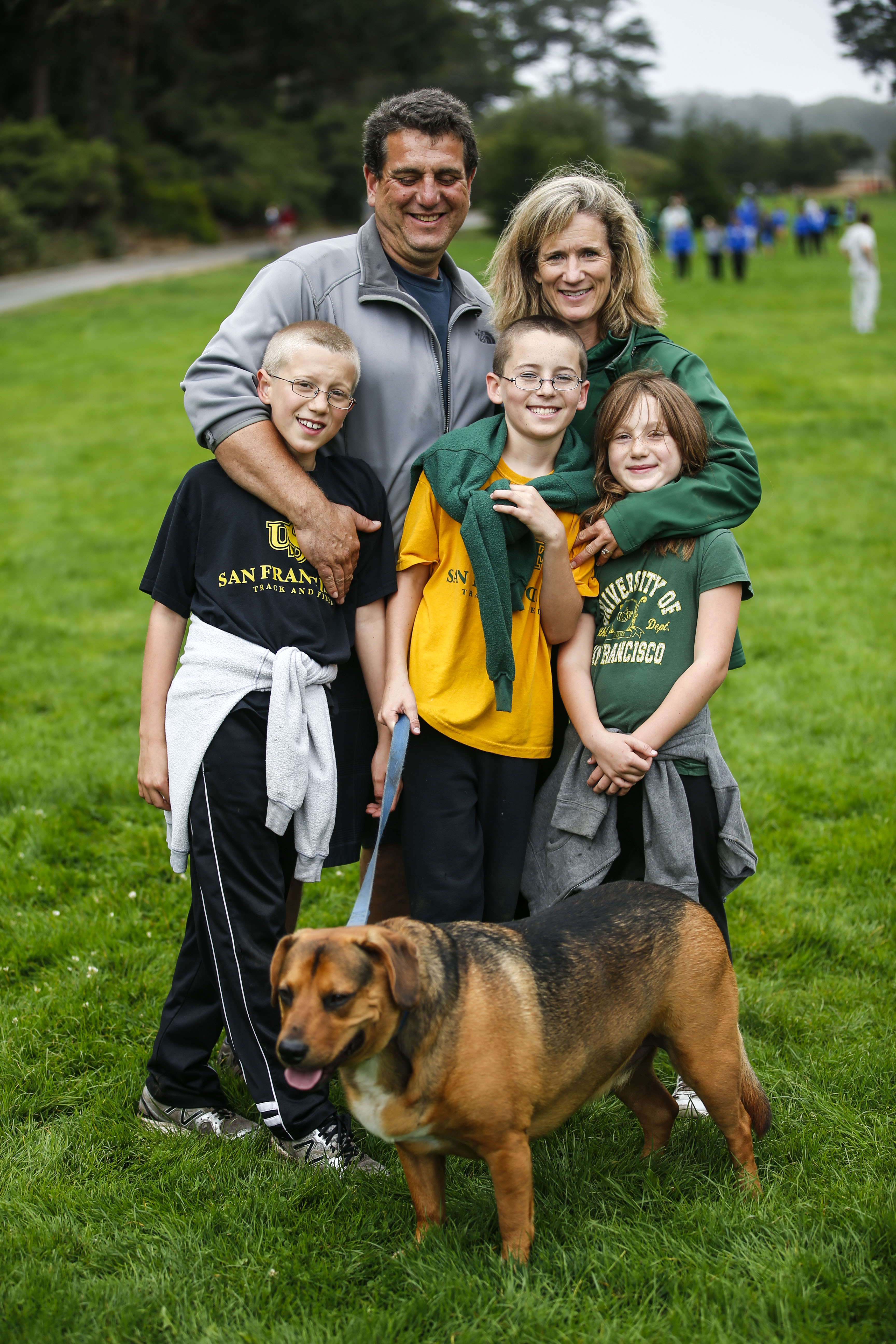 "The problem on the women's side is that there aren't a lot of women who stay in coaching. There are some women who stay in the profession, but it's very challenging," she said. "Here's an example: When I leave to go on the road--and I have three kids--so when I leave, all the personal challenges of having kids I'm preparing for when I'm gone whereas my male counterparts--they just go, they don't need to worry about that. So when I go on the road, it's a big production because I'm trying to orchestrate everything."
"That's the challenge for females staying in coaching, you still have to manage everything that's going to happen in your personal life if you have kids. If you don't have kids, then I don't think you have that challenge, but if you have kids, then you absolutely have that challenge," she said.
Helen credits her husband who helps out and supports her with the craziness that comes with being a head coach at the Division I level. Helen makes it work by frequently bringing her kids to practice and meets. She even recalled putting them in a pack when they were babies so they could travel everywhere with her. Being exposed to cross country from an early age, Helen's kids have developed a passion for the sport. Two are now competing for their own respective teams. It's a little "cross country crazy" as Helen says.
Lehman-Winters says that "for sure" she's questioned sticking with coaching. "But again, it goes back to focusing on the challenges versus the good things so for me, I always just focus on the value of it," she said. "Even what my kids were getting from me being in the profession--the experiences they had growing up, being around my teams and being in the environment has been phenomenal."
'Developing good people'

Helen has recruited and coached many athletes who achieved success, often beyond what they thought they were capable of. Former Don and school record-holder Sophie Curl recalled a promise that Helen made to her on her recruiting trip.
"I told her my hesitation with coming here because I didn't know if I would be challenged," Curl recalled. "I said, 'Well Helen, I want to go to NCAAs, can you take me there?' and she said, 'Yes.'"
From there, the standard was set. Curl went on to run a 1500m PR of 4:16 and contribute as a consistent top-five scorer on the cross country squad. She was a three-time NCAA qualifier and competed in the NCAA outdoor finals in 2012. Curl also credited Helen with pushing her to achieve more in the classroom.
"I definitely could not have done the nursing major without her, she was always encouraging me to do it," Curl said. "That's something that I really admire and appreciate about her is that she's not just about coaching good athletes, she really wants to develop good people."
As one of her athletes and later assistant coach, Alex Nelson also appreciated the individualization that Helen implements into the program. An example that he recalls is the only time he ever disagreed with a decision she made. When he was a freshman, she entered Nelson in the fastest heat of the 1500m at a meet hosted by UCLA.
"I remember saying, 'I can't run against those guys, there are guys running 3:45!' and she says, 'Look Alex, yeah there's some fast guys, but there are also guys that you're just as good as so go get in the race, beat one person, and PR," Nelson said, laughing as he remembered the conversation.
He ended up beating one person and setting a personal best by four seconds. In his junior year, Nelson became the first male in school history to qualify and compete at the NCAA meet.
'Do what you do'

At the end of the day, it's disappointing that only 12-13 percent of cross country head coaches are female when there are so many capable women. There are 348 Division I women's cross country teams. If 13 percent of them have women as head coaches, that means there are less than 50 female women's head coaches in all of Division I.
However, hearing Helen and listening to her athletes' accounts of her coaching ability is encouraging. A mom of three has been coaching and building programs for 30 years--13 of them being at the Division I level for a men's and women's program.
But Helen doesn't think of it that way, and I suppose no aspiring female head coach can.
Just "do what you do."