2016 New York City Marathon
NYC Marathon Could See Tatyana McFadden Cap 2016 In Historic Fashion
NYC Marathon Could See Tatyana McFadden Cap 2016 In Historic Fashion
US Paralympian Tatyana McFadden is hoping to continue her dominance at the TCS New York City Marathon where she will be shooting for an unprecedented 16th straight victory at the distance.
Nov 3, 2016
by Joe Battaglia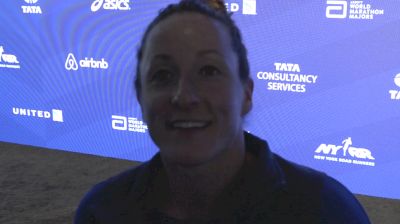 Tatyana McFadden
is the most dominant wheelchair racer in history, having swept all of the Abbott World Marathon Major titles an unprecedented three times and with 10 Paralympic medals to her credit, including six this summer in Rio.
This year, the 27-year-old has raced more than any time in her career. She is hoping to cap this grueling season with another victory at the
TCS New York City Marathon
. A win on Sunday would be her 16th straight at the marathon distance, a feat that has never been accomplished. Ahead of the race, McFadden spoke about the physical toll this year has taken and her outlook for her final race.
Tatyana, can you talk a little bit about your Rio experience. I know going in, obviously, the goal was 6 for 6 in golds. You got 4 of 6. Can you just talk a little bit about that and how you came out of all those races?
It was a really good Games for me. I decided to go for seven events this time. I mean, to medal in each event is unbelievable, especially because I'm going against competitors that focus only on sprinting and competitors that focus only on the distance. The 100 meters has always been the hardest for me. I didn't medal in Beijing. In London I got bronze. This year I got silver. This means I'm getting stronger and quicker, which is really good.
Then you have the 5000m, which is on the track, which is very opposite of the one, and I got gold in that. So that was really quite amazing. It was my first five. So to get a gold this year in Rio for the marathon was also incredible.
London, I had some technical difficulties, and I wasn't able to medal. So it was nice coming down. It was a very, very close race, head to head, but I was really happy to walk away with a medal.
When you're training for that variety of distances from sprint on up to the marathon, how difficult is that?
It's really difficult. We have to break up our training, kind of almost like in semesters. Over the summer and the spring, we really focused on just the track portions, really focusing on the speed and my track events specifically. In the fall, we did a lot of the building phase, more strength and endurance. So it was a really tough season, especially because of Chicago and London right before the games, and then we had to quickly transition over toward the track part to get ready for Rio.
How did you come out of the Games physically?
I came out exhausted. It was really tough. I was going every day, twice a day for about two weeks, and then I had all the media obligations right after Rio. So when I got off the plane, I flew straight to New York. I felt like I was kind of globe trotting all over the U.S., but it was amazing.
I got to be on Ellen, which was so much fun. So it's just been so wonderful. Then back to short training to get ready for Chicago. That was really tough. That was really quite painful. I think we all felt it. That was really quite painful, but I still had that endurance from Rio and still that peak from Rio, which is good.
After Chicago, we got a little bit of recovery time to get ready for New York, and then picked it back up just in time for the New York Marathon.
From a physical standpoint, given how long the season was and how many races that you added to the schedule, which wouldn't be a typical year, how are you feeling coming into this last race of the year?
Excited. I've had only a week off after Rio. So I haven't had that much time off at all. I had just only a week of not being in my chair, or I'm in training. So it's been really, really tough. It's a lot mentally. It's really a mental battle during the Games and staying focused and then getting -- turning around and doing Chicago and turning around and doing New York.
It's tough, but I love it. It's been so much fun. So much positivity, great media coverage. I think, when New York is done, I'm really excited to take some family time. We'll be going to Florida for Thanksgiving. And I'll be marching in the Macy's Day Parade with Team USA, and then we'll be going to Mexico for winter break. So I'm really excited for the little time off.
Having gone through and swept all the Majors multiple times, how would you compare this season in terms of the challenges and certainly the volume of racing in comparison to some of those other seasons you've had?
Yeah, I think the volume has definitely increased this year. It's been just crazy with track meets and qualifications for Rio and then training for Rio and then doing all the events in Rio, then turning around and doing the marathons. So it's been nonstop all year since last January. So it's been a really long season. You're looking at from January all the way to pretty much about now. It's been a really kind of like a long haul of training and a lot of miles going in.
But it's fun. Next year is going to be just as tough, especially with all the Majors coming up again. But in an Olympic year, it's always really, really tough, especially just with the track meets and the marathons on top of that.
So what's the secret to your success? How do you get through all this grueling training and all of these races?
I make it fun. So I put on my favorite song before I go to work out, and I have like fun snacks. I'll make a waffle and have a little Bacon and eggs and just make it fun. With the volume intensity and training, I'm allowed to have that. So I just make things really fun and good and really rewarding for the time being.
I mean, my family has been really incredible, so have my sponsors, helping me get through the Games and getting through the marathon. So it's been easy but not easy.
What would it mean to cap this year with a victory here again?
It would be my 16th straight marathon win, which would be unbelievable. That's something that no one has ever done before. So it will be absolutely insane. Serena Williams has always been my role model. She's conquered so many tennis matches, and she's just such a dominant force. So I just hope to be like her going along this journey.