Before finishing 11th at the Pac-12 Cross Country Championships, Fiona O'Keeffe battled an early season foot injury to make her college debut. Before finishing 14th, Christina Aragon was hit in face at the starting line. And before finishing 47th, Hannah DeBalsi fell at the 2K mark and picked herself back up.
These three freshmen, in addition to fellow first-year runner Ella Donaghu, pushed through adversity to help Stanford upset the Pac-12 field with a third-place team finish.
In a difficult situation where All-American and NCAA runner-up Elise Cranny was out with an injury, the freshmen stepped up when it mattered most. It paid off in a podium finish and a jump from No. 11 to No. 6 in the
Saucony Flo50 rankings
. O'Keeffe (11th), Aragon (14th), and Donaghu's (20th) all-conference finishes helped contribute to the 83-point spread for Stanford, which overtook previously ranked No. 3 Oregon. Without their all-conference runs, the Cardinal wouldn't have come within nine points of runner-up and now No. 3 Washington or beaten Oregon by five crucial points. Team finish aside, Stanford placing three freshmen in the top 20 and four freshmen in the top seven is a rarity in NCAA DI cross country.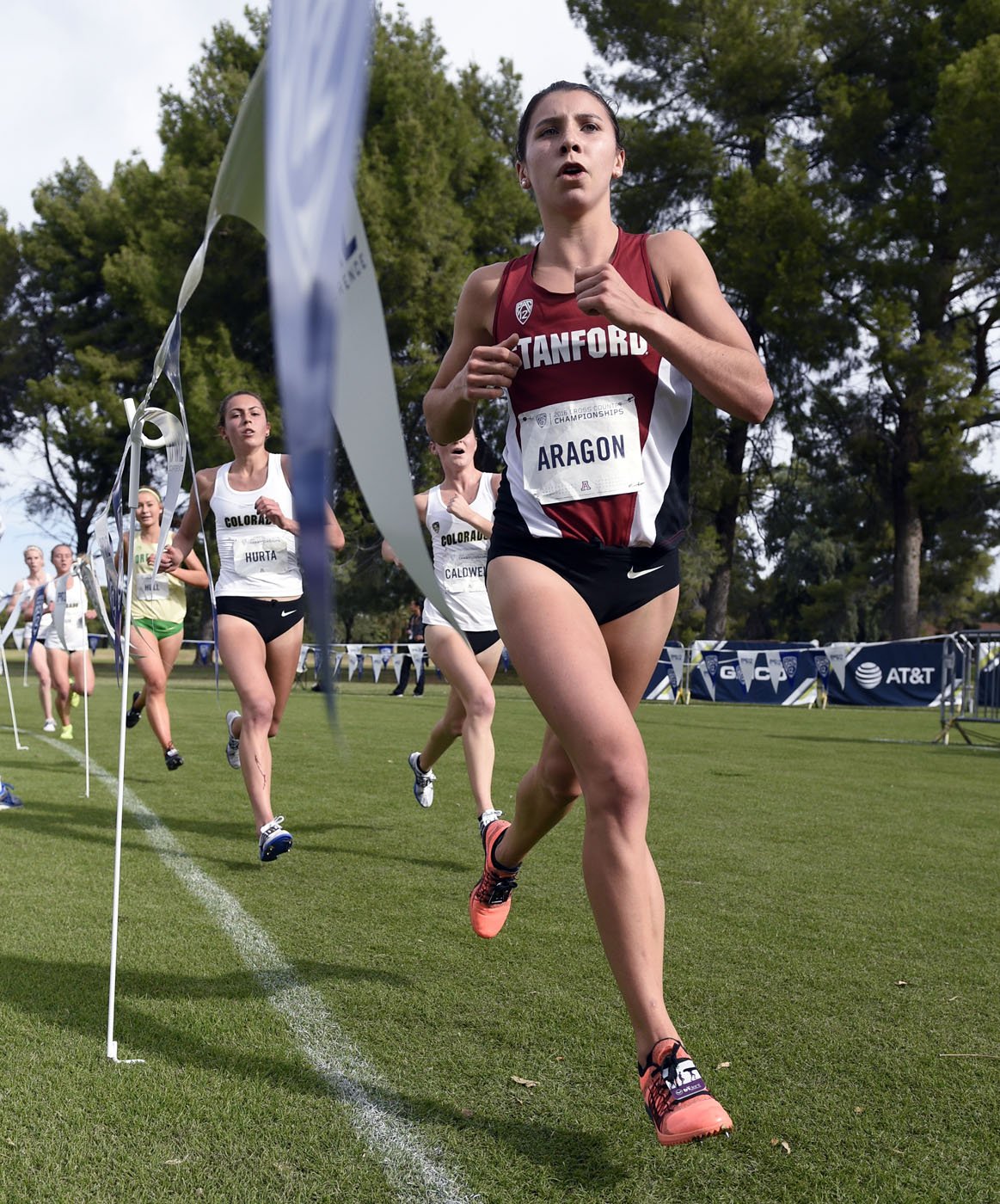 But Cardinal head coach Elizabeth DeBole anticipated the toughness from her young runners who bought in to the team culture immediately.
"They never once doubted themselves or played the whole 'I'm a freshman, I don't belong up there' thing. They stuck their noses in from day one," DeBole told FloTrack.
"They don't label themselves as freshmen, and we don't either. It doesn't matter what year you are, you are part of the Stanford cross country team."
Before arriving at Stanford, O'Keeffe, Aragon, Donaghu, and DeBalsi established themselves as some of the best high school distance runners in the country and helped the Cardinal earn the
No. 1 ranking among the 2016 recruiting classes.
O'Keeffe arrived with a 4:47 1600m personal best, a 10:04 3200m PR, and finished second at the Brooks PR 2 mile. Aragon came with a 2:04 800m PR, a 4:08 1500m PR, and earned bronze at the World Junior Championships. Donaghu boasts 4:34 mile speed and claimed second at Nike Cross Nationals. Debalsi owns a 9:55 3200m PR and finished 12th at Foot Locker Nationals as a senior.
Most importantly, they are all living up to their credentials as tough competitors.
"All of them are awesome people, really genuine and really want to make this team great, but you get them on the line and once the gun goes off, they're little pit bulls," DeBole said.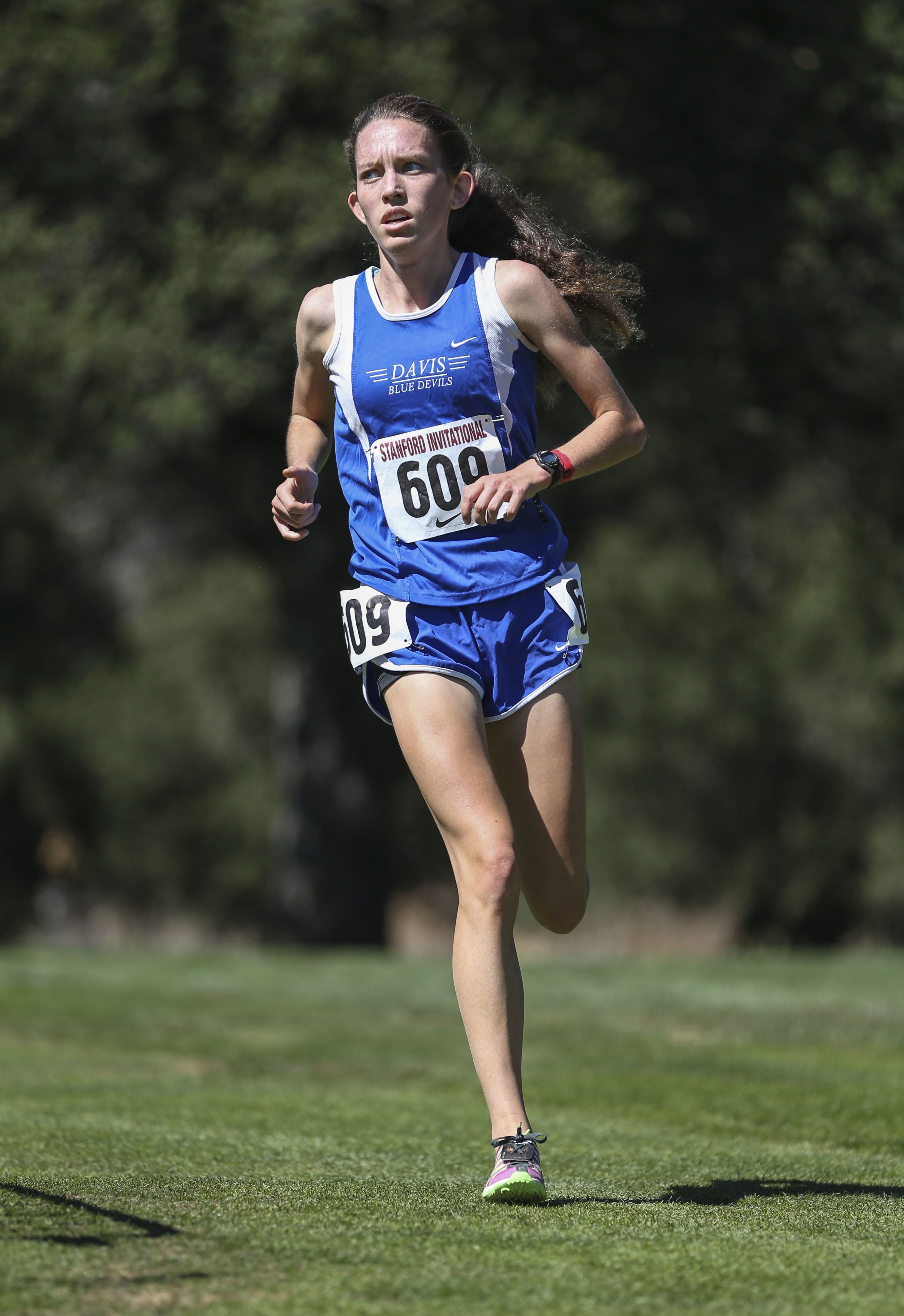 O'Keeffe in particular has executed several performances while overcoming physical or mental odds in order to contribute to her team. After winning the 5K in a PR of 15:56 at USATF Junior Nationals in July, O'Keeffe suffered from a leg injury that forced her to take time off until arriving at Stanford in late August. She regained health throughout the fall and despite the challenge of competing at a championship for her first college race, O'Keeffe executed by finishing as the second runner to cross the line for the Cardinal.
One year earlier, O'Keeffe battled calf and tendinitis problems toward the end of her senior cross country season at Davis High School. Despite a disappointing eighth-place finish at the California state meet, O'Keeffe made the game-day decision to continue running for her team through injury at Nike Cross Nationals one week later. She went on to place 85th in the race as the school's fourth runner to cross the line. Her critical points contributed to Davis' runner-up team finish to Fayetteville-Manlius.
"She came and just wanted to give her best performance for Stanford, and that's what she did last fall when she wanted to give her best performance for Davis," DeBole said. "It's the same mindset of wanting to give her best performance, not trying to be our No. 1 runner or anything like that. She just ran her best, and it was really good."
The mindset of prioritizing the team over being the No. 1 runner is a cultural aspect that DeBole said permeates throughout the women's team, even if it's a first-time experience for them.
"It's the first time that all of them have been able to just be a good team player. I mean they all came from places where they were the No. 1 runner, and it's all about you," DeBole said.
"So coming in this year they've really bought into the team culture of it, and they aren't worrying about trying to be No. 1 or anything like that. ... We're all just trying to be the best Stanford we can be, and I feel like we're getting pretty good."
Prior to Pac-12s, Stanford experienced a setback when the team's No. 1 runner suffered a foot injury during pre-meet practice before the Pre-National Invitational. Cranny was forced to hobble on crutches while watching her team finish sixth overall in Terre Haute, Indiana. She also had to sit out at Pac-12s. DeBole said that Cranny is making progress on her injury and hopes to compete at the NCAA championships in two weeks. In order to compete at NCAAs, the team must qualify out of the NCAA West region this Friday.
Despite the hardship of running without their No. 1 athlete, DeBole met with the team and assured everyone that their plans haven't changed a bit. And why should they?
"Nothing changes. We still have the goal of finishing top 10 in the NCAA," DeBole said.
"We're just getting better and better each week. I think we just need to focus on us, and if we can all execute our race and race for each other, that's all you can ask for in the end, right?"