2016 DI NCAA XC Championships
Patrick Tiernan Upsets Edward Cheserek, Northern Arizona Claims NCAA Crown
Patrick Tiernan Upsets Edward Cheserek, Northern Arizona Claims NCAA Crown
Patrick Tiernan dethroned Edward Cheserek to win the NCAA cross country title Saturday in Terre Haute.
Nov 19, 2016
by Taylor Dutch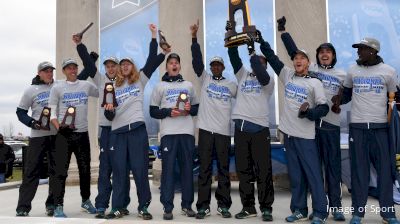 TERRE HAUTE, Ind. -- In a stunning upset, Villanova's Patrick Tiernan disrupted history in the making with a takedown of three-time NCAA cross country champion Edward Cheserek. The senior kicked to his first NCAA title by extending his lead in the final 2K stretch Saturday at the LaVern Gibson Championship Course.
Syracuse All American Justyn Knight followed for a runner-up finish while Cheserek trailed in third overall.
"I wanted to leave the NCAA with an NCAA championship and nothing was going to get in the way of that,"
Tiernan said
.
"Everybody in the race is on an equal level when you get there, and anybody is beatable at the end of the day," he added.
FULL NCAA XC CHAMPIONSHIP RESULTS

The performance marked the third time that Cheserek has lost an individual NCAA title since arriving at the University of Oregon. If Cheserek won today's title, the performance would have been his 16th NCAA crown and his fourth consecutive NCAA cross country title. No NCAA competitor has won four consecutive NCAA cross country titles, and Cheserek was hoping to accomplish the feat.
"It's a different situation to be in, for him to lose, but sometimes that ends up being a good thing. As we go into the track season, he'll be hungry, focused and motivated to come back and race those guys in indoor and outdoor," Oregon coach
Andy Powell told FloTrack
.
Tiernan put a stop to Cheserek's title hopes when he executed a surge with 2K remaining in the race. The strategy paid off as the Australian Olympian held off Knight and Cheserek to finally earned his first NCAA title in his final season for the Wildcats. Knight followed Tiernan into the finish line where the two competitors embraced when the Syracuse junior improved upon his fourth-place finish from last year.
The team race was a heroic effort from Northern Arizona who won the program's first ever NCAA championship to cap off head coach Eric Heins' NAU coaching career.
Led by a fourth-place finish from Futsum Zienasellassie, the Lumberjacks earned 125 points to win the title ahead of runner-up Stanford (158 points), third-place Syracuse (164), and fourth-place Ole Miss (196).
"Everyone here is just running for each other. We are all running for ourselves and for Heins so we just had to come out and do what we train for and we did that,"
Zienasellassie said.
The race was partially dictated by early front-running from Matthew Baxter who surged ahead of the pack around the 3K mark after the leaders took the pace out slow to combat a strong headwind.
In the end, Baxter earned one of NAU's four All American honors with stellar performances from Zienasellassie (4th), Baxter (11th), Tyler Day (23rd), and Andy Trouard (37th). Cory Glines rounded out the team score with an 84th-place finish.
Heins' said he knew that his team had the potential to win NCAAs after the squad returned from the Wisconsin Invitational victory in October. An unprecedented workout foreshadowed what was to come in November.
"When we came back from that [Wisconsin], we ran eight miles at 5:20 in Buffalo Park. I'd never seen that before from any team that I've coached or seen in Flagstaff, and I knew that we had the deepest team in the country,"
Heins said
.
The Lumberjacks' victory was the perfect ending to Heins' coaching career at NAU. Last April, Heins made the decision to move to Houston when his wife accepted the education supervisor position at the Space Center Houston. The husband and father to their eight-year-old son Chase is leaving his position as head coach in support of his wife and her dream job.
Saturday marked the ultimate reward to what has been a historic coaching career for Heins.
"It's unbelievable. I'm kind of numb right now to what these guys just pulled off. I'm super proud of them. A couple of guys didn't have their best day, but a couple guys had their best day and that's what a team is about," Heins said.
Watch the Lumberjacks' journey to No. 1 in Northern Arizona: The Program: