2016 FloTrack Beer Mile World Championships
Caitlin Batten Wins As World Record Time Is DQ'd For Not Drinking Enough
Caitlin Batten Wins As World Record Time Is DQ'd For Not Drinking Enough
Caitlin Batten won the Beer Mile World Championships after leader Ali Morgan was disqualified.
Dec 17, 2016
by Dennis Young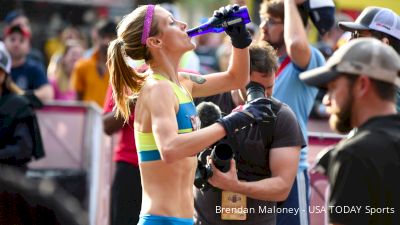 In her first ever competitive beer mile, Ali Grace Morgan ran 6:07--but was disqualified for leaving too much beer in her cans. Caitlin Batten won in 6:29 after leading most of the race. Veteran beer miler and Austinite Andrea Fisher was second in 6:31, marking her second runner-up finish at the FloTrack Beer Mile World Championships.
Batten, 30, was 10th at the inaugural beer mile worlds and didn't compete last year. Her previous beer mile PR was 6:41; she won $2,500 for her 12-second PR today.
Batten's 6:29 makes her the No. 5 women's beer miler of all time. More race videos and interviews to come.
WATCH WOMEN'S CHAMPIONSHIP RACE
LIVE RESULTS