Keninesa Bekele
dropped out of last night's Dubai Marathon
, and we now know why.
The World record-holder over 5K and 10K fell at the very start of the race, injuring himself and throwing his body off balance in the process. The video at the top of this article shows the head-on angle of the fall, while this tweet details the incident from a different point of view:
Unofficial footage from the Dubai marathon. Incident involving Bekele at the start resulting in a hard fall. Updates to follow. pic.twitter.com/5ElKCtPYEF

— Sub2hrsmarathon (@Sub2hrs) January 20, 2017
Bekele dropped out just over one hour into the marathon. His agency tweeted shortly after that Bekele did indeed fall and injure himself.
"I was at least in the same shape as in Berlin and ready for something special today," said Bekele in the release. "But after a hard fall just after the start, my body was out of balance and I got cramps in my left calf trying to run at world record pace. I like to prepare for many scenarios, but this was definitely not one of them!"
Bekele's thoughts of today's race. Although he could not finish, he is determined to be back in good shape in @LondonMarathon in April! pic.twitter.com/6fEoV5yHgy

— Global Sports Comm (@GlobalSportsCom) January 20, 2017
David Monti noted that elite athletes should always have a cushion between themselves and the rest of the race participants.
Jos Hermens says @KenenisaBekele was pushed down at the start by the surge from behind. Top elites should always have a gap ahead of masses.

— David Monti (@d9monti) January 20, 2017
Tamirat Tola of Ethiopia won the race in a course record time of 2:04:11.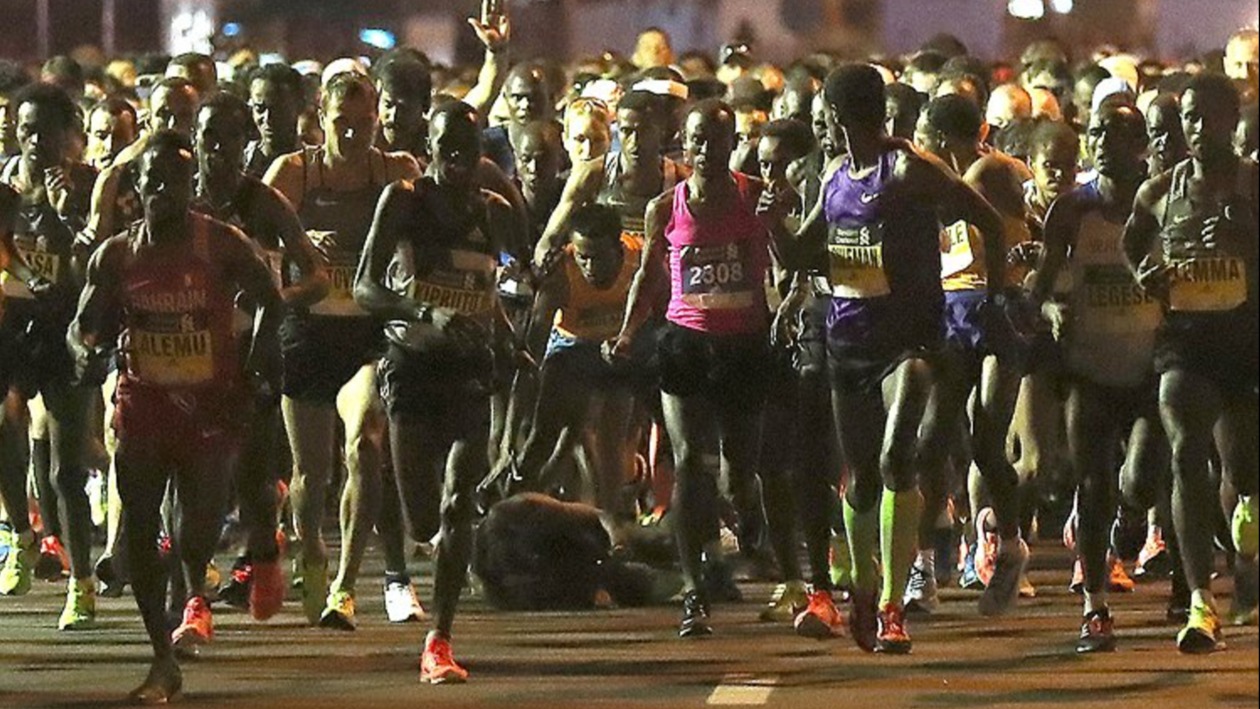 Photo courtesy of @iaaforg on Twitter