Jenny Simpson: Transcend
Jenny Simpson's Rise From 2009 NCAA Collapse Is A Lesson For All Athletes
Jenny Simpson's Rise From 2009 NCAA Collapse Is A Lesson For All Athletes
Almost eight years later while producing the documentary series "Jenny Simpson: Transcend," I knew that we had to cover the 2009 NCAA Cross Country Championships. What I didn't know was how much I would learn about Jenny and her coaches, Mark Wetmore and
Mar 21, 2017
by Taylor Dutch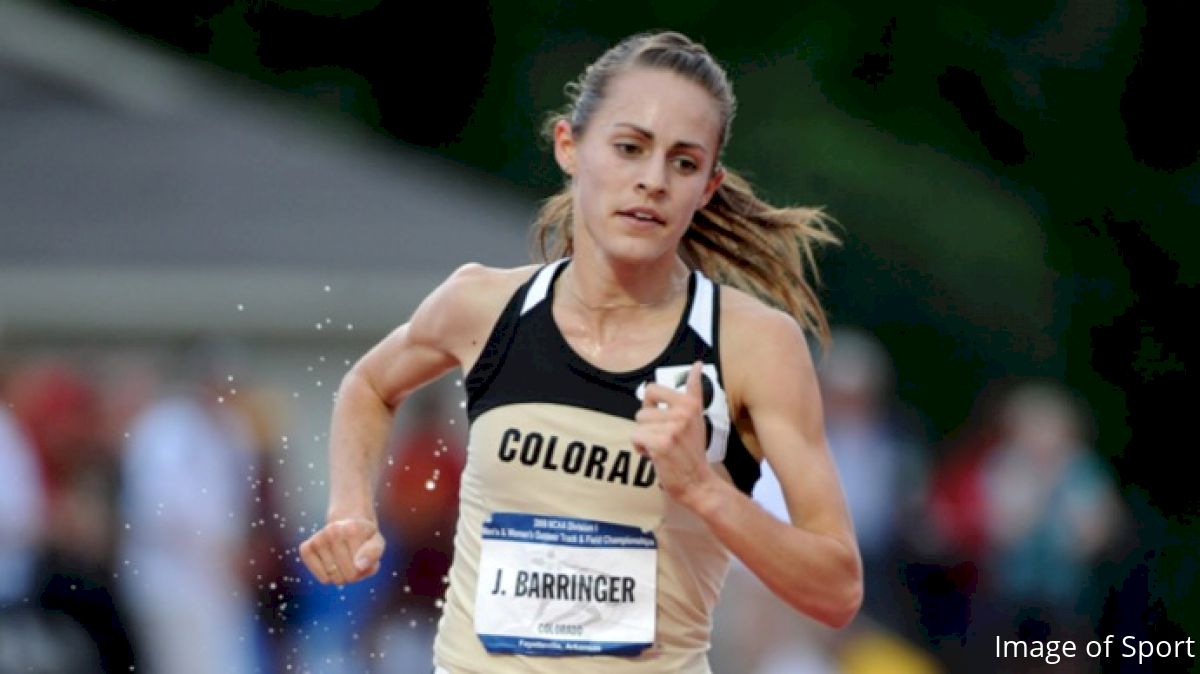 I remember watching the 2009 NCAA Cross Country Championships on TV when I was a sophomore in college. Specifically, I was pumped to watch Jenny Barringer (now Simpson) roll on the field; I thought there probably wouldn't be another college athlete like her.
The race started, like so many before, with Jenny up front and setting herself apart from the rest of the competition. But just after the halfway point, she was suddenly and inexplicably gone. The tenacity that fans grew accustomed to seeing had vanished from the race. I remember thinking, "Something is wrong. She must have fallen. Someone must have tripped her; something must have happened to her."
Jenny never has bad days.
Prior to this race, Jenny emerged as one of the greatest college athletes of all time. She shattered nearly every distance record in the book. She won four NCAA titles, finished eighth in the Olympic Games, and fifth at the world championships. This race would be her last in a Colorado uniform and was meant to be her final NCAA title before a successful professional career.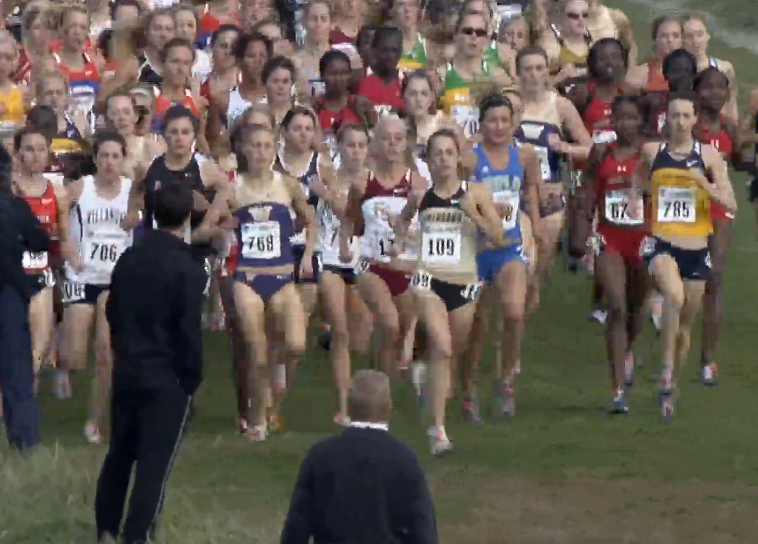 The broadcast eventually found her after she drifted backward into the depths of the field. In one of the most heartbreaking scenes I've ever watched in track and field, Jenny collapsed to the ground. Her legs buckled, and she fell to the grass as dozens of competitors passed her.
But then she got up. In a completely defeating moment when it would have been totally understandable for her to drop out of the race, Jenny got up and kept going. Not only did she keep going, but she also passed about 40 people in the last 500 meters before the finish line.
Almost eight years later while producing the documentary series "Jenny Simpson: Transcend," I knew that we had to cover this difficult point in her career. What I didn't know was how much I would learn about her and her coaches, Mark Wetmore and Heather Burroughs, from that race.
WATCH: Episode 1 of Jenny Simpson: Transcend

When asked about what happened to Jenny that day, Wetmore answered, "We allowed external concerns interfere with the fall of 2009--talking to shoe companies, talking to agents, but I felt it wouldn't be a distraction. I was wrong."
With one of the greatest female distance runners under his tutelage, it takes an extremely humble coach to admit that, but Mark claimed responsibility for allowing too many distractions in her final season.
Heather remembered the moment she knew "[Jenny's] in trouble," which led to a gut-wrenching internal battle that took place when she saw Jenny fall right in front of her several times.
Would she pick Jenny up and pull her out of the race? Or would she let her finish what she started? Meanwhile, several surrounding coaches were criticizing her for not pulling Jenny off the course. But Heather made the decision to let her continue.
"Instead of doing what I had done all along…I made the mistake of thinking I had to do something amazing for my last race," Jenny said.
As a result, she took the race out hard, just over a 9:00 pace through the 3K mark. When she reached the 3K, Jenny hit her limit, but there were still people running with her. That's when she panicked.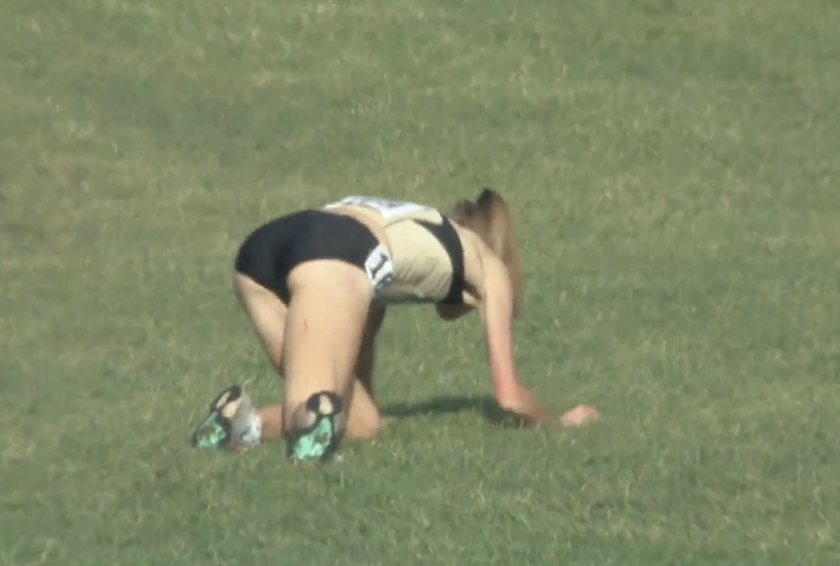 Jenny doesn't remember everything that happened in those moments, but she pressed forward. With her title hopes dashed, she thought, "You have to finish this with dignity."
She finished in 163rd place, but the disappointment of the race wasn't the hardest part. It was the looming self-doubt, the loneliness from being unwelcome to stay with Mark and Heather, and the constant panic attacks that followed.
"The worst part was when I was on my own for months after that and thinking, 'I can't tell people,'" Jenny said.
"I would try to run hard and I would start to have that shortness of breath, that panicky feeling. And there were a few moments when I wondered, 'Is this it? Am I going to be able to run hard again ever?'"
Eventually, Jenny found her place at the Olympic Training Center in Colorado Springs, Colorado, and saw a sports psychologist to help her overcome her mental barriers. But the battle within herself and the willingness to press on by seeking help speaks volumes as an example to athletes of all levels.
Even Olympians have bad days.
If Heather had carried Jenny off the course that day, I think that decision would have dramatically altered Jenny's mindset. As heartbreaking as the race was, it forced Jenny to show character in the toughest moment of her career in that point in time. The after-effects molded her into a stronger athlete and person.
One of the powerful sentiments that Mark shared about Jenny is that she is the most resilient athlete he's ever coached. It's a resilience that was shown at the low of the 2009 NCAA Cross Country Championships, and it's the same resilience that earned world championship gold and silver medals and an Olympic bronze medal.
"Sometimes being in a dark place is part of navigating those troubled waters," Jenny said. "When you come out on the other side, you just know more about yourself, and you know more about what you're capable of."
Stay tuned for episode 2 of Jenny Simpson: Transcend, which premieres on Wednesday, March 22nd!
Watch episode one of 'Jenny Simspon: Transcend' now:

How To Watch
ON TV:
Now available on Roku and Apple TV 4 -- download the FloSports app today!
STREAMING
: Available only on FloTrack.
SIGN UP HERE
A yearly FloPro subscription provides access to ALL FloSports sites
Join The Conversation On Social
• Follow us on Twitter
@FloTrack
• Follow us on Instagram
@FloTrack_TrackIsBack
• Follow us on
Facebook