2017 Texas Relays
Mondo Destroys Pro Field, Breaks World Junior Record By 10cm
Mondo Destroys Pro Field, Breaks World Junior Record By 10cm
Mondo Duplantis destroys the world junior record as well as a professional field in the pole vault at the Texas Relays.
Apr 1, 2017
by Johanna Gretschel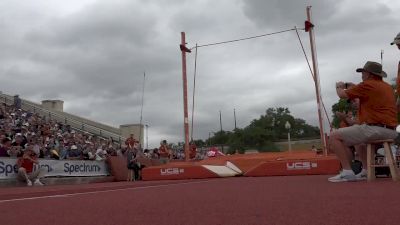 Mondo Duplantis cleared 19-4.25/5.90m at the Texas Relays to break the world junior record in the pole vault by an astonishing 10cm. He also blew the doors off a professional field that included reigning IAAF world outdoor champion Shawn Barber of Canada, who managed just 18-0.5/5.50m today.
The prior world junior outdoor record was 19-0.25/5.80m, held jointly by Maksim Tarasov and Raphael Holzdeppe. Duplantis did perform better than that indoors, as he cleared 19-1/5.82m to win New Balance Nationals in March. Duplantis is now in the realm of senior athletes, where he ranks No. 1 in the world this year and No. 38 all-time. That mark would have been the fifth-best in the world last year, an impressive feat considering that 2016 was an Olympic year.
A performance of 5.90m or better is often enough to win the senior level IAAF World Championships title, though it must be noted that the 2004, 2008, 2012 and 2016 Olympic Games were won with a higher clearance.
That 5.90m by @mondohoss600 is:

- world U20 record
- world age-17 best
- Swedish senior record
- US high school record
- bloody high

— Jon Mulkeen (@Statman_Jon) April 1, 2017
To put this performance by a 17yo into context:
the last time the WORLD title was won with a vault higher than 5.90m was back in 2001.

— Jon Mulkeen (@Statman_Jon) April 1, 2017