Boston Marathon & B.A.A. 5K/Mile
Boston Women's Preview: Hasay's Debut, Cherono's Return, And Linden's Shot
Boston Women's Preview: Hasay's Debut, Cherono's Return, And Linden's Shot
Jordan Hasay debuts, Gladys Cherono returns, and Desiree Linden will go for the win at the Boston Marathon.
Apr 14, 2017
by Dennis Young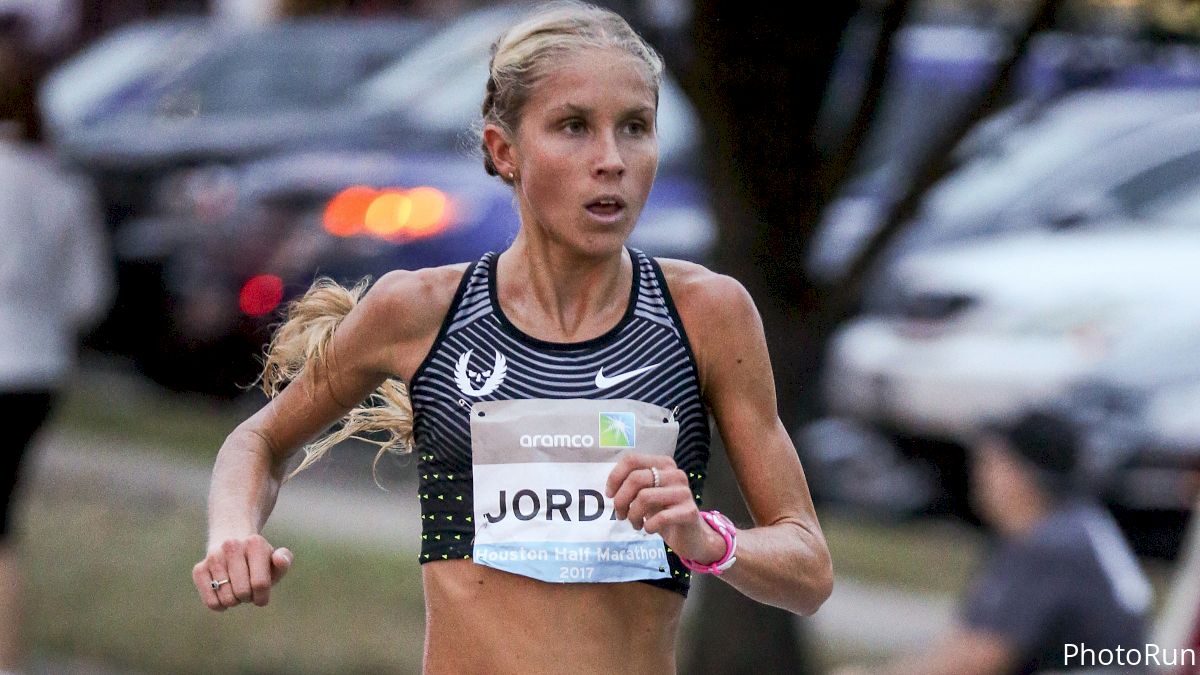 The Boston Marathon features tons of fascinating parallel storylines at a time when
women's marathoning desperately needs it
. If you live in the U.K., Ireland, Netherlands, Italy, Spain, Australia, or New Zealand, you can
watch it live on FloTrack
on Monday, April 17. Prize money, full fields, and information on how to watch are at the bottom of this article. We previewed
the men's race yesterday
. Below, we preview the women's race.
No one can beat her if she's healthy and fit

From March 2014 to February 2016, now 33-year-old Kenyan Gladys Cherono was one of the best road runners on the planet. In that stretch, she won world championships gold in the half marathon in March, debuted at 2:20 in Dubai in January, ran 2:19:25 in Berlin in September (still the fastest marathon by a woman since Mary Keitany's 2:18 at 2012), and ran 66:07 at RAK in February. Her marathon and half marathon PRs make her the seventh fastest woman of all time.
But she's been a ghost since, struggling with injuries and not racing from February to December of 2016. Her results since then have done nothing to mark her as the heavy favorite, but they're also in short enough races to hide the fact that she might be in great marathon shape. She ran three cross country races in Kenya from December to February, not cracking the top three in any and only finishing 20th at nationals. But she ran 67:01 (faster than the American record) in Rome last month, and if she has a block of marathon training under her, she's the favorite.
Who wins if she's not?

-Atsede Baysa is the defending champ. Rita Jeptoo went back to back in 2013-14, but later
tested positive for EPO
and had her 2014 result stripped. The last woman to win two straight before that is Catherine Ndereba in 2004-05.
-Joyce Chepkirui was third in Boston and fourth in New York last year.
-Edna Kiplagat was second in Chicago and third in Tokyo last year.
-Buzunesh Deba was seventh in Boston and dropped out of New York last year, and hasn't raced yet this year. But she was third in Boston in 2015 and second (upgraded to first after Jeptoo was DQ'd) in Boston in 2:19 in 2014.
-Depending on what the World Marathon Majors decides to do with Jemima Sumgong's results after her positive test, Baysa and Kiplagat could win the latest WMM series and $500,000 with a win. The WMM has said that they won't announce a winner immediately, but there are a ton of moving parts here: Sumgong's B sample could test negative, her results could count from a certain point on, and there could be a legal battle.
Jordan Hasay's debut is a huge deal

After a mediocre start to her pro career on the track, Hasay has rocketed to the top of American road running in less than a year and projects to stay there for a while. She's only 25. Hasay had previously won U.S. titles over 10 miles and 15K in October and March, but it was her
67:55 half marathon
in Prague that solidified her as world-class on the roads.
Last month, I wrote that Emily Sisson was in territory that only Molly Huddle, Kara Goucher, and Deena Kastor had touched, and that she was almost certainly
the next big U.S. road star
. Two weeks after that, Hasay ran 26 seconds faster than Sisson's best in Prague; among Americans, only Kastor and Huddle have gone faster. Hasay is a stud now--really a stud again, as she broke the 26-year-old high school 1500m record and ran the fastest H.S. 3200m in 12 years in 2008. (The 1500 record has since been lowered by a ridiculous 11 seconds.) Her debut is one of the most exciting things to watch on Monday morning.
She might not be the top American finisher in Boston, though.
What about the rest of the Americans?

Desi Linden is by far the most credentialed American lining up. The 33-year-old is a pure marathoner, with 71:05 half marathon, 2:22 at Boston/2:25 record-legal marathon PRs. She was seventh at the 2016 Olympics, fourth at 2015 Boston, fifth at 2014 New York, fifth at 2013 Berlin, second at the 2012 Olympic Trials before dropping out of the Olympics with an injury, memorably second at 2011 Boston, and second at 2010 Chicago. Linden is--every year for a while now--one of the best marathoners in any race she enters, and one of the best marathoners in the world.
No American woman has won the Boston Marathon since Lisa Rainsberger, mother of Oregon star Katie Rainsberger, did so in 1985. In an
interview with Sports Illustrated
, Linden reiterated her desire to break that streak: "I feel like I said I'd like to win in 2011 and no one really cared. In 2015, I said it again. No one really cared. I'll keep saying it whether people are paying attention or not."
It's not a ridiculous thing to say. Linden has the fifth fastest PR in the field, and of the four women faster than her, only Cherono set a marathon PR in the last two years. None of the six women who beat her in Rio are racing in Boston. If Linden wins on Monday, people will pay attention. People will care.
None of the other Americans entered is anywhere nearly as good as Linden, though Liz Costello's marathon debut is promising. According to Tilastopaja, she's set multiple PRs every year since her first full pro year in 2012, an improvement curve that bodes well for a debut.
Prize money


| Place | Money |
| --- | --- |
| 2:15:25 WR | $50,000 |
| 2:19:59 CR | $25,000 |
| 1 | $150,000 |
| 2 | $75,000 |
| 3 | $40,000 |
| 4 | $25,000 |
| 5 | $15,000 |
| 6 | $12,000 |
| 7 | $9,000 |
| 8 | $7,400 |
| 9 | $5,700 |
| 10 | $4,200 |
| 11 | $2,600 |
| 12 | $2,100 |
| 13 | $1,800 |
| 14 | $1,700 |
| 15 | $1,500 |
Women's field


| Name | Country | Personal Best |
| --- | --- | --- |
| Ruti Aga | Ethiopia | 2:24:41 (Berlin, 2016) |
| Kellys Arias | Colombia | 2:29:36 (Hamburg, 2016) |
| Esther Atkins | USA | 2:33:15 (Boston, 2014) |
| Atsede Baysa | Ethiopia | 2:22:03 (Chicago, 2012) |
| Rose Chelimo | Bahrain | 2:24:14 (Seoul, 2016) |
| Joyce Chepkirui | Kenya | 2:24:11 (Amsterdam, 2015) |
| Gladys Cherono | Kenya | 2:19:25 (Berlin, 2015) |
| Liz Costello | USA | Marathon Debut |
| Buzunesh Deba | Ethiopia/USA | 2:19:59 (Boston, 2014) |
| Lindsay Flanagan | USA | 2:29:28 (Frankfurt, 2016) |
| Rachel Hannah | Canada | 2:32:09 (Houston, 2016) |
| Jordan Hasay | USA | Marathon Debut |
| Valentine Kipketer | Kenya | 2:23:02 (Amsterdam, 2013) |
| Edna Kiplagat | Kenya | 2:19:50 (London, 2014) |
| Brigid Kosgei | Kenya | 2:24:45 (Lisbon, 2016) |
| Desiree Linden | USA | 2:22:38 (Boston, 2011) |
| Diane Nukuri | Burundi | 2:27:50 (London, 2015) |
| Caroline Rotich | Kenya | 2:23:22 (Chicago, 2012) |
| Blake Russell | USA | 2:29:10 (Chicago, 2005) |

How To Watch
ON TV:
Now available on Roku and Apple TV 4 -- download the FloSports app today!
STREAMING
: Available in the
United Kingdom, Ireland, Netherlands, Italy, Spain, Australia
and
New Zealand
, only on FloTrack.
SIGN UP HERE
A yearly FloPRO subscription provides access to ALL FloSports sites.
LIVE EVENT SCHEDULE | ORIGINAL DOCUMENTARIES | WORLD CLASS TRAINING VIDEOS
Join The Conversation On Social
• Follow us on Twitter
@FloTrack
• Follow us on Instagram
@FloTrack_TrackIsBack
• Follow us on
Facebook



Archived Competition Footage
Video footage from the competition will be archived and stored in a video library for FloPRO subscribers to watch for the duration of their subscription.