FloSports Weekly Viewing Guide: April 17-23
FloSports Weekly Viewing Guide: April 17-23
FloTrack will be LIVE at the Kansas Relays, the Cardinal Classic, the Michael Johnson Invitational, and for those who live in Canada -- the London Marathon.
Apr 20, 2017
by Adam Oestreich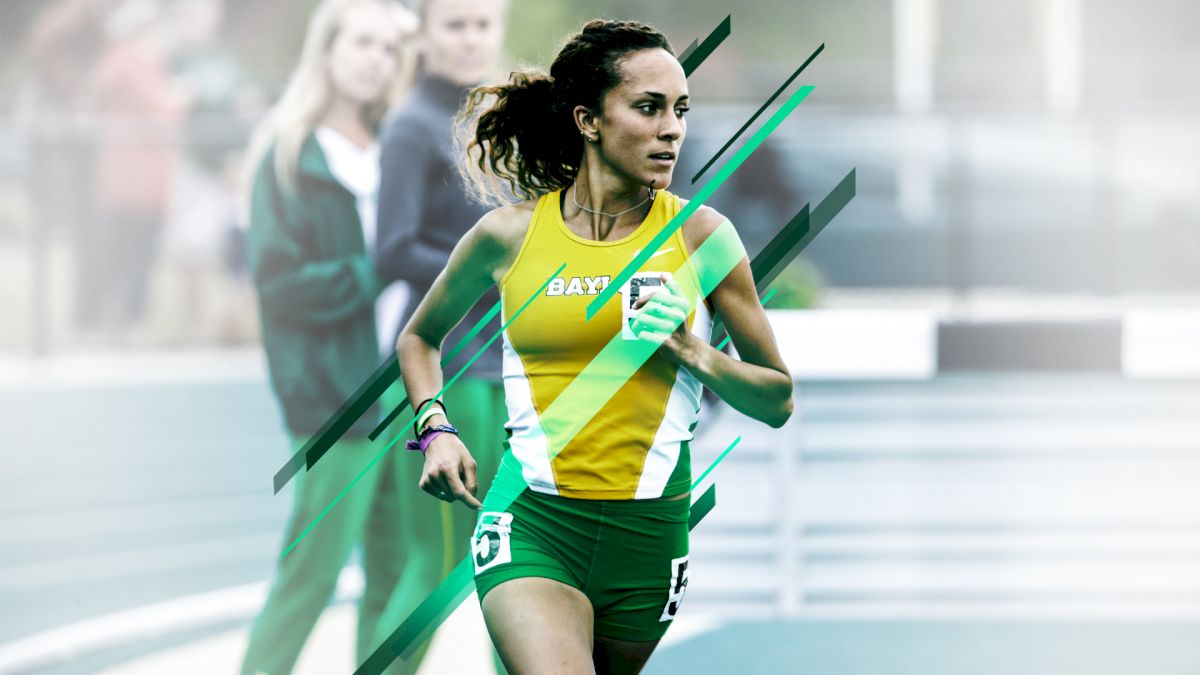 In our weekly viewing guide, we list the best live coverage and original storytelling coming up across each of our sites. If you have
Apple TV 4 or Roku
, watch all of these live events and documentaries on your TV at home.
LIVE EVENTS
Kansas Relays - April 20-22
The 90th annual Kansas Relays are back and you could easily argue that the event is better than ever. Tune in for three days of non-stop action with some of the Midwest's best.
WATCH LIVE
Cardinal Classic - April 21-22
Another meet in Palo Alto, another loaded field. Grant Fisher is expected to make an appearance in the 5k, and the Colorado men and women are stepping down from altitude to test their fitness against Oklahoma State's Kaela Edwards, New Mexico's Alice Wright and more.
WATCH LIVE
Michael Johnson Invitational - April 22
It is only fitting that a meet named after the former 400m world record holder has a stellar lineup of 400m champions competing. NCAA indoor champions Fred Kerley of Texas A&M and Shakima Wimbley of Miami will highlight a field that includes Donavan Brazier and Wil London.
WATCH LIVE
London Marathon - April 23
Available to viewers in Canada
The London Marathon, the deepest and best world race in the world in 2017, will be LIVE on FloTrack for Canadian viewers on Sunday, April 23. The fields are spectacular; the 2016 men's and women's winners at Tokyo, Berlin, Chicago, and New York will be lining up in London this Sunday.
WATCH LIVE
WGI Percussion/Winds World Championships - April 20-23
234 percussion ensembles and 35 winds groups will be finishing off their season in the best way possible, WGI World Championships! From the University of Dayton Arena to the Wright State University's Nutter Center, magic will be happening all over Dayton, Ohio. So don't miss a beat and watch performances from Pulse, Stryke, Rhythm X and more all from the comfort of home.
WATCH LIVE
Show Choir National Finals - April 22
FAME's Show Choir National Championship Series is the apex of six qualifying event rounds throughout the United States. The highest scoring groups in each bracket move on to the Show Choir National Finals at the Arie Crown Theatre in Chicago. Watch FloVoice's inaugural event LIVE April 22 starting at 2:30 PM CT.
WATCH LIVE
Abu Dhabi World Pro - April 18-22
Featuring Gabriel Arges, Marcio Andre, Keenan Cornelius, Claudio Calasans & more, the Abu Dhabi World Professional Jiu-Jitsu Championship is one of the most prestigious jiu-jitsu events in the world, drawing competitors from across the planet to compete in a 6-day tournament. The event is the culmination of the 2016-2017 season and offers athletes a final chance to compete for the prize of being top-ranked player.
WATCH LIVE
Fight To Win Pro 32 - April 21
Highlighted by a 170lb black belt submission-only match in the gi between John Combs of Easton BJJ vs Andris Brunovskis of Atos, Fight To Win Pro 32 features 30 pro submission-only superfights.
WATCH LIVE
Journeymen World Classic and Duals - April 22


Imagine Fargo + the World! That's what is being created at the Journeymen World Classic and Duals. Eight different countries will be represented this weekend as the United States best high school wrestlers welcome studs from Austria, Canada, Italy, France, New Zealand, Bolivia, and Kazakhstan. Following the individual tournament, the United States will take on Canada in an all-star dual showdown.
WATCH LIVE
Ohio Tournament of Champions - April 22
For years the Ohio Tournament of Champions as been one of the toughest youth wrestling tournaments in the country and this year is no different. Over 2,000 of the nation's best youth through high school wrestlers will descend on Columbus looking to add their name to the prestigious list of champions.
WATCH LIVE
European Championships - April 19-23
The very best gymnasts from all over Europe will come together for the 2017 European Championships and FloPRO members in the U.S. and Canada can watch LIVE on FloGymnastics. Olympians and World medalists including Larisa Iordache, Sanne Weavers, Catalina Ponor, Marine Boyer, and Eythora Thorsdottir are expected to compete. We will be streaming all men's and women's competitions.
WATCH LIVE
Stutler Bowl Twilight Invitational - April 21
We're expecting huge times from the elite athletes out in Colorado. National Champion Brie Oakley and All-American Lauren Gregory headline a talented field on Friday night.
WATCH LIVE
Hewitt-Trussville Invitational - April 21-22
The live track in Alabama continues this season with one of the largest meets in the state.
WATCH LIVE
New York Relays - April 21-22
With the New York outdoor track season finally getting into full swing, we should see the athletes from the Empire State making their presence felt in the national rankings.
WATCH LIVE
Eastern Relays - April 21-22
Always one of the marquee events of the outdoor season, don't miss the matchups in the distance events. Hunter Moore and Dustin Horter face off in the 3200m while Isiah McCall leads the competition in the 110H.
WATCH LIVE
Apex Relays - April 22
Last year we saw some of the best athletes in the country, Nevada Mareno and Chantz Sawyers post big times at this event. Find out which individuals will rise to the top in 2017.
WATCH LIVE
Lee-Davis Invitational - April 22
Virginia outdoor track is heating up, and there will be no shortage of fast times at Lee-Davis on Saturday. National champion Lauryn Ghee will look to move up the national rankings.
WATCH LIVE
Woodbury Relays - April 22


With over 70 teams entered, the Woodbury Relays will is a can't-miss event streaming live from New Jersey on Saturday.
WATCH LIVE
Distance Night In Palatine - April 22
Elite distance runners battle head to head under the lights in Chicago on Saturday night.
WATCH LIVE
House of Hardcore 24 - April 21
HOH lands in New Jersey as Tommy Dreamer and Matt Hardy lock horns in a street fight. Plus, Sami Callihan takes on Bully Ray for the first time ever, and Brian Cage faces off with MVP. Also scheduled to appear are Matt Riddle, Bull James, The Spirit Squad, and more.
WATCH LIVE
House of Hardcore 25 - April 22
Don't miss the Hardys in their final live appearance on FloSlam! Matt and Jeff team up to take on Tommy Dreamer and Bully Ray in a huge main event. Plus, Penta 0M will take on Sami Callihan. Also scheduled to appear are MVP, Brian Cage, and more.
WATCH LIVE
EVOLVE 82 - April 22
EVOLVE heads to New York, where Darby Allin and Ethan Page will settle things with a Last Man Standing match! Plus, Matt Riddle defends the WWN title against Timothy Thatcher, and Kyle O'Reilly makes his EVOLVE debut against Keith Lee.
WATCH LIVE
EVOLVE 83 - April 23
EVOLVE wraps up their New York weekend as Matt Riddle and Drew Galloway square off in an I Quit match. Also, after making his return during WrestleMania weekend, Lio Rush gets a shot at the EVOLVE Championship against Zack Sabre, Jr.!
WATCH LIVE
Tier 1 Wrestling: True Will - April 23
Tier 1 Wrestling makes their FloSlam debut, and they're not holding back! Not only will the Tier 1 World Championship be defended in a three-way dance, but we're also getting a dream match for the PROGRESS Atlas Championship as Matt Riddle defends against Penta 0M.
WATCH LIVE
UBBI Red River Chute Out - April 21-22
This year's UBBI Red River Chute Out is the second of five "Open" Team Futurity events hosted by the United Futurity League (UFL). Expect to see top bucking bulls from some of the best breeders and open associations in the country aiming to qualify for the UBBI National Finals..
WATCH LIVE
FloElite
The Mid-Atlantic Strongman Challenge - April 22
On April 22, 2017, fans and athletes will gather in Charlotte, North Carolina, for the 2017 Mid-Atlantic Strongman Challenge. The Mid-Atlantic Strongman Challenge promises to be an incredible event with competitors pushing themselves to their absolute limit for massive prizes and rewards. Pro Cards, Arnold Invites, and Strongman Nationals Spots are on the line, so expect to see these athletes ready to go all out. With nine divisions and over 120 registered competitors, there will be plenty of strongman action to enjoy.
WATCH LIVE
2017 Tuck Fest: Deep Water Solo Climbing Competition - April 22
Deep water soloing now has a permanent home at Tuck Fest, and this year, climbers will be competing for a piece of the $15,000 purse at stake.
WATCH LIVE
2017 TYR Jax 50 Sprint Dual Challenge - April 21-22
Josh Schneider, Cullen Jones, and more world-class sprinters collide at one of the most exciting meets in swimming. The 50-yard freestyle tournament-style meet has a hefty prize purse and we can fully expect these athletes to come to Jacksonville ready to light the pool on fire.
WATCH LIVE
MPSF Championships - April 20 & April 22
The MPSF Championships represent the strongest conference in men's college volleyball. The four teams competing for the conference title include UC Irvine, Long Beach State, Hawaii, and BYU. The playoffs will take place at the Walter Pyramid in Long Beach, California. On April 20th, Hawaii will play BYU at 5:00 PM PT and Long Beach State will play UC Irvine at 7:30 PM PT. Winners will advance to the finals on April 22nd at 7:00 PM PT.
WATCH LIVE
FloFilms
Beyond The Routine: Shooting Stars & F5
On April 19th, catch the first episode in the 2-part series taking you behind the scenes at 2017 NCA All-Star Nationals. We follow the talented Large Senior Level 5 reigning NCA champion, World Cup Shooting Stars, and reigning Cheerleading Worlds champion, Maryland Twisters F5. The squads go head to head and face fierce competition, all with hopes of claiming the prestigious title of 2017 NCA Champions.
WATCH TRAILER