Watch 18-Year-Old Eliud Kipchoge Beat Bekele And El G For A 5K World Title
Watch 18-Year-Old Eliud Kipchoge Beat Bekele And El G For A 5K World Title
Watch Eliud Kipchoge beat world record holders Kenenisa Bekele and Hicham El Guerrouj for a stunning 5K world championship way back in 2003.
May 9, 2017
by Dennis Young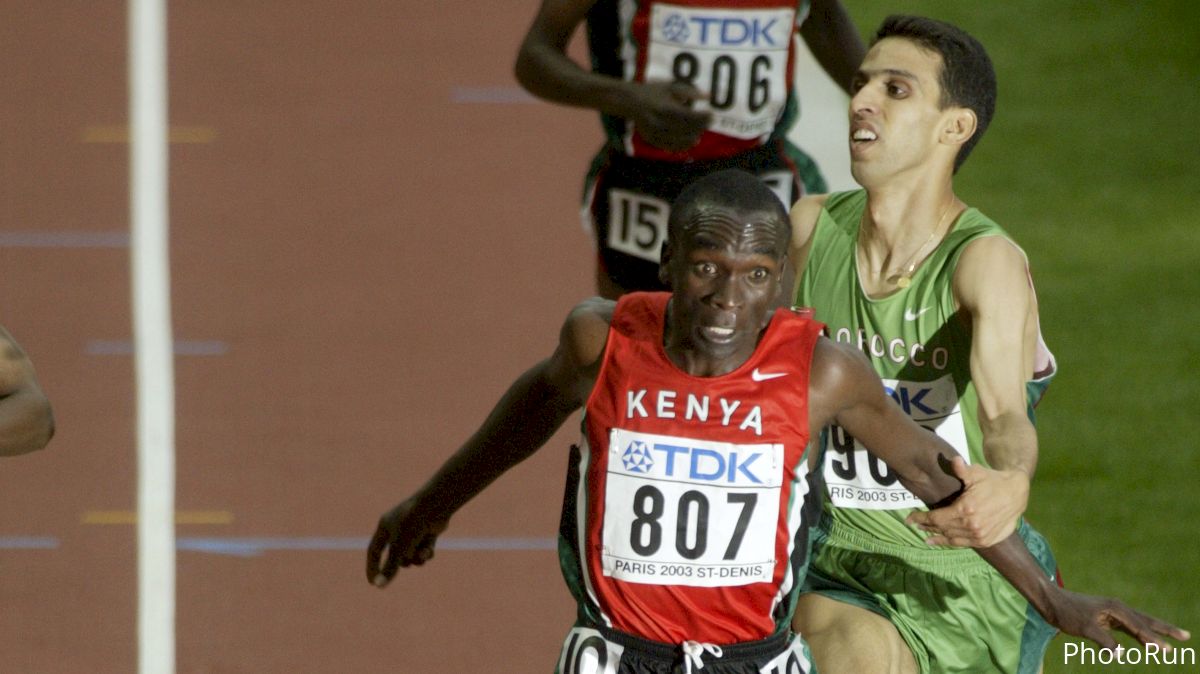 This post is mostly an excuse to feature the incredible photo above that Victor Sailer got at the finish line of the 5K at the 2003 IAAF World Championships. That year at worlds, Kenenisa Bekele won the 10K on August 24; Hicham El Guerrouj won the 1500m on August 27. Those two men have the world records in those two events, and their clash in the 5000m final on August 31 promised to be an all-time great meeting in the middle.
El Guerrouj wound it up with his trademark long drive from 800m out, running the penultimate lap in 60 and the last one in 53. Bekele finished right behind El Guerrouj, just like he would in the Olympic final a year later. But they were both beaten at the line by a teenager: Eliud Kipchoge. His winning time of 12:52.79 is still a meet record. The entire last thousand meters is spectacular, and worth watching:
That was the only gold Kipchoge would ever win on the track. As Bekele sharpened his kick, Kipchoge was left with silvers and bronzes at worlds and the Olympics over the next five years. But after he missed the 2012 Kenyan Olympic team, Kipchoge turned to marathoning, where he's built a resume that can credibly be called the greatest of all time. In the last 12 months alone, he ran 2:03:05 in London, won Olympic gold, and ran 2:00:25 at Nike's Breaking2.
Note: After this piece was originally published, Kipchoge broke the marathon world record in 2:01.39 at the 2018 Berlin Marathon
This is all obviously astonishing on its face. But I think I'm most blown away by Kipchoge's longevity. His two closest contemporaries are probably Bekele and Mo Farah, who are both two years older than Kipchoge. And their primes are not nearly as long as his. Kipchoge won his first global gold eight years before Farah did, and his most recent seven year's after Bekele's last. The closest historical comparison, Haile Gebrselassie, set the marathon world record 12 years after winning 10K Olympic gold, but his marathoning career mostly consisted of solo time trials in Dubai and Berlin. And anyway, Gebrselassie only won global golds seven years apart compared to Kipchoge's thirteen.
The way Kipchoge approached his career--maximize on the track, then go straight to marathoning once the ability to kick at a world-class level diminishes--is mostly outmoded among elite East Africans, who are increasingly going straight to the marathon. It's worth noting that Galen Rupp's career arc is very similar, but with a much lower pinnacle. It's no knock on Rupp that he probably won't ever run a 2:00:25 marathon. And we may never see another Eliud Kipchoge again. Hopefully he has a few more years in him.