2017 Music City Distance Carnival
Gabe Grunewald Will Begin Chemo And Race Again This Week
Gabe Grunewald Will Begin Chemo And Race Again This Week
Gabe Gruenwald will receive chemotherapy treatment and race for the USATF Outdoor Nationals 'A' standard in the same week
Jun 6, 2017
by Johanna Gretschel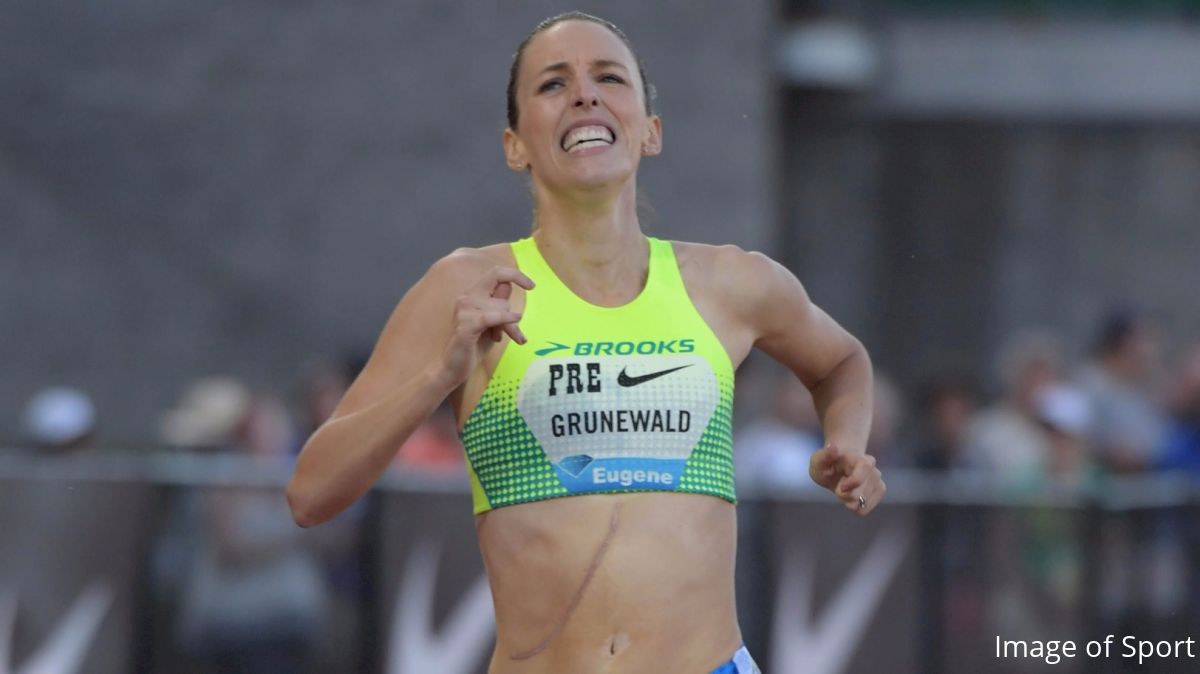 Gabe Grunewald was planning to run the USA Outdoor Championship "A" standard for the 1500m by now. But Grunewald's got another deadline fast approaching, and one that's much more time-sensitive than a track meet.
In March, the 30-year-old Grunewald was diagnosed with her fourth bout of cancer in eight years.
Today in Minnesota, she'll begin her first round of chemotherapy treatment for the tumors in her liver. And on Saturday in Nashville, Tennessee, she'll race the 1500m at the
Music City Distance Carnival
for another shot at the "A" standard.
WATCH THE MUSIC CITY DISTANCE CARNIVAL LIVE ON FLOTRACK
The time she needs to guarantee entry to USAs is 4:09.5, eight seconds slower than her career best but three seconds faster than she's run this year.
The window for qualification is open until June 18, and the championship begins on June 20. If Grunewald ranks within the top 32 women in the U.S. by the cut-off deadline, she might still be accepted to the field regardless of her time.
Grunewald has raced five times this year, with a season-best mark of 4:12.29 via a fifth-place finish in her section at the USATF Distance Classic. Her most recent result was a 4:17.75 fourth-place run at the adidas Boost Boston Games. After the race, she said the pace started too slow for her to have a shot at the "A" standard.
"I'm riding a line of fitness where running as evenly as possible is probably the best way for me to get the best out of myself because I haven't had a huge block of training," she said after the adidas event.
"I was really bummed when I found out the cancer wasn't gone in March because I was really just getting back in decent fitness. Not sharpness at all but I saw that I'd be able to get back out there, and then it was like, 'Oh, crap… now you need treatment again.'"
Grunewald had major surgery last August to remove a 5-by-6-inch tumor in her liver. The procedure left her with a 13-inch abdominal scar. She had been cancer-free for five years before discovering the tumor earlier in the month. Both this year and last year's diagnoses are a recurrence of adenoid cystic carcinoma, a rare form of cancer that Grunewald was first diagnosed with in 2009 as a 22-year-old student-athlete at the University of Minnesota. She had successful surgery to remove a tumor in her salivary gland in 2009; two years later, she underwent another surgery to remove a tumor in her thyroid.
"It's not the comeback I wanted," she said in Boston. "It's really humbling to do this, and I'm so far from where I've been and where I want to be. But it's so important for me to be personally here on the track, even if it's not perfect."
​Watch the full interview with Grunewald after her run at the adidas Boost Boston Games this weekend:


How to Watch
On TV:
Available on Roku and Apple TV 4 -- download the FloSports app now.
Streaming:
Only on FloTrack with a PRO subscription. A yearly PRO subscription provides access to ALL FloSports sites.
JOIN NOW