Another day, another Diamond League, this time with a ton of great matchups, including the entire Rio Olympic women's podium in the pole vault, and the world's best in Kipruto and Dibaba going at it in the steeple and 5K, plus Ronnie Baker looking to validate his windy 9.86 in the 100m.
We'll be bringing you LIVE UPDATES from the 2017 Rome Diamond League. All times are US Eastern. Follow below for the updates!

2:03pm Women's 400m Hurdles:

Janieve Russell with a 54.14 World #5 to start off our coverage!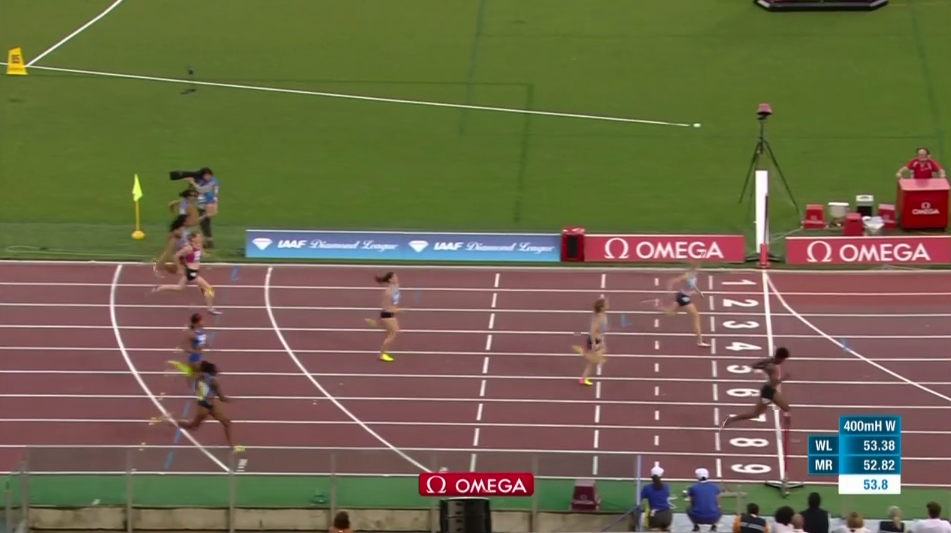 2:15pm Men's 3000m Steeplechase:

A nice field in the steeple including Conseslus Kipruto about to come up. Will today finally be the day of his sub-8?
And a very nice American contingent behind, with 3 of the top 4 at last year's Olympic Trials. We could look for them to be dragged to a fast time as well. A clean start.
They're looking for an 8:00 tempo from the pacers, but with a quick start. Kipruto tucks right behind the two rabbits and the field strings out quickly.
Kirui and El Bakkali put up a strong fight but Kipruto shows he's the best by sprinting away in the home stretch to a 8:04 clocking!


Kipruto shows why he's the best in the world with a WL 8:04 challenged on the home stretch at #RomeDL! pic.twitter.com/KkSTzgkWYl

— FloTrack (@FloTrack) June 8, 2017

Bor runs 8:11 and Andy Bayer impresses with an 8:14!

2:30pm Men's 100m:

100m on the line, can Ronnie Baker prove his 9.86 was legit or will France's Jimmy Vicaut steal the show?
CJ Ujah surprises with a 10.02 into a headwind!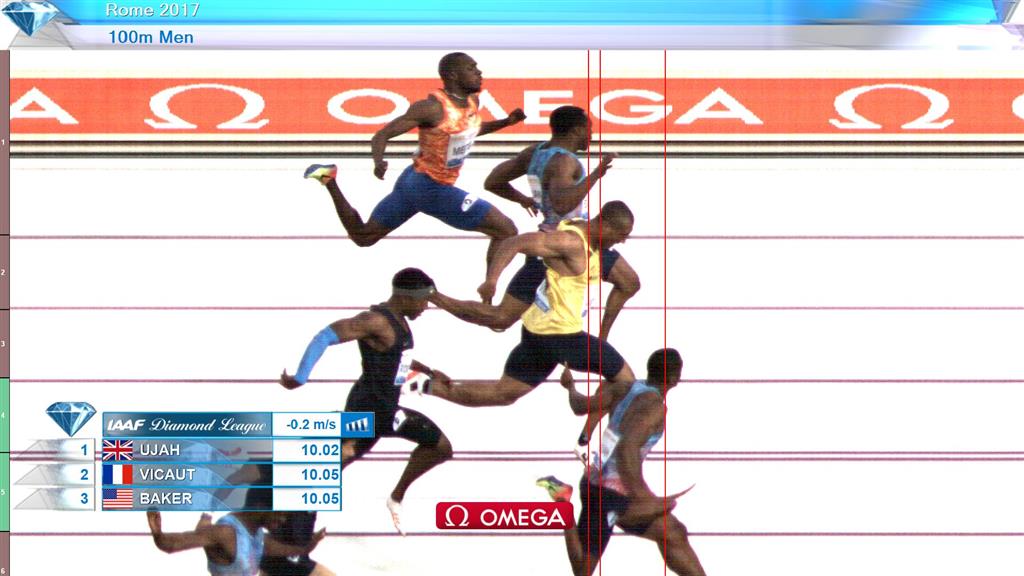 2:40pm Men's 800m:

A hot men's 800m is on tap next with former NCAA phenom Donavan Brazier pitted against several Olympians including silver medalist Nigel Amos. What will Brazier run?
Asked for 50.5 through 400m, and the pacer is out way fast.
AMOS FALLS! The tactical race takes its toll and gives an opportunity for Adam Kszczot to take the W in 1:45.96! Kipyegon Bett takes 2nd and Brazier takes 3rd in 1:46.08.


Carnage at the finish of #RomeDL as the field doesn't take the pacer and Amos falls https://t.co/pqkbbkPECZ pic.twitter.com/y63p8h6cG1

— FloTrack (@FloTrack) June 8, 2017

2:50pm Women's 400m:

Nice lineups in the W400 with the US' Natasha Hastings pitted against Jamaica's Steph McPherson and 3x Olympic Silver medalist Novlene Williams-Mills.
Hastings takes it all in the last 100m with a 50.52 with a full 3-meter lead, Williams-Mills 2nd!


Hastings dominates the #RomeDL 400 over her Jamaican competitor Williams-Mills! https://t.co/pqkbbkPECZ pic.twitter.com/kD3WtlGXWZ

— FloTrack (@FloTrack) June 8, 2017

3:05pm Men's 110m Hurdles:

USA's David Oliver and Aries Merritt both highlight the next event on the track. Those two and Spain's Orlando Ortega have run sub-13 clockings before, will we see one today? Can Merritt finally complete his return to top form?
YES HE CAN! 13.15 unofficial for Merritt has he continues to improve post-kidney-transplant!


Merritt IS BACK to form from his kidney transplant with his 13.13 win at #RomeDL! https://t.co/pqkbbkPECZ pic.twitter.com/fV9gNxi7JY

— FloTrack (@FloTrack) June 8, 2017

3:13pm Women's 1500m:

This W1500 will be interesting with Germany's young phenom Konstanze Klosterhalfen being pitted against the traditional stars like Sifan Hassan. Asked for a 4-minute tempo and they're out clean.
And it's 64ish for most of the field which seems perfect. Klosterhalfen is getting very aggressive up front!
Hassan kicks it in to win by a good margin with a 3:56.22 Dutch record and WL! Konstanze takes 3rd with a 3:59


Sifan Hassan beats Kipyegon's World Lead with a 3:56 win by a mile at #RomeDL despite a battle from Klosterhalfen! https://t.co/pqkbbkPECZ pic.twitter.com/3nS19JrJUp

— FloTrack (@FloTrack) June 8, 2017

3:23pm Women's 100m:

W100 up next with Schippers, Batoletta, and Ta Lou highlighting the field! Can Schippers prove her worth in the shorter distance?
And Schippers takes it with a wind-legal sub-11 coming from way behind due to a poor start!


Schippers takes the 100m with a wind-legal sub-11 over Ta Lou and Ahye at #RomeDL! https://t.co/pqkbbkPECZ pic.twitter.com/BwsM0oitzG

— FloTrack (@FloTrack) June 8, 2017

3:30pm Men's 200m:

The final men's DL event is up with six sub-20 men going head-to-head. Can France's Christophe Lemaitre better his 19.80 PR?
Canada's Andre DeGrasse shows he's not going away any time soon with a 20.01 victory! The hometown favorite Tortu also impresses with a 4th-place finish and PB!


Canada's Andre DeGrasse shows he isn't going away any time soon with his win at #RomeDL https://t.co/pqkbbkPECZ pic.twitter.com/DrAl7dvXyz

— FloTrack (@FloTrack) June 8, 2017

3:40pm Women's 5000m:

And the final event of the night will likely be the best, with 1500m WR holder Genzebe Dibaba making yet another assault on the women's 5K world record. She's been plagued by poor pacing in almost all of her prior attempts, so her early lap splits will be key here tonight.
They're doing a different strategy of getting out in 67s -- that's close to 14:00 pace! Trying to get to 3K in 8:36
Despite a quick start they're already 5 seconds back of the pace, and Obiri takes off putting Dibaba in 4th!
Their 3K split was pretty similar to the WR split, but the strategies couldn't have differed more. T. Dibaba did it by speeding up, and G. Dibaba is only slowing down from here
But let's not forget Obiri dropping a 64.75! Can we see a sub-14:20 from her?

Obiri makes her 4th K the fastest of the race so far. Forget Dibaba and the rest of the field, this race is now Obiri versus the clock! Can she better her own WL form Shanghai?
Obiri DECIMATES the field and wins in 14:18, what a time! That puts her at #5 all-time!
Forget Dibaba, Hellen Obiri steals the show to better her own WL and run a #5 all-time 14:18 5K at #RomeDL! https://t.co/pqkbbkPECZ pic.twitter.com/JNdbiA2FYf

— FloTrack (@FloTrack) June 8, 2017
That'll be all the DL action from us at FloTrack today, though we'll be coming at you live with NCAA Day 2 updates through the rest of the day! Thanks for following along!