2017 Portland Track Festival
FloSports Weekly Viewing Guide: June 5 - 11
FloSports Weekly Viewing Guide: June 5 - 11
In our weekly viewing guide, we list the best live coverage and original storytelling coming up across each of our sites. If you have Apple TV 4 or Roku, watch all of these live events and documentaries on your TV at home.
Jun 8, 2017
by Adam Oestreich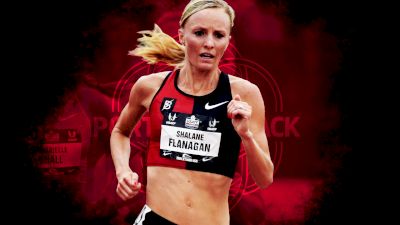 In our weekly viewing guide, we list the best live coverage and original storytelling coming up across each of our sites. If you have
Apple TV 4 or Roku
, watch all of these live events and documentaries on your TV at home.


LIVE EVENTS
AAU District Qualifiers - June 9-11
The future of our sport, the young track and field stars ranging from age 5 to 18 at the AAU level hit the track this weekend in hopes to qualify for the AAU Regional Qualifiers, the next stepping stone on the path to the ultimate goal of making it to the AAU Junior Olympics in Ypsilanti, Michigan, July 29th - August 5th.
AAU Southwestern District Qualifier - June 9-11 WATCH LIVE
AAU Maryland District Qualifier - June 10-11 WATCH LIVE
AAU Mid-Atlantic District Qualifier - June 10-11 WATCH LIVE
Music City Distance Carnival - June 9-10
Highlighted by Olympic bronze medalist Jenny Simpson, the 2017 Music City Distance Carnival is a must-watch. Athletes from all over the world will head to Nashville looking to cross that world standard off of their to do list. For example, the average PR of the top 8 men entered in the MCDC men's 800 is 1:45.69. The world champs standard is 1:45.90. Don't miss out on the fun in the Music City.
WATCH LIVE
Portland Track Festival - June 10-11
The Portland Track Festival has never been this hot! Olympic medalists Shalane Flanagan and Galen Rupp make their much-anticipated returns to the track in the 10K's, Brenda Martinez is all-in for a sub-4 1500m attempt and Clayton Murphy looks to take down the 40-year American 1K record of 2:13.9 held by Rick Wohlhuter. The fun doesn't stop there as Olympians Shannon Rowbury and Kate Grace hit the track, and Nick Symmonds makes his triumphant return to the 800m in his last season as a professional runner.
WATCH LIVE
NCAA DI Outdoor Championships - June 7-10
Archived race footage from the 2017 NCAA DI Outdoor Championships can be viewed on FloTrack.com. Select preliminary races will be available, as well as every championship final. The NCAA Championships will highlight collegiate record holders Fred Kerely, Raevyn Rogers, sprint powerhouses from Oregon, Deajah Stevens and Ariana Washington on the women's side, and Tennessee's sprint star Christian Coleman who looks to capture the 100m and 200m titles. For the first time in over two years, there will be a new men's 5K and 10K champion, and Allie Ostrander looks to capture her first NCAA title as she competes in the women's steeplechase and 5K.
WATCH ARCHIVED RACES
RFO Big Guns 24 - June 10
Crowd favorite Cody Stevens returns to lead the action-packed RFO Big Guns 24 card Saturday in Tallmadge, Ohio.
WATCH LIVE
Fury FC 17 - June 10
Former UFC fighter Roger Narvaez headlines a stacked card in a light heavyweight title showdown at Fury FC 17 Saturday on FloCombat. PLUS: Some of the area's brightest prospects on the brink of the big show square off.
WATCH LIVE
FloGrappling
Royal Jitsu Invitational - June 10


The future stars of jiu-jitsu are all signed up to compete at this private, innovative event for the best prospects from around the world. Royal is back and this time it's LIVE on FloGrappling Saturday, June 10.
WATCH LIVE
Fight To Win Pro 36 - June 10
Multiple-time IBJJF World and Pans Champion, Leonardo Nogueira, faces off against UFC veteran Ricardo "Demente" Abreu in the headliner for this weekend's Fight To Win Pro 36. Additionally, ADCC champion Roberto Traven, 2013 Grapplers Quest champion James Brasco, and Submission Underground 3 veteran Joe Baize will be competing on the card.
WATCH LIVE
2017 Joe & Nick Memorial - June 10
Every year, the race distance is increased by one lap to make it just it a just a little more difficult to win. That seems to be working, as there has not been a repeat winner yet. This year, a bonus has been added to the pot for anyone who can repeat. The 2017 edition of this race will be contested over 54 laps.
WATCH LIVE
Italy vs Scotland International Test Match - June 10
*Exclusive to US and Canadian Viewers
Italy and Scotland are set to clash in an International Test at National Stadium in Kallang, Singapore. This kicks off a series of tests for each team as they both go on to face Fiji and Australia. This June 10 matchup promises to be closer than the March 18 clash, as Scotland will be without Stuart Hogg, Tommy Seymour, and Greig Laidlaw due to British & Irish Lions selection. This is an exciting and unique opportunity for both teams to kick off their summer tours with a familiar opponent in unfamiliar surroundings. The two coaches know each other well, as Italy Head Coach Conor O'Shea and new Scotland Coach Gregor Townsend have played against each other many times. Look for both squads to set the pace for their respective summer series.
WATCH LIVE
2017 Tulsa Elite Summer Invite - June 9-11


The Annual Tulsa Elite Summer Invite started in 2011 and has grown to one of the nation's top recruiting events of the year. 14U and 16U teams from across the nation will play five showcase style pool games followed by a pre-seeded single elimination bracket.
WATCH LIVE
Mare Nostrum of Monaco - June 10-11

*Exclusive to North American Viewers
The 2017 Mare Nostrum Monaco stop will feature a full slate of incredible athletes with their sights set on a large prize purse. Katinka Hosszu, James Guy, Cate Campbell, and more take to the pool as they gear up for World Championships. Watch LIVE starting June 10 on FloSwimming.
Watch LIVE
2017 Montreux Volley Masters - June 6-11
The best women's national teams in Europe and the world will once again visit the Swiss Riviera for the 32nd edition of the Montreux Volley Masters on June 6-11, 2017. This tournament will feature an extremely high-quality field featuring China, the Olympic Champions and last year's winners of the Montreux Volley Masters, and Brazil as top seeds. Other featured teams include the Netherlands, Germany, Thailand, last year's surprise stars, Poland and Switzerland. Argentina, ranked 10th in the FIVB rankings, will also be making its debut on the Swiss Riviera.
WATCH LIVE
2017 Junior & Senior World Team Trials - June 9-10


Don't miss a second of the action as our men's freestyle Junior and Senior World Team Trials are decided. All Junior Freestyle action will take place on Friday, June 9th, and all Senior men's freestyle action will take place on Saturday, June 10th. Jordan Burroughs, Kyle Dake, J'den Cox, David Taylor, Kyle Snyder, Logan Stieber, and the rest of the nation's best will be looking to punch their ticket to Paris and the 2017 World Championships.
WATCH LIVE
Queen Track Classic - June 10
The Queen Track Classic is an all-girls track and field meet featuring some of the best female high school athletes in the country. Hosted by Olympian Queen Harrison and in partnership with ASICS, the inaugural Queen Track Classic is an official National Girls & Women in Sports Day event showing the positive impact sports can have on the physical, social and mental health of individuals, specifically young women.
WATCH LIVE
FloFilms
Pulse: The Uninvited
Sometimes home isn't the safest place to be. From evil spirits to possessed fathers, find out what happens when a happy home is turned into a nightmare by looking inside Pulse Percussion's 2017 indoor show. See their musical and visual rehearsals as well as their finals run at the 2017 WGI World Championships.
WATCH TRAILER
Maggie Gallagher: The Journey
From China to Seattle, University of Washington's Maggie Gallagher is living out her softball dream. After being stranded on a curb as a baby, she was destined to become a new member of the Gallagher family and Washington softball.
WATCH TRAILER