2017 DI NCAA Outdoor Championships
Kyra Jefferson Sets NCAA Record In Bizarre 200m
Kyra Jefferson Sets NCAA Record In Bizarre 200m
Kyra Jefferson set a new NCAA record in the 200m, while pre-race favorite Deajah Stevens tumbles to the ground meters from the finish.
Jun 11, 2017
by Johanna Gretschel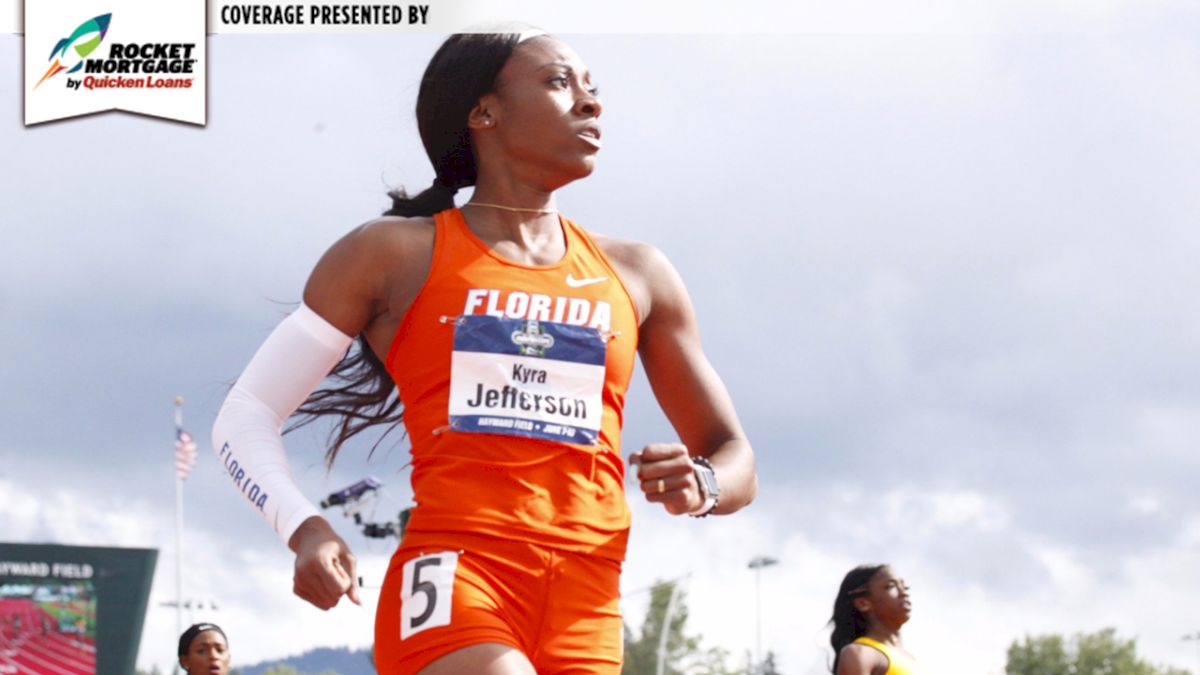 University of Florida senior Kyra Jefferson broke the 28-year-old NCAA record in the 200m in what was the most bizarre NCAA final of the weekend in Eugene, Oregon. She ran 22.02 (+1.1) to take down the record previously set at 22.04 by Dawn Sowell of LSU in 1989.
Jefferson had previously ranked No. 10 on the all-time list, thanks to her 2015 mark of 22.24. The Michigan native outran NCAA favorite Deajah Stevens of Oregon for the win. Stevens, a junior who represented the United States in the 200m at the 2016 Rio Olympic Games, had run 22.09 at the Pac-12 Championships this season to rank No. 2 all-time. She got out with a vengeance, barely 45 minutes after placing runner-up in the 100m finals, gapping the field by a significant margin off the curve.
However, as Jefferson closed even on her, Stevens lost her balance and stumbled to the ground just meters from the finish line. The fall impeded Brittany Brown of Iowa, who ran into the adjacent lane, thus impeding USC's Deanna Hill. Stevens was disqualified and Jefferson earned her first NCAA title.
.@FloridaGators's Kyra Jefferson comes through with a NEW collegiate record to win the #NCAATF 200m in 22.02 as Stevens falls with 15m to go pic.twitter.com/GBtEU2966K

— FloTrack (@FloTrack) June 11, 2017
Stevens' fall had a huge impact on the team race, as Oregon needed all projected points to keep a lead on field-heavy Georgia. The Ducks ultimately won the team title with 64 points to Georgia's 62.2 points.
Stevens was similarly unlucky in the 200m finals at the NCAA Indoor Championships this March
. She set an American record of 22.28 in the prelims, but was later disqualified for running outside of her lane.