Brie Oakley Is The Fastest Prep Two Miler Not Named Mary Cain
Brie Oakley Is The Fastest Prep Two Miler Not Named Mary Cain
Brie Oakley broke the national high school record in the outdoor two mile at the 2017 Brooks PR Invitational
Jun 17, 2017
by Johanna Gretschel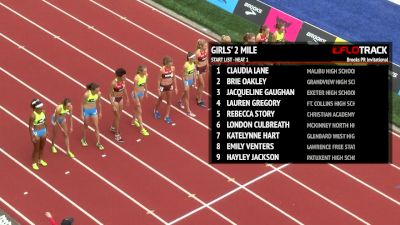 Brie Oakley is now the fastest high school two miler not named Mary Cain, thanks to a 9:51.35 meet record win at the Brooks PR Invitational in Seattle on Saturday afternoon.
Her time will stand as the new national high school record for the outdoor two mile, as Cain's 9:38.68 is from the 2013 indoor season. Oakley broke the outdoor national record and meet record of 9:53.54 previously held by Bethan Knights, her future teammate at Cal-Berkeley.
New meet record and top all-time mark for Brie Oakley in the girls 2 Mile. 9:51.35. https://t.co/RoNlO60c8I pic.twitter.com/36WM9KkZQU

— MileSplit US (@milesplit) June 17, 2017
The highly anticipated race was a rematch of the Arcadia Invitational between Grandview, Colorado senior Oakley, the NXN champion, and Malibu, California sophomore Claudia Lane, the Foot Locker Nationals champion. At Arcadia, Lane beat out the Cal commit, 9:57.52 to 9:57.59. Today, the two battled through the mile together in 4:55 before Oakley surged away to win by 10 seconds. Lane would finish second in 10:01.18.
The effort was a five-second PB from the indoor season, when Oakley ran 9:56.06, No. 3 all-time indoors, to win New Balance Nationals. The run was two days after setting the national high school record for the 5K in 15:55.75.
Upstart freshman London Culbreath of McKinney North, Texas ran an impressive 10:04.73 for third place, a new national record for ninth graders. Her time converts to 9:20.1 for 3K, which outpaces Jordan Hasay's national freshman records of 9:26.32 for 3K and 10:07.56 for 3200m from 2006.
It should be noted that Oakley's two mile converts to 9:07 for 3K, which would rank No. 4 on the all-time list behind Alexa Efraimson (9:00.16), Katie Rainsberger (9:00.62) and Cain (9:02.1), though both Efraimson and Cain's marks are from the indoor season.