2017 Brooks PR Invitational
Sam Worley Wins Deepest Mile Ever & Everything Else You Missed At Brooks PR
Sam Worley Wins Deepest Mile Ever & Everything Else You Missed At Brooks PR
Recap of the action at the 2017 Brooks PR Invitational
Jun 18, 2017
by Johanna Gretschel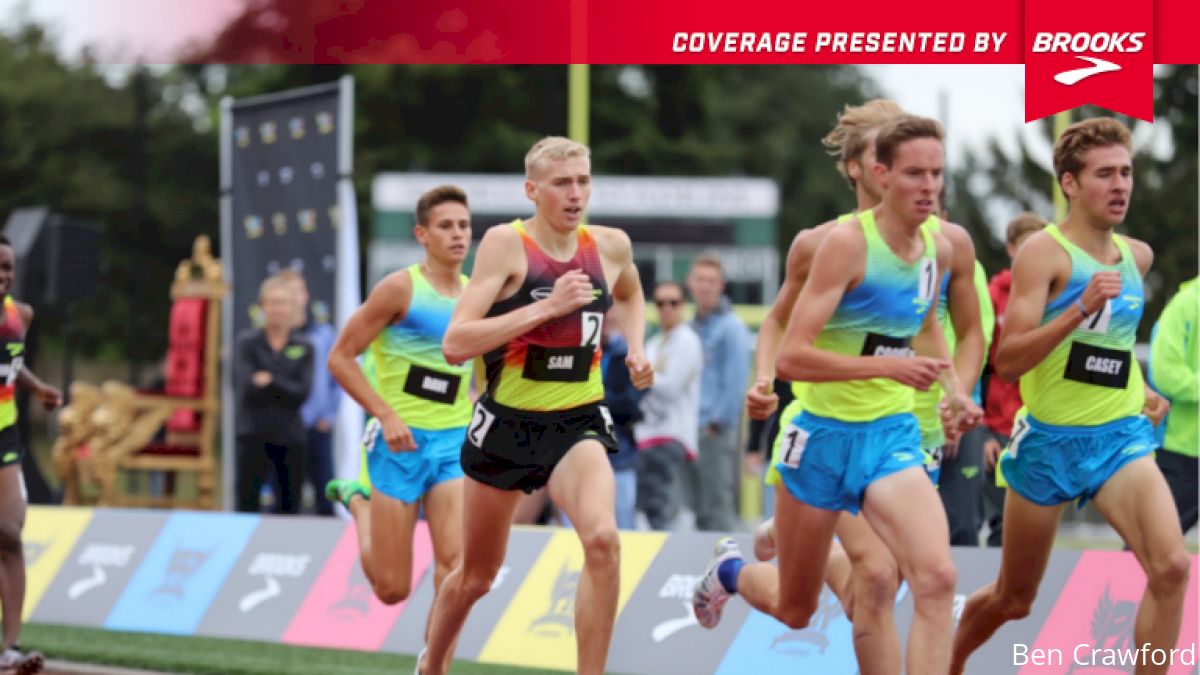 Texas state champion Sam Worley won perhaps the deepest boys mile race of all time at the Brooks PR Invitational on Saturday afternoon in Seattle. The New Braunfels Canyon senior took the lead only in the final 100m to win in 4:02.04, as two more boys ran under 4:03 and the top five finishers were all under 4:05.
The race was hyped as
a sub-four attempt
, as the field featured three runners with PBs under 4:01 but a shade over four flat in Worley, Cooper Teare of California and D.J. Principe of Rhode Island.
Reed Brown of Texas became the tenth prep in U.S. history to crack the barrier at the Festival of Miles
two weeks ago, which seemed to be the moment to open the floodgates, as each of the past two years has produced two sub-four minute high school milers.
Watch the 2017 Brooks PR boys mile:
Washington state native Will Laird, a 1:55 800m runner, served as pacemaker and took the field out in 58 seconds for 400m and 2:00 for 800m. Principe, who has twice run just over 4:00 this year, stuck the closest to Laird on the opening laps but would later fade to ninth overall in 4:09.35. NXN champion Casey Clinger took over the lead once Laird stepped off the track at halfway, and he was followed by his American Fork, UT teammate, Patrick Parker, Principe, Gabe Fendel of Indiana and Worley with the full pack of runners close behind.
Teare, who has run 4:00.16 and 4:01.29 this year in high school only races, moved to the lead at the bell with Worley on his tail and teammates Clinger and Parker working together in third and fourth, plus Principe in fifth. Along the backstretch, the race turned into a four-man sprint as Principe started to fade, and then, as Teare turned onto the homestretch, Worley, who has run 1:48 for 800m, coasted by his rival to cross the line first in 4:02.04.
Teare, who has run through a broken toe for the past few weeks, would take second in 4:02.56 and Clinger was third in 4:02.9. Parker, the adidas Dream Mile champion, was fourth in 4:03.67.
Three guys go 4:02 at #BrooksPR -- WOW.
Sam Worley 4:02.04
Cooper Teare 4:02.56
Casey Clinger 4:02.90
Patrick Parker 4:03.67
Full results. pic.twitter.com/9Snv1qmmUE

— FloTrack (@FloTrack) June 17, 2017
Brie Oakley Sets National High School Record For Outdoor Two Mile
When Bethan Knights set the Brooks PR two mile meet record of 9:53.54 in 2014, the Cal-Berkeley commit also broke the outdoor national high school record. It's only fitting, then, that the woman who broke that record today will be a Bear herself next year. Brie Oakley, the NXN champion and a Cal commit, ran 9:51.35 to take down the record as well as Foot Locker champion Claudia Lane of California, who edged the senior out for the Arcadia 3200m title in April.
Oakley's mark ranks No. 1 all-time outdoors and No. 2 overall behind Mary Cain's 2013 national indoor record of 9:38.68.
Lane ran 10:01.18 for second place and Texas freshman London Culbreath was third in 10:04.73, surpassing the national freshman class records for 3K and 3200m en route.
Read more on the two mile race here.
​Watch the 2017 Brooks PR girls two mile:


Dawson LaRance Downs Sub-4 Miler Reed Brown In 800m
With a sub-four minute mile already under his belt
, Oregon commit Reed Brown opted for the 800m in Seattle with a goal of lowering his PB of 1:53.41.
Alex Scales of California took the field through 200m just over 30 seconds and 400m in about 55. At the bell, Brown was tucked in just behind Scales in third as Cade Bethmann ran on the outside in second and challenged for the lead at 200m. But as the pack slingshot onto the final stretch, Brown moved front and center just as Dawson LaRance of Montana ran wide out of lane three. The duo battled the last few meters together and LaRance took the win, 1:50.98 to 1:51.01.
LaRance, who will attend the University of Minnesota next year, goes to Billings High and was teammates last year with Stanford All-American Christina Aragon,
who won the Brooks PR 800m in 2015
and was
runner-up to Sammy Watson in 2016's race
.
Brandon Miller, the national freshman class record holder from Missouri
, closed well to take third in 1:51.91.
Watch the 2017 Brooks PR boys 800m:
4:01 Miler Brodey Hasty Leads 10 Boys Under 9 Minutes In Two Mile
Despite
nearly cracking the four-minute barrier at the Music City Distance Carnival
, Tennessee junior Brodey Hasty opted to test his endurance in the two mile in his first appearance at the Brooks PR Invitational. The choice worked out well, as the 2017 New Balance Nationals Indoor two mile champion executed a poised kick to win in 8:45.95 over Luis Grijalva of California, who ran 8:46.68, and Talon Hull of Utah, who took third in 8:46.94. California's Michael Vernau also ran under 8:50 with a time of 8:49.36, good for fourth place overall.
Seth Hirsch of Nebraska, who will attend Wisconsin next year, led the field through the mile in about 4:28 before finishing in seventh place, 8:55.28.
#BrooksPR Boys 2 mile results. pic.twitter.com/LtCiotvZoI

— FloTrack (@FloTrack) June 17, 2017
​Watch the 2017 Brooks PR boys two mile:
Anna Gibson Wins First Major Title In Girls Mile
Anna Gibson of Jackson Hole, Wyoming won her first major title with an impressive surge over the final 150m of the girls mile. The senior, who finished just sixth at the adidas Dream Mile two weeks ago, cruised past defending Brooks PR mile champion Annie Hill as well as Dream Mile champion Lexy Halladay over the final curve to cross the line first in 4:43.77. She will attend Brown University next year.
Hill, a junior from Montana, had built a sizable lead from the sound of the bell to signal the final lap, but Gibson, Halladay and Allie Schadler of Arizona, a Washington commit, reeled her in with 200m left in the race. The trio passed Hill on the homestretch and Gibson surged to the victory.
Schadler hung on for second in 4:44.03. Halladay, whose winning time of 4:41.8 at the Dream Mile
set a national freshman class record
, was third in 4:44.24, while Hill was fourth in 4:46.18.
Early leader Taylor Roe of Washington, who broke things open after a slow early pace of 75 seconds through 400m and 2:28 over 800m, finished seventh in 4:51.
​Watch the 2017 Brooks PR girls mile:


Jamal Walton Breaks Meet Record In 400m
Miramar, Florida junior Jamal Walton quickly made up the curve on the rest of field and held the lead through the line in the boys 400m, setting a new Brooks PR meet record of 46.04 in the process. Defending champion Elija Godwin of Georgia took second in 46.23. Double amputee Hunter Woodhall of Utah, who will attend the University of Arkansas next year on scholarship, was fifth in 47.29.
Walton won Florida 4A state titles in both the 200m and 400m this year. His PB is 45.7, and he will represent the Cayman Islands this summer on the Diamond League circuit.
​Watch the 2017 Brooks PR boys 400m:
Rachel McArthur Wins Girls 800m On Cruise Control​
With national high school record holder Sammy Watson a late scratch from the girls' 800m, 2017 New Balance Nationals Indoor champion Rachel McArthur took over as the top contender.
The Villanova commit won wire-to-wire, splitting 31 seconds through 200m and about 61 through 400m before breaking the tape in 2:05.68. Kristie Schoffield of New Hampshire, the New England champion for 800m, closed well to take second in 2:07.13. Though the race lacked much drama as McArthur won unchallenged, the Virginia native was likely grateful for the ease of effort as her title hopes in
last year's Brooks PR mile were somewhat hampered
when she tripped over Julia Heymach, who had fallen just after 1200m.
​Watch the 2017 Brooks PR girls 800m: