Create a free account to unlock this article!
Get Started
Already a subscriber? Log In
This article is a compilation of which former collegiate athletes have turned pro, and with which agencies or shoe companies. If we are missing someone notable, send Johanna Gretschel an email at jojo@flosports.tv.
A warm welcome to Kimbia for new recruits @_MarcScott, @Erb__MJ, @HWynning & Josh Thompson. Exciting times ahead https://t.co/fTaNQTZfL5 pic.twitter.com/VbIzYkT2yz

— KIMbia Athletics (@kimbia) July 31, 2017
MJ Erb
, along with Marc Scott, Josh Thompson, and Henry Wynne (previously announced below) signed professional contracts with Kimbia Athletics, the management agency announced on Monday. Erb, a former Ole Miss All-American, will train under Saucony's Elite Athlete Development Team with coach Tim Broe. The steeplechase standout ended his senior year at Ole Miss with a fourth-place finish at the NCAA championships and a seventh-place finish at the USATF Outdoor Championships.
When you stay down and trust Him. Yesterday I signed a contract to run Professionally for Nike and made it to London for Worlds. #Blessed pic.twitter.com/PCxru7PTtq

— Christian Coleman (@__coleman) June 24, 2017
Christian Coleman ​of the University of Tennessee signed with ​Nike ​at USAs, shortly before making the world team in both the 100m and 200m. The NCAA record holder for 100m will contest only the shorter event in London. is represented by Emanuel Knudson's agency, HSI and was a four-time NCAA champion this year in the 60m, indoor 200m, outdoor 200m and 100m.


Belcher Signs With Nike, Earns Spot On US Team https://t.co/t8bg183s6V

— N.C. A&T Athletics (@NCATAGGIES) June 24, 2017

Chris Belcher of NC A&T appeared on the USA 100m finals start line in a brand-new Nike kit after competing in the semi-finals in his school uniform. He was third in the NCAA 100m and third in the USA 100m to book his ticket to the World Championships.
​

Glad to be a @Nike athlete first professional race tomorrow at the Olympic stadium pic.twitter.com/Lk07AdMNID

— Fred Kerley (@fkerley99) July 8, 2017

Fred Kerley of Texas A&M signed with Nike after winning the USATF 400m title. The two-time NCAA champion set the 400m collegiate record this year in 43.70.

​


Deajah Stevens of the University of Oregon
announced she is turning pro
. No official word yet on who her agent or sponsor is, but we think it might be
On Track Management
. The 2016 Olympic finalist for 200m is headed to worlds in both the 100m and 200m, the latter event she won over Olympic medalist Tori Bowie at USAs.
Craig Engels of Ole Miss
has signed with Nike and will join the
Nike Oregon Project
. He is represented by Matt Sonnenfeldt for Flynn Sports Management. Engels, the third-placer in the NCAA 1500m, was fourth in the USAs 1500m and the first man outside of qualifying to London.
It looks like NCAA 10K Champ @_MarcScott has joined @BowermanTC: https://t.co/H1VefT7GHM pic.twitter.com/dOTmaV7qos

— FloTrack (@FloTrack) July 9, 2017
Marc Scott of Tulsa
debuted a Nike Bowerman TC jersey at the London Diamond League
and has likely joined their Portland-based training group. Scott won the 2017 NCAA 10K title.
NCAA 400m champion
Chrisann Gordon
of the
University of Texas
signed with
adidas
. The native Jamaican recently earned her first individual berth to an international championship by placing second in the 400m at Jamaican Trials; she has previously won gold and silver as part of the Jamaican 4x400m relay at the 2015 World Championships and 2016 Olympic Games.
LSU All-American
Nethaneel Mitchell-Blake
has signed with
adidas
. English by birth, Mitchell-Blake left Great Britain for Jamaica with his parents when he was 13 years old but will now represent the United Kingdom in international competition. He won the 200m at British nationals and will contest the event at the World Championships in London.
NCAA indoor 400m champion
Shakima Wimbley
, formerly of the
University of Miami
, has signed on with
adidas
and is managed by Total Sports US. She was runner-up at NCAA outdoors this year behind Gordon and placed fifth in the USAs 400m, which means she will likely be named an alternate for Team USA's 4x400m relay pool in London.
LSU's Michael Cherry
debuted a new
Nike
kit at the London Diamond League meeting shortly after setting a new personal best of 44.66 for 400m in Lausanne. He also won his first race as a pro in London. Cherry was third at the NCAA 400m and sixth in the USAs final, meaning he will likely compete in London again for the World Championships as part of the Team USA's 4x400m relay pool.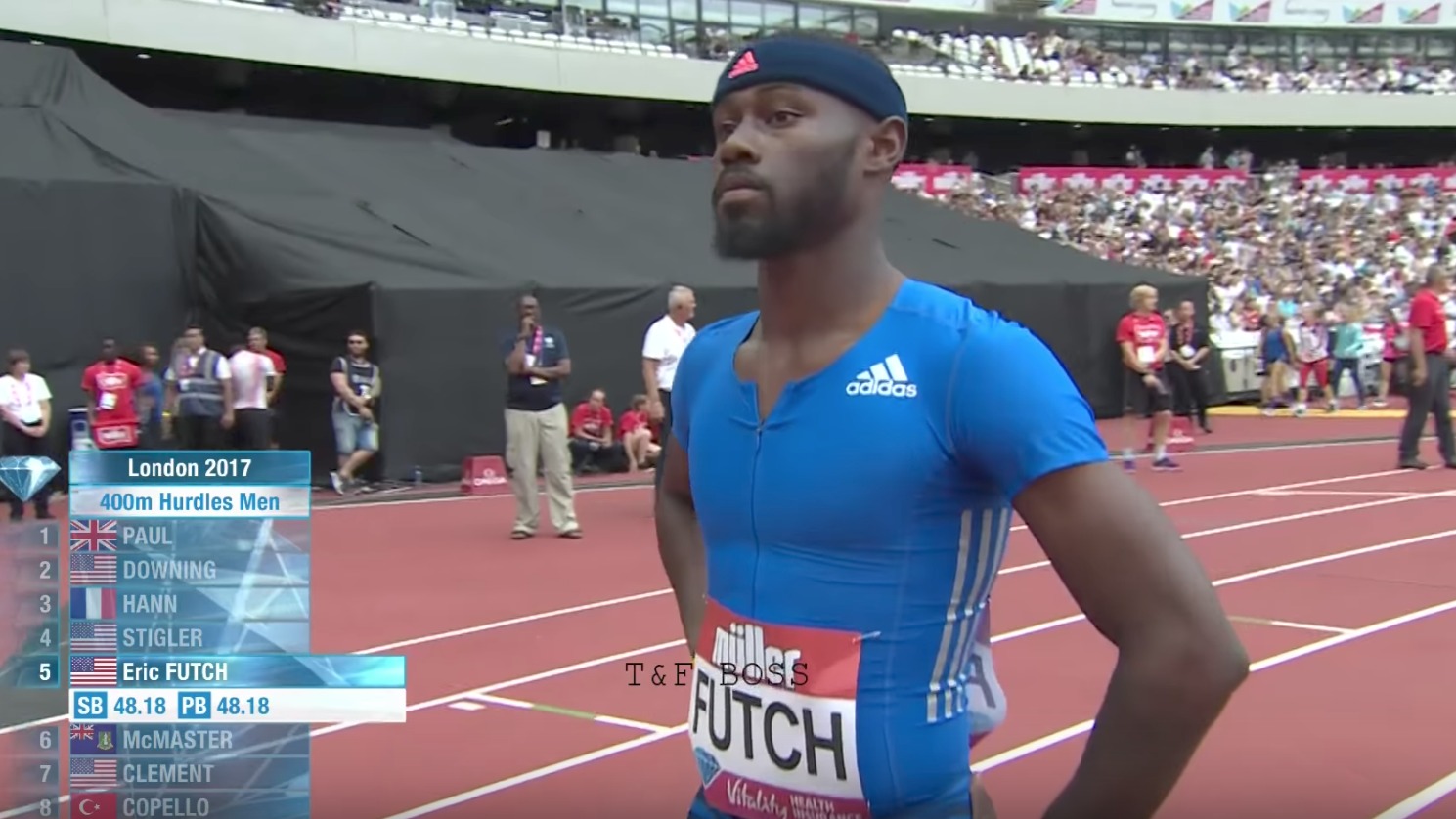 NCAA 400m hurdles champion
Eric Futch of Florida
debuted an
adidas
kit at the London Diamond League meeting. He won the USATF title in the 400m hurdles to make his first World Championships team.
Texas grad Byron Robinson grabs second place in #LausanneDL 400H with new adidas kit https://t.co/eqbuyraPr9 pic.twitter.com/GjM5jWA2zS

— FloTrack (@FloTrack) July 6, 2017
Another 400m hurdler in
Byron Robinson of the University of Texas
also signed with
adidas
. The 2016 Olympian is managed by On Track Management.
NCAA record holder
Kyra Jefferson
has signed with
Nike
. The former Florida Gator set the collegiate record for 200m with a time of 22.02 in what was a shocking result over Deajah Stevens, who tripped and fell of her own accord.
2016 NCAA indoor mile champion
Kaela Edwards of Oklahoma State
debuted an
adidas
kit in the rounds of the 1500m at USAs.
Edward's
Oklahoma State
teammate,
Savannah Camacho
, will join the
Brooks Beasts
training group. The multiple-time All-American over 800m plans to move up to the 1500m.
BYU's All-American 800m specialist
Shea Collinsworth
debuted a
Nike Oregon Track Club (OTC) Elite
singlet in the 800m rounds at USAs.
2016 NCAA indoor mile champion
Henry Wynne
of UVA signed with the
Brooks Beasts
.
Oklahoma State All-American
Josh Thompson
ran the 1500m at USAs in a
Nike Bowerman Track Club
singlet. This year, Thompson was fourth at the NCAA outdoor 1500m and sixth in the NCAA indoor mile, but may pursue the steeplechase in the future.
Megan Moye (soon to be Mansy) is the newest member of @njnytc and @HOKAONEONE. Welcome to the @Flynnsports family. https://t.co/w7Oq7FIWYB

— Matthew Sonnenfeldt (@MSonnenfeldt) July 13, 2017
NC State All-American
Megan Moye
will join the
NYNJ Track Club
as a
Hoka One One
athlete. She is represented by Flynn Sports Management.
Texas A&M All-American
Aaliyah Brown
has signed with
Total Sports US
and does not yet appear to have a sponsor. Other new additions to Total Sports US include Virginia Tech's
Hanna Green
, a three-time NCAA runner-up in the 800m, and
Sage Watson of the University of Arizona
, who won the 2017 NCAA title in the
400m hurdles
. Watson ran in the Olympics for Canada last summer and has qualified to represent her country at the World Championships this summer. She competed at the Canadian nationals in her Wildcats jersey so it appears she is not yet signed by a shoe company.
Nice win tonight in Madrid for @SageWats. 54.59, just .07 off her personal best! #Total2017 pic.twitter.com/9kfjh4jNPJ

— Total Sports US (@totalsportsus) July 14, 2017
New additions to
Icon Management
include All-American sprinters
Kyree King of the University of Oregon
, who is tabbed to represent Team USA in the 200m in London after Christian Coleman announced he will pull out of the event, and
Aldrich Bailey, Jr. of the University of Texas
. Neither appear to have a sponsor yet.