2017 USATF Outdoor Championships
Gabe Grunewald Ends Inspirational Season In First Round At USAs
Gabe Grunewald Ends Inspirational Season In First Round At USAs
Gabe Grunewald ended her season with an inspirational run in the 1500m prelims at the 2017 USATF Outdoor Championships.
Jun 23, 2017
by Johanna Gretschel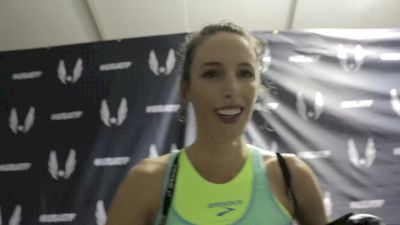 Gabe Grunewald of Brooks ended her run as perhaps the most inspirational track and field athlete of 2017 with a 4:31.18 run in the first round of the 1500m at the USATF Outdoor Championships in Sacramento.
She finished ninth in her section and will not advance to the final. Kate Grace of Nike won the heat in 4:09.11.
After the race, Grunewald, whose
fourth bout with cancer in eight years this season
has garnered her the most press and public attention of her career, spoke with USATF's Dan O'Brien over the public address after the race.
"I'm just overwhelmed," she said to the crowd. "It's so great to see the sport I love getting behind the fight against cancer. [Yesterday, USTAF announced a new partnership with the American Cancer Society]. Obviously, it's very relevant to my life right now. I'm in the middle of my fight and I want to stay connected to the sport and that's why I ran today.
"I don't think I would've made it to this starting line [without all the support of the running community]. I started chemo about three weeks ago and it's been getting tougher and tougher for me to run every week. I just hope that my struggle and perseverance inspires people to keep pushing through in their own lives."
Really cool moment after heat one concludes, as all of the ladies circle around Gabe Grunewald who continues to inspire all. #USATFOutdoors pic.twitter.com/nerBdxb8qm

— FloTrack (@FloTrack) June 23, 2017
After the conclusion of the race, all of the athletes gathered around Grunewald in a private moment of a speech and a cheer. Both Grace and Jenny Simpson, the heat two winner, acknowledged Grunewald in their post-race interviews over the loudspeaker.
Grunewald will resume chemotherapy treatment next Tuesday.