2017 USATF Outdoor Championships
Hassan Mead Wins, Korir, Kipchirchir Make Worlds Team In Wild USATF 10K
Hassan Mead Wins, Korir, Kipchirchir Make Worlds Team In Wild USATF 10K
Hassan Mead won his first U.S. outdoor title while Galen Rupp's eight-year winning streak was snapped in the USATF 10K.
Jun 23, 2017
by Dennis Young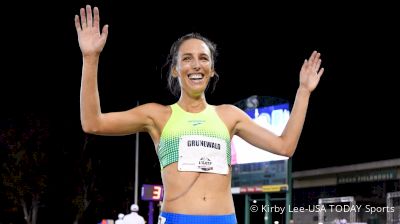 ​Sacramento, California -- Galen Rupp's eight-year grip on the USATF 10,000 meter title is over, as Hassan Mead won his first U.S. outdoor title and Leonard Korir and Shadrack Kipchirchir finished in the top three for the second straight year. It was an extremely entertaining race--after a mile of jogging, Sam Chelanga threw in hard surges for the next 20 minutes or so and led until he was physically unable to do so.

Mead, Kipchirchir, and Korir are all headed to London as they have the world standard. Biya Simbassa was fourth and Rupp was fifth.

​Top eight results:
​29:01, Hassan Mead (Nike Oregon Track Club)
29:01, Shadrack Kipchirchir (U.S. Army/American Distance Project)
29:02, Leonard Korir (U.S. Army/American Distance Project)
29:03, Biya Simbassa (American Distance Project)
29:05, Galen Rupp (Nike Oregon Project)
29:08, Diego Estrada (Asics)
29:08, Sam Chelanga (Nike/American Distance Project)
29:12, Chris Derrick (Nike Bowerman Track Club)

The men jogged for a mile and a half, hitting 1600 meters in 5:08 and 2400 in 7:45. Right before that split, though Sam Chelanga started hammering, and from 2400 to 2800, Chelanga split 64.67. That was the start of a wild six kilometers or so, as Chelanga began surging and slowing off the front. Athletes would periodically try to catch him, including Galen Rupp, Diego Estrada, and Chris Derrick. But for the most part, whenever someone would catch Chelanga, he would eventually throw in a serious surge and gap the field again. He led every time the group crossed the start/finish line from 2800 meters to 8400 meters, with his lead fluctuating between one and three seconds according to the official splits.

​Mead's win is only the second time since 2010 that someone other than Bernard Lagat or Galen Rupp won the 10K or 5K at an outdoor U.S. championships. (Ryan Hill won the 5K in 2015.) The last time someone other than Rupp won the 10K was when Abdi Abdirahman won the 2008 Olympic Trials; the last time Rupp didn't finish in the top three was 2006, when he didn't race. This is the first time that Rupp has ever raced the USATF outdoor 10K and finished outside the top two. (The three men who were on the last U.S. outdoor 10K team that didn't include Rupp were Jorge Torres, Meb Keflezighi, and Dan Browne. Torres now works for Global Athletics, the agency; Keflezighi is retiring this fall; and Browne is a coach with the U.S. Army's World Class Athlete Program.)​

Rupp declined to speak to reporters after the race.



It seemed like a serious strategy for Chelanga. He was the top American, in eleventh, at the IAAF World Cross Country Championships in Uganda in March. That result indicated that he could handle erratic racing and hot temps--it was 85 degrees at race time tonight. But when the lead pack finally swallowed him up with a mile to go, he was out of energy, and seemed to admit it, sliding over on the backstretch to let others lead.

Rupp took over with just under four laps to go, and it finally looked like the race we've been watching for the last decade. But Korir and Mead covered the move, and Korir and Diego Estrada took over. Mead, always right near the front, covered the three laps leading up to the bell in 65.1, 65.9, and 62.1.

Right before the bell, Chris Derrick made a serious bid. He and Korir started going all-out on the backstretch, but it only wore out Derrick--and Rupp. Mead swept around that group in the last 200 meters and covered his final circuit in 55 seconds, winning easily. That's his third straight outdoor international team, as Mead made worlds in the 10K in 2015 and the Olympics in the 5K last year.

For Kipchirchir, it's his third straight 10K team--he was fourth at 2015 USAs and made the team after Ben True elected for the 5K that year. He and Korir were also second at third at the Olympic Trials last summer, making this the second straight U.S. outdoor team for Korir. The two train together with Scott Simmons's American Distance Project.

Mead, Kipchirchir, and Korir are all entered in tomorrow night's 5,000 meters, and Rupp is not. Mead told reporters after the race that he would like to double in both events at the world championships in August.