2017 USATF Outdoor Championships
Ohio Northern's Emily Richards Impresses At USA Championships 800m
Ohio Northern's Emily Richards Impresses At USA Championships 800m
During yesterday's semi-finals of the women's 800m at the USATF Outdoor Track & Field Championships here at Hornet Stadium, two of America's best half-milers, Ajee' Wilson and Charlene Lipsey, were battling down the backstretch in their bright blue adidas
Jun 24, 2017
by FLO TRACK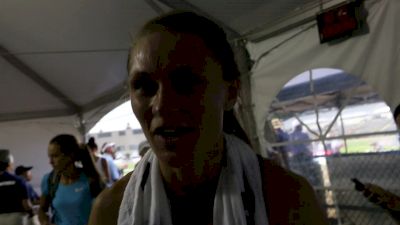 By David Monti,
@d9monti
(c) 2017 Race Results Weekly,
used with subscription
SACRAMENTO, Calif. (24-Jun) -- During yesterday's semi-finals of the women's 800m at the USATF Outdoor Track & Field Championships here at Hornet Stadium, two of America's best half-milers, Ajee' Wilson and Charlene Lipsey, were battling down the backstretch in their bright blue adidas uniforms trying to make the final. They are favorites for making the national team by achieving a top-3 finish here in Sunday's final.
But they were not alone. Mixing it up with the two pros was little-known Emily Richards, the NCAA Division III champion from Ohio Northern University in her orange and black kit. The 21 year-old Richards, who just finished her junior year, was feeling confident and was focused on making the final. She wasn't intimidated, despite the fact that she had only run her first 800-meter race two years ago. She would finish third, easily making it into the final.
"I've got a lot of experience racing championship-style races, so this just another one," Richards told Race Results Weekly referring to her résumé of NCAA D-III races. "I felt comfortable, I felt good. I set myself up perfectly, finished hard, and ended up with a spot."
Richards, a chemistry major from Delaware, Ohio, was a 400-meter runner when she began her collegiate career with a 55-second personal best. But the Ohio Northern coaching staff, led by head coach Jason Maus, convinced her to move up to the 800m. Early results weren't that promising; she ran a modest 2:11.17 her freshman year. But as a sophomore last year, she dropped her time to 2:05.54. That was only the beginning.
"When I started college, I actually never ran the 800, so I didn't have one (an 800m personal best)," Richards explained, looking slightly embarrassed. "I was a 56-second 400 girl in high school. My coach convinced me (to move up). It was the right decision for sure. I sacrificed some 400 (speed) for the 800, but it's working a lot better."
This year, she's run a dozen 800m races, indoors and out, according to the statistics service Tilastopaja.com, and has drastically dropped her best time to 2:00.62. She's run sub-2:04 five times this season, including her two marks here in Sacramento: 2:03.61 in her prelim and 2:01.95 in her semi. Not since Nick Symmonds came out of Willamette University in 2006 has there been an NCAA Division III half-miler with racing chops like Richards.
"I definitely came here, basically, with no expectations," Richards said after her semi-final. "Of course, to make the final, but I'm just enjoying the experience and it's really great that everything is falling into place for me." She added: "I felt how my body was feeling during the race, and I felt good, I felt comfortable. So, as long as I was feeling good, and feeling comfortable, I knew it was right."
Of the eight women who will take the starting line in the final, six have run sub-2:00 during their careers. Only Richards, and outgoing high school senior Samantha Watson, 17, haven't broken the two-minute mark. Richards isn't fazed, explaining that she's used to running rounds, even if here she's in an open national championships and not the Division III meet last month in Geneva, Ohio, where she won by nearly five seconds.
"Similar in how it's set up (compared to an NCAA championships), but definitely a lot more high-caliber competition," she said matter of factly. "So, that's different, definitely."
Richards plans to stay in school and finish her degree next year, but has aspirations to become a professional on the circuit.
"I do have another year to go, so I'll get my degree first," she said. "But then, see where track takes me."