Sacramento, Calif. --
For the sixth time in her career, Emma Coburn became the champion of the women's steeplechase in the United States. Coburn safely secured her spot to represent Team USA at the World Championships when she won the USATF Outdoor Championship final in 9:20.28, marking her sixth national title of her career.
Bowerman Track Club's Courtney Frerichs and Colleen Quigley rounded out the remaining podium spots. All three women also competed at the 2016 Olympic Games together. Frerichs closed for second in 9:22.23 and Quigley followed for third in 9:25.40, replicating the exact placing of last year's Olympic Trials.
.@emmajcoburn wins #USATF title #6 in 9:20.28. Olympic teammates @courtfrerichs8 & @steeple_squigs join her on #TeamUSATF! #USATFoutdoors

— USATF (@usatf) June 24, 2017
Stephanie Garcia followed in the dreaded fourth position, missing the world championship team by 12 seconds.
The race began with a pedestrian pace, but within the first 200 meters, Coburn decided to take over. The Olympic bronze medalist began leading the top group through 73-75 second laps until two laps remaining when she wanted to "take the sting out" of the legs of her top competitors, Frerichs and Quigley.
The second to last lap was run in 71 seconds, followed by a bell lap that saw Coburn blaze through in 69 seconds. The surge was just enough to put two seconds over Frerichs and five seconds over Quigley by the finish line.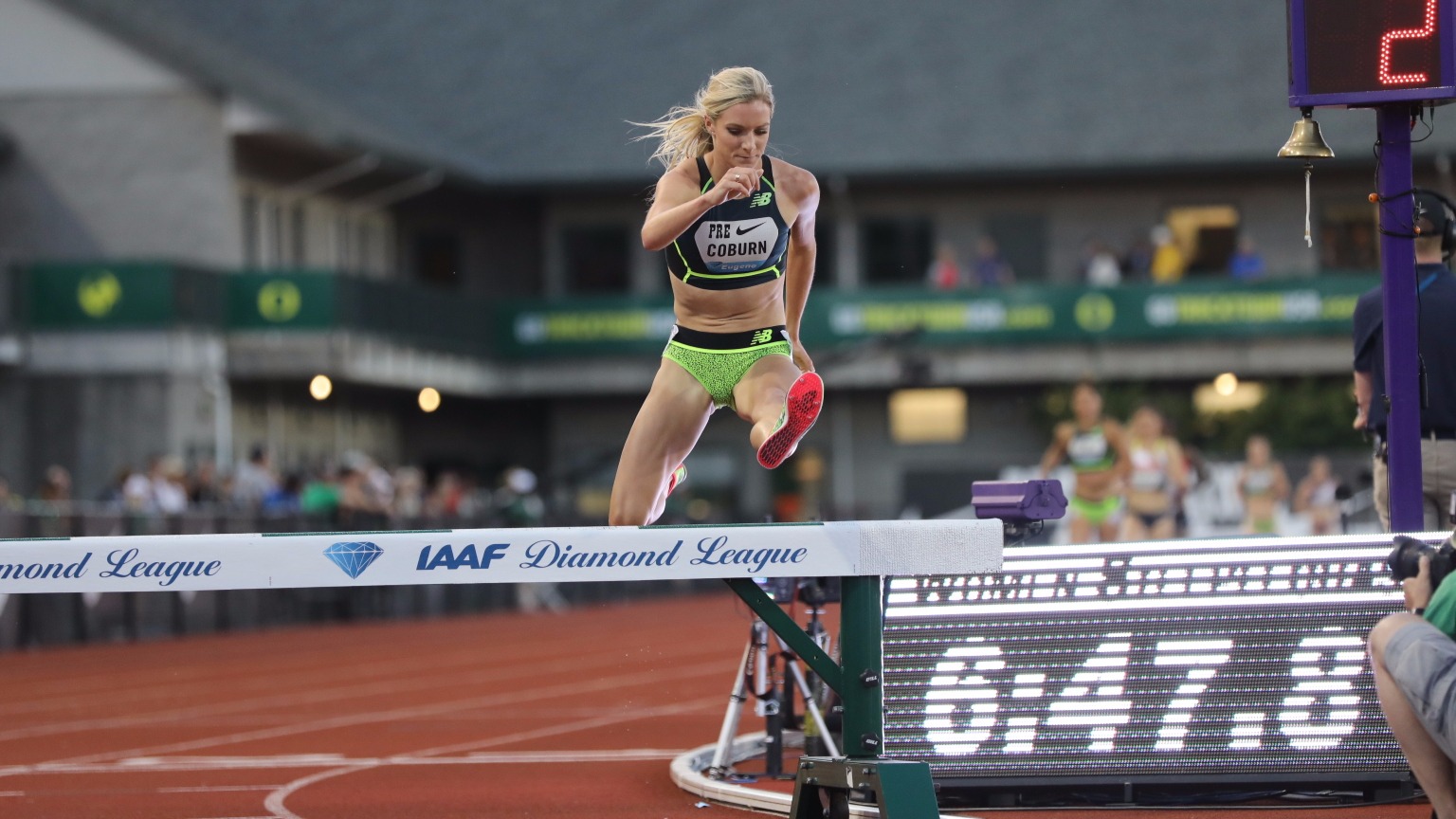 After her victory, Coburn told reporters that she wanted to break her own American record at the Paris Diamond League meeting on July 1. She nearly broke the mark at the Prefontaine Classic in May when she finished fourth in 9:07.96, less than a second shy of her record set while earning bronze at the 2016 Olympic Games last August.
Based on her stunning early season performances and confidence gained from grinding out another U.S. title in the Sacramento heat, Coburn looks ready to lower her mark next week.
​Courtney Frerichs said that it's calming to have Bowerman TC teammate Colleen Quigley in the race with her: