2017 USATF Outdoor Championships
Dalilah Muhammad Wins Blazing Fast 400H Final As Sydney Breaks WJR
Dalilah Muhammad Wins Blazing Fast 400H Final As Sydney Breaks WJR
Dalilah Muhammad won the insanely fast U.S. 400 meter hurdle final as Sydney McLaughlin broke the world junior record in sixth place.
Jun 25, 2017
by Dennis Young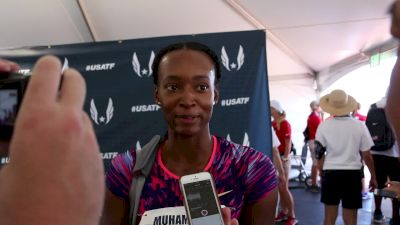 Dalilah Muhammad won one of the deepest 400 meter hurdle races in history at the U.S. championships. Her 52.64 winning time makes her the sixth fastest performer in the history of the event, while Shamier Little's 52.75 ranks No. 9 all-time. High school senior Sydney McLaughlin failed to make the team, but smashed her own world junior record in 53.82 seconds. It was her first time running under 54 seconds.
And first time in history that six women have gone sub-54.

THIS. IS. CRAZY!

— Jon Mulkeen (@Statman_Jon) June 25, 2017
Best marks-for-place for 3rd, 4th, 5th and 6th.

This is the greatest women's 400m hurdles race in history.

— Jon Mulkeen (@Statman_Jon) June 25, 2017
COMPLETE RESULTS

The performance marked the first time in history that three women have gone sub-53 seconds in the same race. The competition was so deep that Olympic bronze medalist Ashley Spencer finished fourth in a personal best of 53.11 and didn't make the team.
For Little, the race was welcomed redemption after missing the Olympic Trials final last year. Her finishing time of 52.75 was a massive improvement on her personal best of 53.44 set at the Prefontaine Classic in May.
Carter's performance was another breakthrough as she finished in the dreaded fourth-place position at the 2016 Olympic Trials. London marks her second international team.
The men's race featured a stunning performance from Florida teammates Eric Futch and T.J Holmes. Futch stormed the field with a personal best of 48.18 to win his first ever national championship. The performance follows an NCAA 400m hurdle title and team win for the Gators in early May.
Holmes followed his teammate with a third-place finish in 48.44. Holmes' performance marks his first senior international team after earning a bronze medal at the IAAF World Junior Championships in 2014.
The runner-up position was earned by Michael Stigler who was unable to compete at the Olympic Trials last year. After making the world championship team, Stigler said he was inspired by Olympic champion Bershawn Jackson while competing as a kid.