Charlene Lipsey Becomes Sixth-Fastest American Ever At Lausanne DL
Charlene Lipsey Becomes Sixth-Fastest American Ever At Lausanne DL
Charlene Lipsey moves ahead of Ajee Wilson on the all-time list for American women 800m runners at the Lausanne Diamond League
Jul 6, 2017
by Johanna Gretschel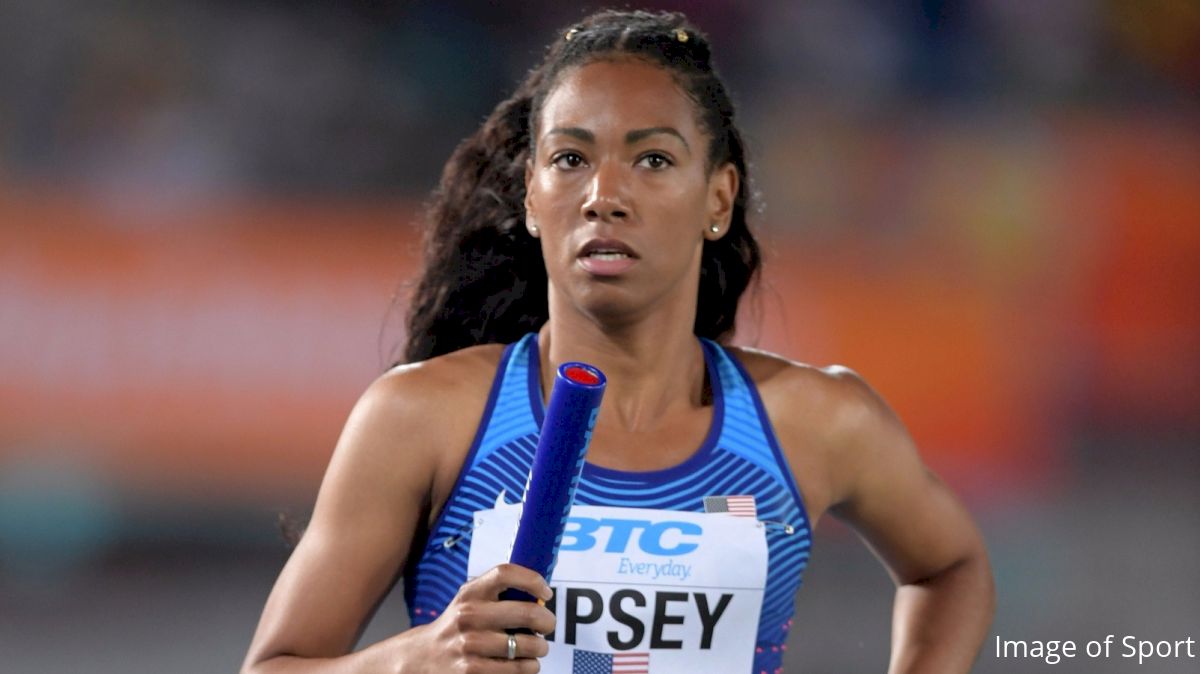 A selection of the top athletes in the world competed today at the IAAF Diamond League stop in Lausanne, Switzerland. Check out the live updates article here, and read on for the most exciting highlights of the evening.
Charlene Lipsey Bypasses Training Partner Ajee Wilson On U.S. All-Time List
In what was perhaps the most impressive American performance of the evening, 26-year-old Charlene Lipsey challenged Olympic silver medalist Francine Niyonsaba in the 800m and walked away as the sixth-fastest American in history with a new personal best of 1:57.38.
Niyonsaba, thought to be one of the controversial "Big Three" in
international women's 800m competition that includes Caster Semenya
and Margaret Wambui, shadowed the pacer through 400m in 56.56. Usually at this point in this race, no one is able to make a move but Lipsey ran right on Niyonsaba's tail and challenged her on the final curve. The effort wasn't enough for Lipsey to win in her Diamond League debut, but Niyonsaba did have to run a season's best to secure the win in 1:56.82.
Lipsey's prior PB of 1:58.01 was set en route to a runner-up finish behind training partner Wilson at the USATF Outdoor Championships to secure her first-ever spot on a world team. She's now faster than her Olympian teammate, who set her PB at 1:57.67 as a 20-year-old back in 2014 though she did run 1:57.78 to win the U.S. Champs. The athletes' coach, Derek Thompson, has said on the record that American record is a target for Wilson this summer (
her indoor record was voided
), but now it's possible to see Lipsey cracking the barrier.
Here's a new list of the top 10 all-time American women over 800m:
| RANK | MARK | ATHLETE | YEAR |
| --- | --- | --- | --- |
| 1 | 1:56.40 | Jearl Miles Clark | 1999 |
| 2 | 1:56.90 | Mary Slaney | 1985 |
| 3 | 1:56.91 | Kim Gallagher | 1988 |
| 4 | 1:57.04 | Meredith Valmon | 1996 |
| 5 | 1:57.34 | Alysia Montaño | 2010 |
| 6 | 1:57.38 | Charlene Lipsey | 2017 |
| 7 | 1:57.67 | Ajee Wilson | 2014 |
| 8 | 1:57.68 | Molly Ludlow | 2016 |
| 9 | 1:57.82 | Julie Jenkins | 1990 |
| 10 | 1:57.84 | Joetta Clark | 1998 |
Wayde van Niekerk Walks Through The Line, Runs 43.62 World Leader
"Wayde Dreamer
" made the rest of the men's 400m field look like they were dreaming, or at least sleep walking, with his ridiculous 43.62 win today. The time is his third-fastest ever, ranking only behind his wins at the 2015 World Championships in Beijing and the 2016 Olympic Games in Rio, where, of course, he set his world record of 43.03.
um tell me how van Niekerk just walked through the line in 43.62 #LausanneDL: https://t.co/eqbuyraPr9 pic.twitter.com/ZtmDgJSs1d

— FloTrack (@FloTrack) July 6, 2017
Coming out of the final curve, Baboloki Thebe of Botswana actually seemed to be giving van Niekerk a challenge but as the final stretch progressed, it was clear that no one could keep pace with the 23-year-old South African. He had the win locked up within the final 20 meters and seemed to slow up and coast through the line. Now, that could be some minor glitch in the camera software or live feed, but still... he's
broken the world best for 300m this season
and after today's performance, it definitely seems like he could lower his 400m record in London.
Genzebe Dibaba Comes Up Four Seconds Short Of Mile World Record

Ethiopia's Genzebe Dibaba came up four seconds short of the world record in the mile with an impressive 4:16.05 run in which she was solo after the 1K mark. The time is a new world-leading mark and Lausanne meeting record. For now, the world record will still stand at 4:12.56, as it has since Svetlana Masterkova ran the time in 1996. Dibaba is the second-fastest woman in world history, thanks to her 4:13.31 from February of 2016; today's run is the third-fastest mile time of her career and the sixth-fastest of anyone in world history.
Genzebe Dibaba sent the crowd wild with her world record attempt in the mile. A brilliant solo effort of 4:16.05. DIAMOND LEAGUE RECORD! pic.twitter.com/W8PhOMnHtQ

— IAAF Diamond League (@Diamond_League) July 6, 2017
Dibaba, who set the 1500m world record at 3:50.07 two years ago in Monaco, has now shown her hand to the rest of the world. This was her first race at the middle distance this season and while the likes of Sifan Hassan and Faith Kipyegon have looked super fit in their Diamond League showings, Dibaba just displayed she will be in near-PR fitness for worlds.
After suffering a toe injury last year and still battling to silver in the Olympic 1500m final, she's going to be out for blood in London. She said after the win that she is racing both the 1500m and 5K at the World Championships.
"I felt well during the first part of the race," she said to the IAAF. "I had good legs until 1200m but maybe went too fast in the first part. And then it blocked. It is a pity as the conditions were good. I need to train some more to have some freshness in the end of the race. My objectives are clearly the 1500 and 5000 at the world championships."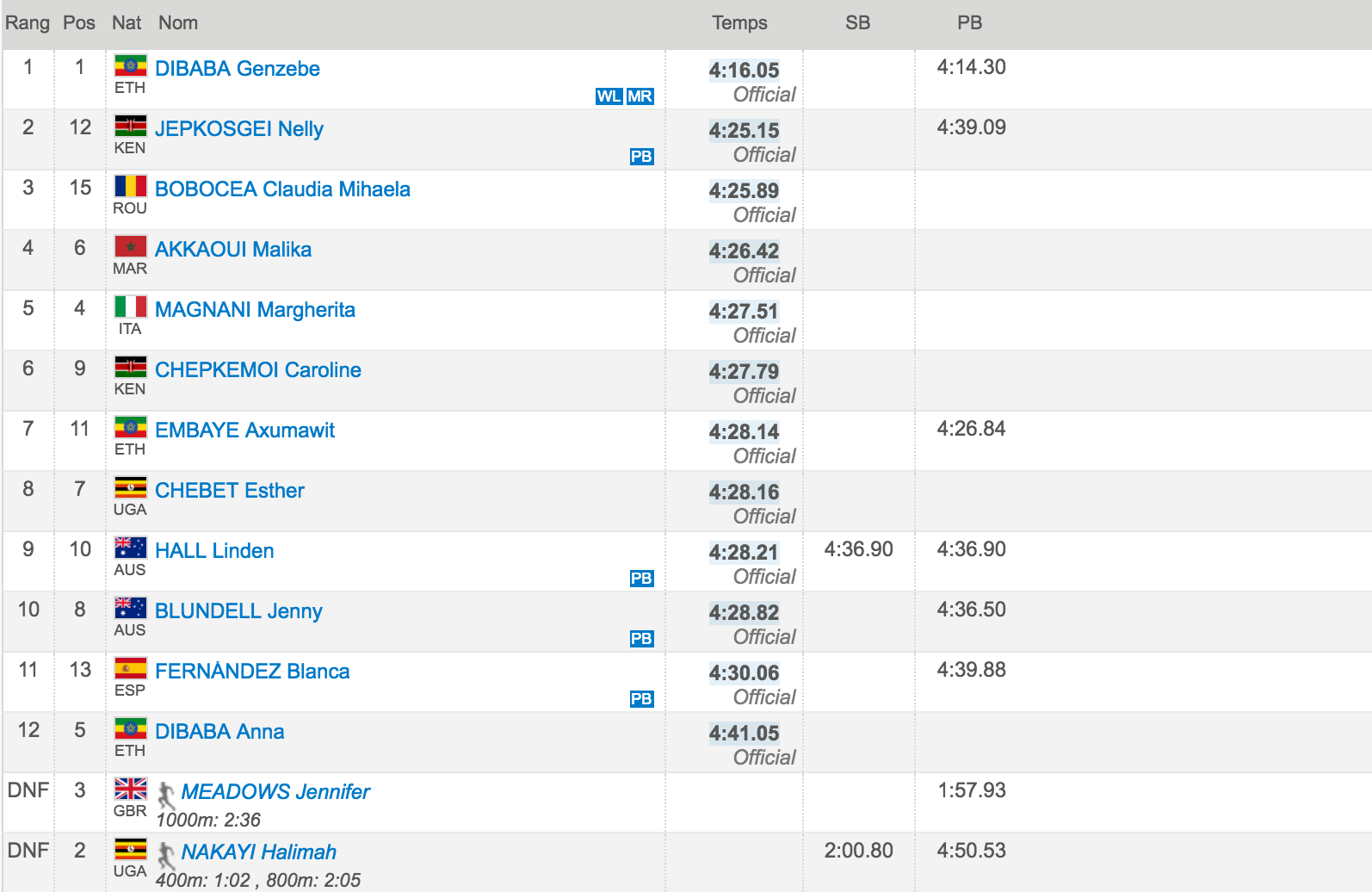 Muktar Edris Runs Fastest 5K Since 2015, 17-YO Selemon Barega Runs 12:55
Somehow, the Lausanne 5K didn't seem super exciting on paper, at least not compared to the last men's Diamond League distance run in Paris, when we got to watch
Muktar Edris fly by early season stars Ronald Kwemoi and Yomif Kejelcha in the 3K
. The lead pack of Edris, 17-year-old Selemon Barega, 20-year-old Joshua Cheptegei and Yewnew Alamirew clocked about 7:50 through 3K --about five seconds slower than the prescribed pace-- and ratcheted the pace up here. At the bell lap, Edris --who had slickly hovered in fourth and second place for much of the race-- finally made his move, but the upstart Barega refused to let him that easily.
In what was a thrilling final lap, Edris was forced to split 55.14 in order to cross the finish line first in 12:55.23, the first man under 13 minutes this season and the fastest time in the world since 2015.
Barega crossed the line in 12:55.58, the second-fastest time ever recorded for an U18 athlete only behind Abreham Cherkos' 12:54.19 world youth best from 2006.
12:55.23 from Edris - fastest 5000m in the world since 2015

12:55.58 from Barega, makes him second-fastest U18 in history.

— Jon Mulkeen (@Statman_Jon) July 6, 2017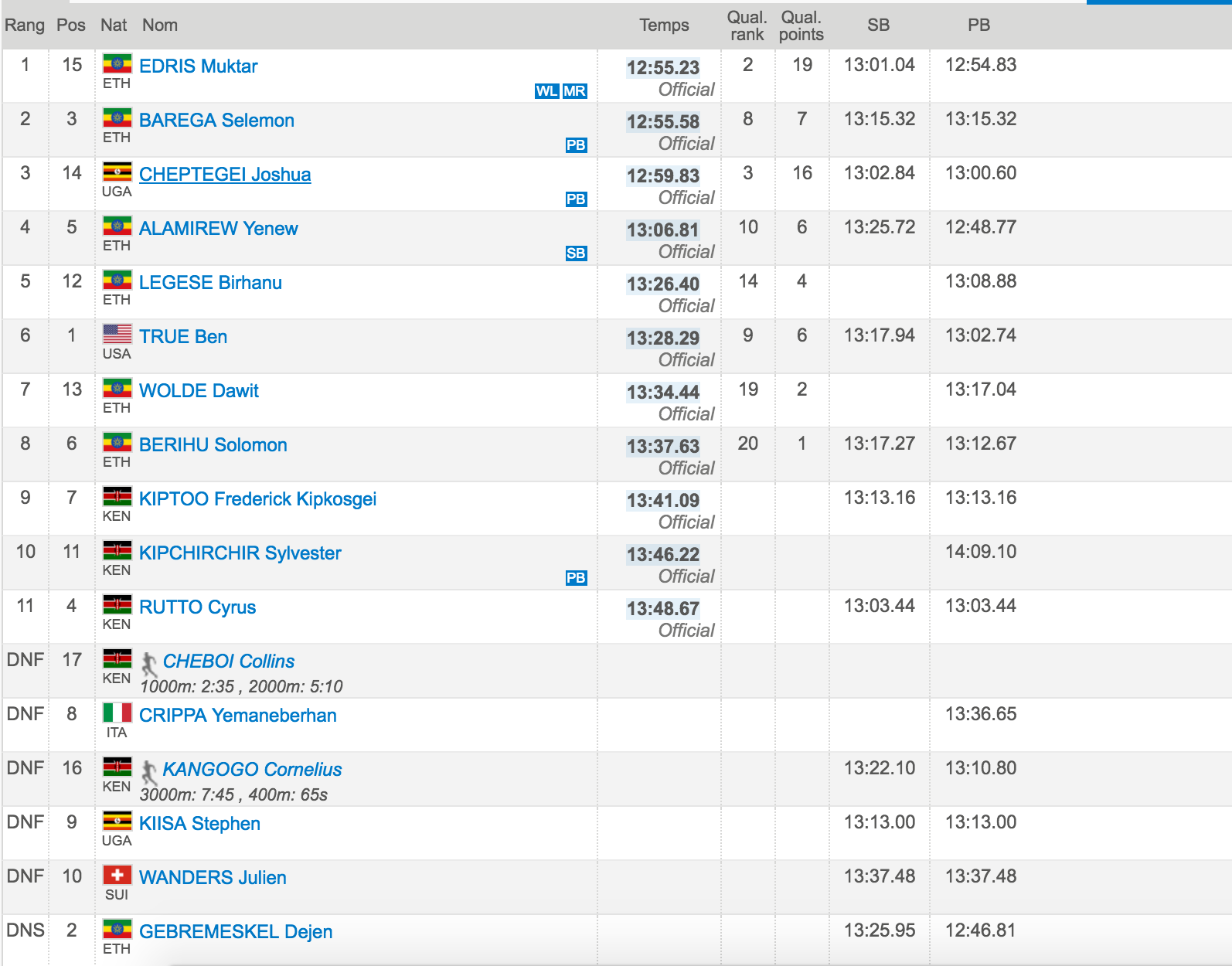 Aman Wote Wins 1500m In 3:32; Centro Runs 3:34
Pre-event favorite Elijah Manangoi was a late scratch from this event, which would be reigning Olympic champion Matthew Centrowitz's Diamond League debut in 2017. We weren't sure what to expect from Centro, as he has never won a Diamond League race despite his world and Olympic medals and
he revealed a slew of health and injury issues he's been struggling with this season after his runner-up finish at USAs
.
Centrowitz took up the 10th place position at the start of the race, right in front of fellow American Andy Bayer, as the leaders clocked splits of 56.39 for 400m, 1:53.95 (56) for 800m and 2:50.59 (57.25) for 1200m.
33-year-old Aman Wote of Ethiopia, a three-time World indoor medalist over 1500m who qualified for last summer's Olympics but did not start his heat, was the clear leader by the bell lap and cruised home in 3:32.20, just ahead of a fast-closing Kenyan trio.
Centrowitz closed well to placed seventh in 3:34.83, just over a second off his season-best. Bayer was 11th in 3:36.85, a new season's best and two seconds off his all-time best.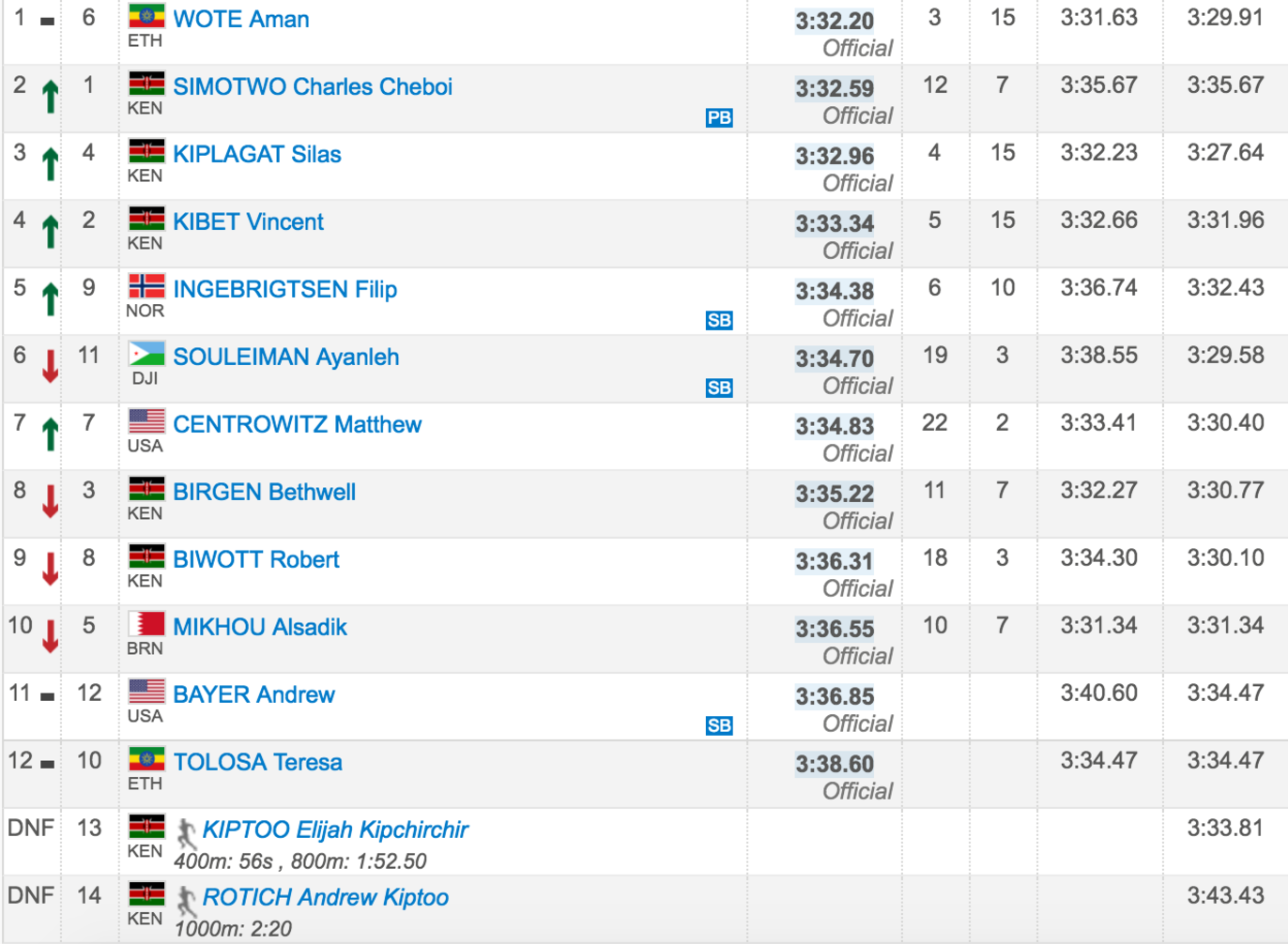 Christian Taylor Upset In Triple Jump By Pedro Pablo Pichardo, Who Has Defected From Cuba
Two-time defending Olympic champion and world champion Christian Taylor lost the triple jump for the first time since placing second at the 2016 U.S. Olympic Trials. (I'm not counting his 2017 USAs "loss" because
he purposely fouled out of the competition
). Taylor, whose season best is 18.11m, managed just 17.49m today. That mark, from Taylor's third jump, would be good enough for runner-up honors ahead of fellow American Will Claye and behind Pedro Pablo Pichardo, who led the entire competition and saved his best mark for last, landing a 17.60m season-best on his final effort.
Pichardo, who was forced to pull out the Olympic Games in Rio due to injury, recently defected from Cuba and will not be allowed to return to his country for eight years or represent Cuba at the World Championships. He disappeared from a team training camp in Stuttgart, Germany in April and reappeared a few days later in Lisbon, Portugal,
where he signed on to represent the Benfica athletic club
. It is unclear what country he plans to represent in the future, though local media suggests Spain is the top choice.
"Today was a magnificent day really," Pichardo said to the IAAF. "The win is a good feeling for my confidence. Now, my objective is to continue to work my mental and physical strength on a regular basis. I would like to thank my family and my team Benfica. My objective for the season is to go to the finals of the Diamond League in Brussels."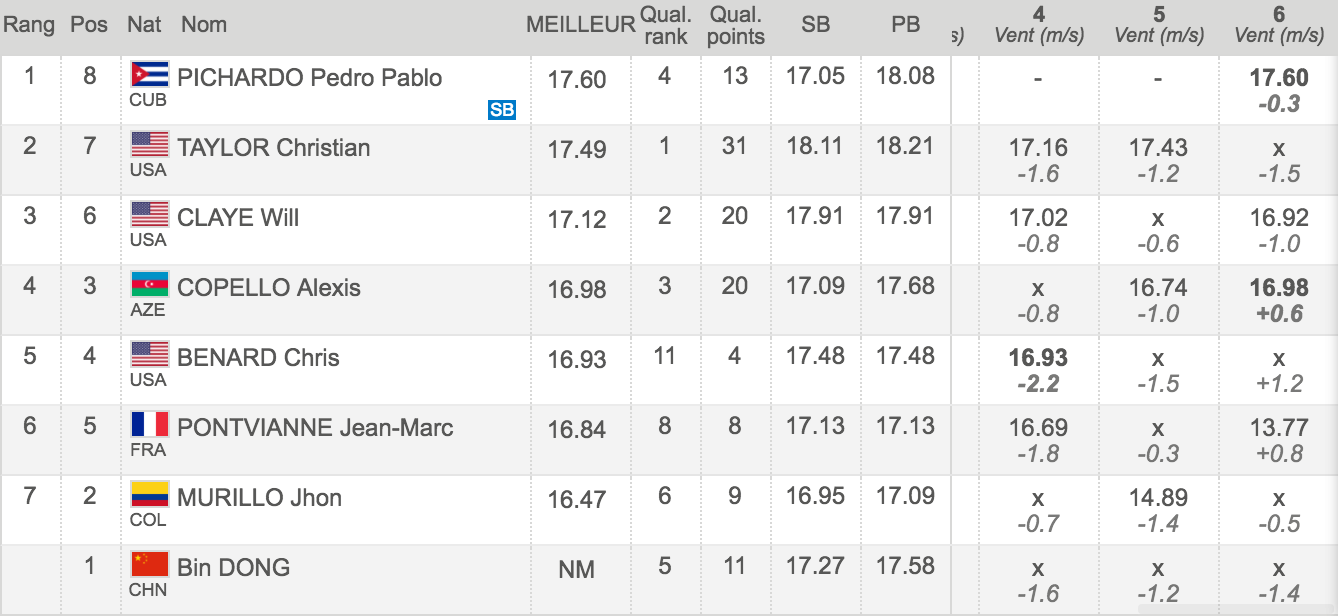 Favorites Justin Gatlin, Dafne Schippers Prevail In Short Sprints
The men's 100m featured a rematch from the July 4 track event in Hungary, where U.S. champion Justin Gatlin outran South Africa champion Akani Simbine, 9.98 to 9.99 (+0.9). But despite his detractors, the 35-year-old Gatlin has continued to improve his fitness as the season progresses and captured the win here with the strongest closing speed in 9.96.
Simbine was third in 9.99, as the Ivory Coast's Ben Youssef Meite just missed the upset win in 9.98, a season's best mark.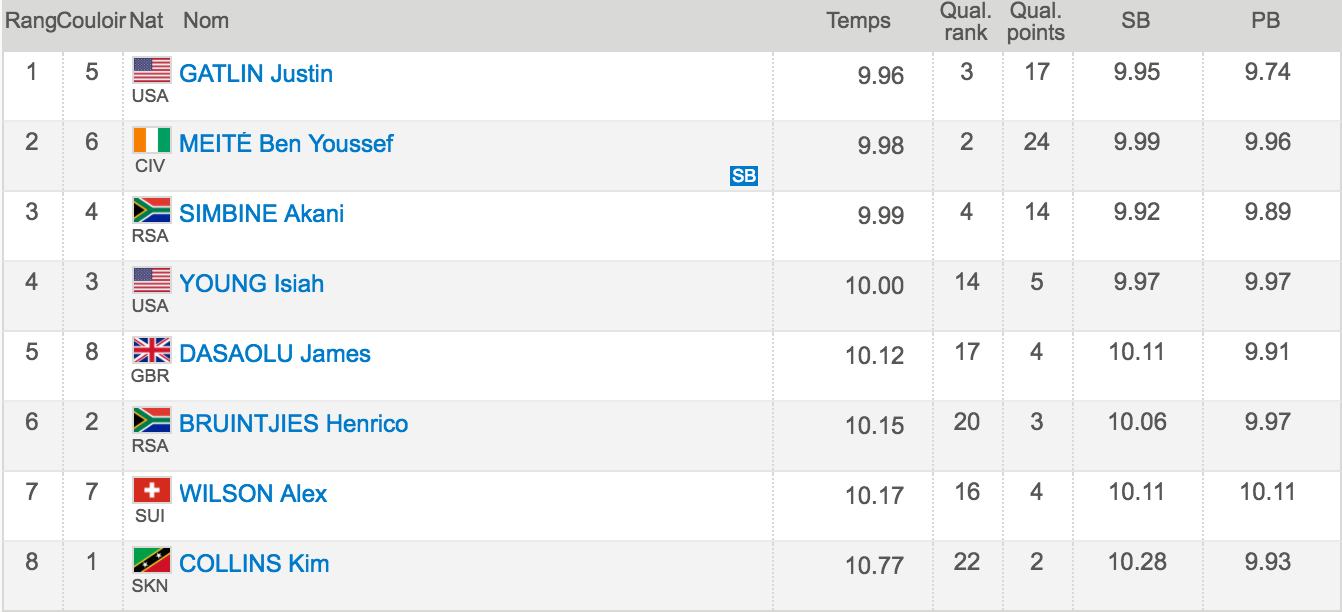 The women's 200m saw 2015 world champion Dafne Schippers lower her season-best from 22.29 to 22.10 (-0.5), the ninth-best time of her career. She has to thank Ivory Coast's Marie-Josee Ta Lou, who pushed her to the edge and was rewarded with a new national record of 22.16, a marked improvement from her prior season's best of 22.37.
With Rio Olympic champion Elaine Thompson of Jamaica having announced her intention to run only the 100m at worlds this summer and
Tori Bowie of the United States possibly doing the same
, the 25-year-old Schippers has an easier path to defending her world title and today's victory will provide confidence about her fitness to do so.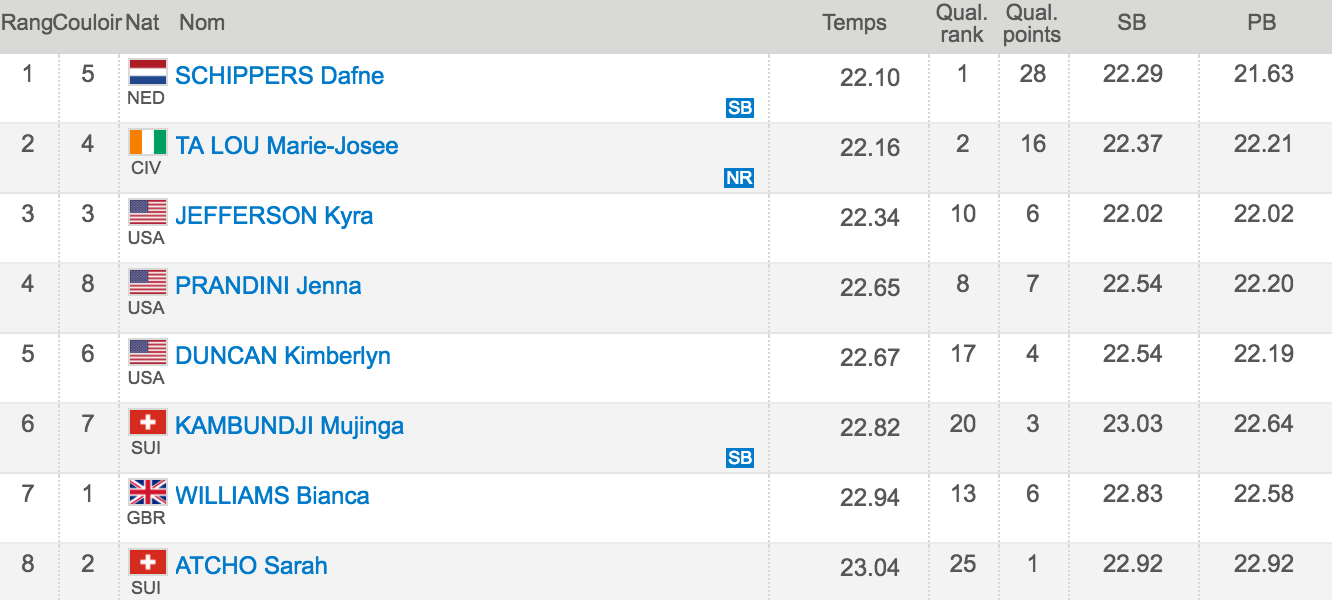 Women's Hurdles Provide Upsets, Mishaps
The first Diamond League event of the day was the women's 400m hurdles, featuring reigning Olympic champion Dalilah Muhammad, U.S. runner-up Shamier Little and Rio bronze medalist Ashley Spencer,
who finished in fourth and just outside of worlds qualification
at USAs in Sacramento.
It was Spencer who would earn some redemption in Lausanne today with a 53.9 win, her third time dipping under 54 seconds this season and the fourth time in her career. Muhammad,
who admitted to injuries after her win at the USATF Championships
, dropped out of the race before halfway. Little was in contention with 150m to go, but slowed in the final meters to place sixth in 55.10.
A rapid start to the trackevents! Ashley Spencer (USA) powers round the 400 hurdles from lane 6 to dip under 54 seconds in 53.90 #LausanneDL pic.twitter.com/Nrjc3iFixN

— IAAF Diamond League (@Diamond_League) July 6, 2017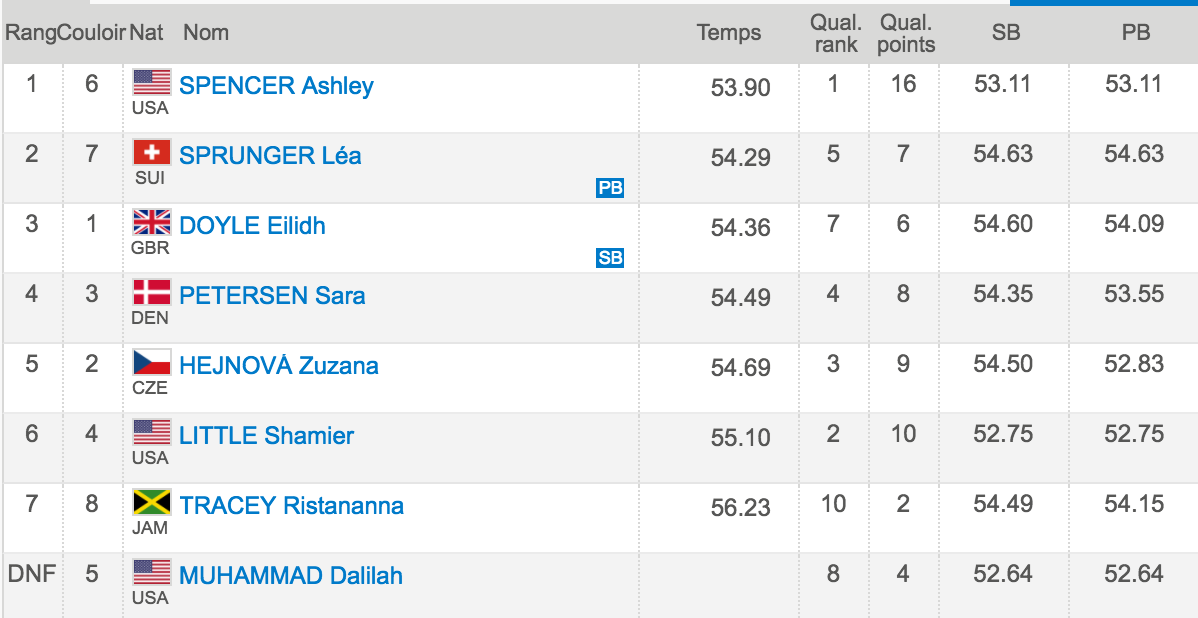 The women's 100m hurdles also provided fans with an upset.
The field featured six Americans, two of whom medalled in the Olympics last summer --silver medalist Nia Ali and bronze medalist Kristi Castlin-- and three of whom will represent Team USA in London alongside world record holder Keni Harrison: Ali, Christina Manning and Dawn Harper-Nelson.
But it was the other two women who would place 1-2 in Sharika Nelvis and Jasmin Stowers, who ran 12.53 and 12.57 to make up for disappointing showings at the U.S. Championships.
In the immediate aftermath of the race, Castlin was named the victor and given the winner's flowers for the camera, though Nelvis, Stowers and Manning had clearly run well ahead of the field. The results were later corrected on the webpage and Nelvis was given an on-camera post-race interview.
uh oh... Kristi Castlin awarded #LausanneDL win, but looks like she was just third on video replay https://t.co/eqbuyraPr9 pic.twitter.com/oTdQxHIL2d

— FloTrack (@FloTrack) July 6, 2017
Sharika Nelvis finally recognized as the winner #LausanneDL https://t.co/eqbuyraPr9 pic.twitter.com/eUJKtS84XS

— FloTrack (@FloTrack) July 6, 2017
"I am very happy with this victory today," Nelvis said to the IAAF. "When I crossed the line, I was actually surprised I wasn´t announced as winner, but it is all good now...and here come the flowers actually; that´s great.I did a season best, I am happy with that and the crowd was great to support.As I didn´t make the USA team for the Worlds, I definitely want to go for the Diamond this year. I want to keep on improving my time and show I am amongst the best even if I don´t compete in London."
Two funny things tonight in the Diamond League!! One Castlin stole my shine tonight and two a fan asked to kiss me in the mouth !!

— Sharika R. Nelvis (@Hurdle_Holic) July 6, 2017
If u ran to get those flowers as fast as u did that race.... we wouldn't have had any problems!! #teamhollywood https://t.co/NwRqHRvnoB

— KristiCastlin (@KristiCastlin) July 6, 2017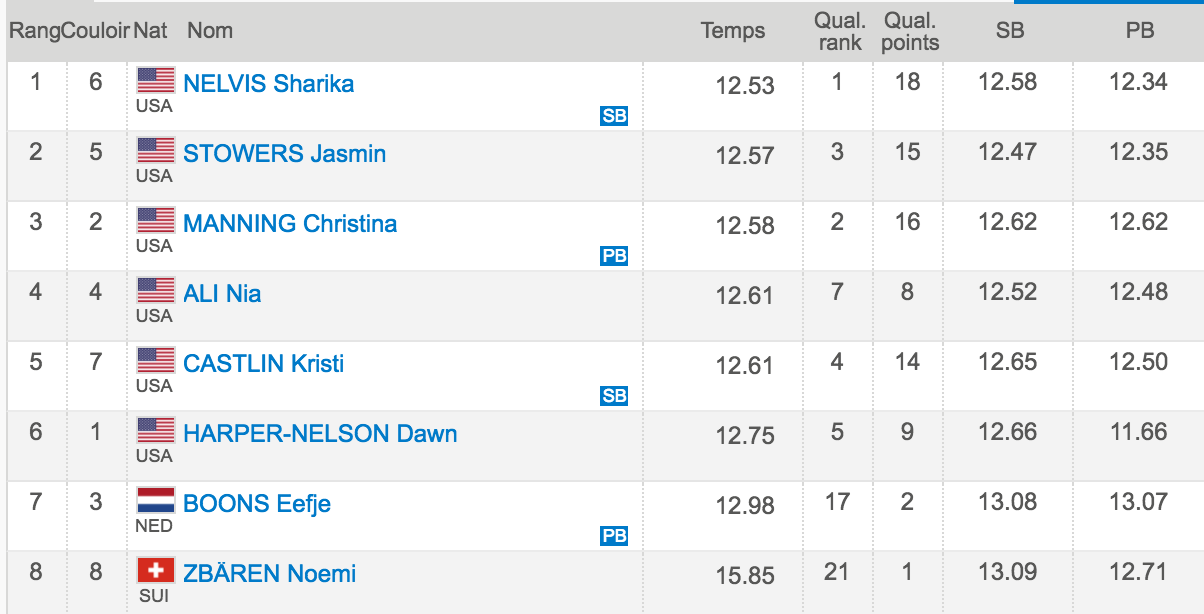 Read more event commentary in the
live updates here
.