2017 USATF Outdoor Championships
Sara Vaughn Gives Back Through Scholarship Fund For Young Parents
Sara Vaughn Gives Back Through Scholarship Fund For Young Parents
Inspired by her own experience, Sara Vaughn wants to give undergraduate parents the chance to earn their college degree. The professional runner is creating a scholarship fund to help pay for students' childcare costs at the University of Colorado.
Jul 12, 2017
by Taylor Dutch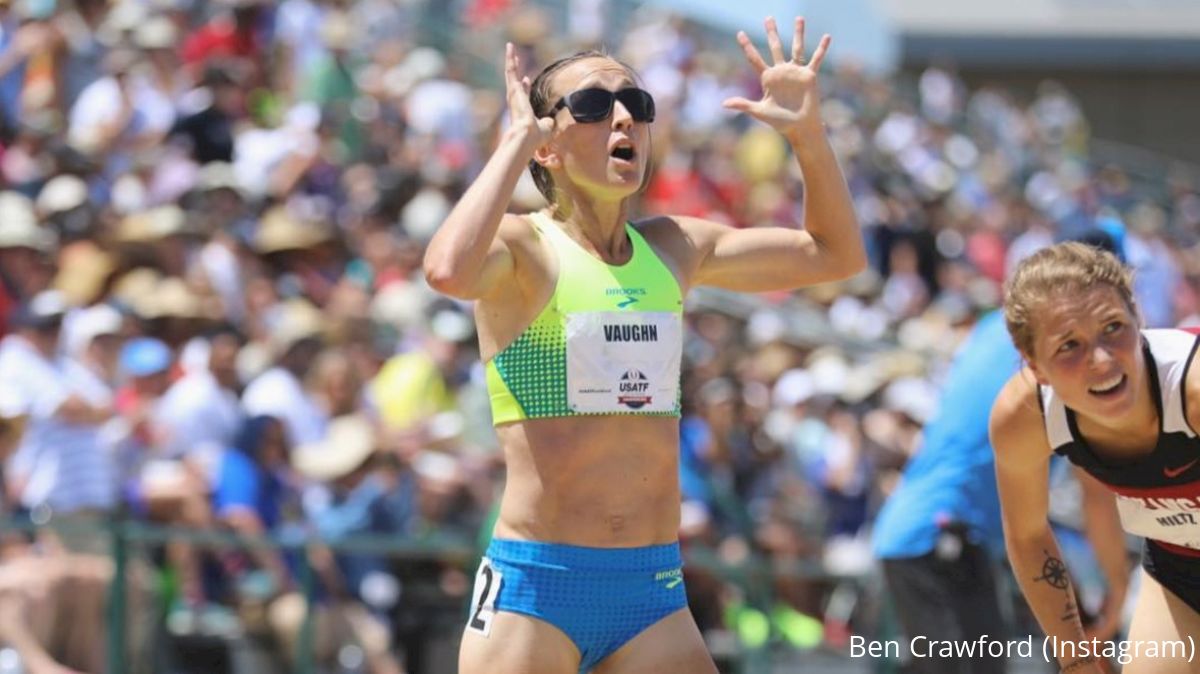 Storming down the homestretch of the 1500m final at the USATF Outdoor Championships in late June, Sara Vaughn had a now famous quote on her mind: "My turn." Her 2-year-old daughter's favorite phrase also served as the perfect mantra to help Vaughn secure a spot on her first world championship team.
Now Vaughn wants to give someone else his or her turn.
Inspired by her own experience, Vaughn wants to give undergraduate parents the chance to earn their college degree. The mother of three girls, full-time realtor, and professional runner is working with her husband, Brent, to create a scholarship fund to help pay for students' childcare costs at the University of Colorado.
The desire to create the fund began 10 years ago with the purpose drawing from the couple's own story of teamwork and resilience.
"I'm really excited to give somebody an opportunity to keep going, like we were able to," Vaughn told FloTrack in a phone interview.
Vaughn found out that she was pregnant with her first child, Kiki, when she was a college student running on the track team for the Colorado Buffaloes. The news came as a surprise to the couple, who were both on athletic scholarships.
Despite the many obstacles that lay ahead, Vaughn remained enrolled and trained throughout her entire pregnancy. Kiki was born in September 2006, just a few weeks into Vaughn's junior year. At the time, pregnancy was not considered an option for a medical redshirt. Determined to earn her degree and keep her scholarship, she did whatever it took to strike the balance.
"Busy is an understatement. We used to schedule our classes at different times for different days and we would hand Kiki off on campus between classes," Vaughn recalled. "I didn't sleep much for a couple of years, and it was really hard. I wouldn't recommend it or want to do it again, but at the time we were just doing what we needed to do."
In 2008, just after Vaughn gave birth, Division I adopted legislation preventing athletes from losing their scholarships for medical reasons the year they became pregnant. According to the
NCAA's Resources and Model Policies for Pregnant Student-Athletes
, "Student-athletes cannot be discriminated against in the event of their pregnancy… and they must be offered reinstatement to the same position after pregnancy as they held before the onset of pregnancy."
During the first semester, Vaughn remained enrolled in just enough units to manage motherhood and school. When asked if she ever questioned her return to competitive running, Vaughn was open about her initial doubts.
"Absolutely. I didn't know if women had babies and kept running. I had no idea," she said. "I was just kind of taking it day by day and doing whatever felt good. When it came to coming back, I was motivated by keeping my scholarship and trying to be a benefit to my team.
"I know there wasn't any pressure put on me by the coaches to perform by a certain date, but for me, it was 'OK, I'm on a full-ride scholarship, and I better show up and make it happen."
In her lowest moment, Vaughn turned to Colorado alum, two-time Olympian, and mother of four Shayne Culpepper, who reassured her that a return to running was possible. At the time, Culpepper had two kids and already competed at the 2000 and 2004 Olympic Games.
"She encouraged me that what I was trying to do wasn't completely crazy," Vaughn said.
Almost one year after Kiki was born, Vaughn posted a then-personal best of 4:19 in the 1500m and competed at the NCAA Outdoor Championships. In the fall of 2007, just after Kiki's first birthday, Vaughn became an All-American in cross country.
Since graduating from college in 2008 and running as a professional, Vaughn has competed in every U.S. championship with the exception of her pregnancy years (2010, 2015). She competed in the final round four times and finally earned the elusive podium finish this year.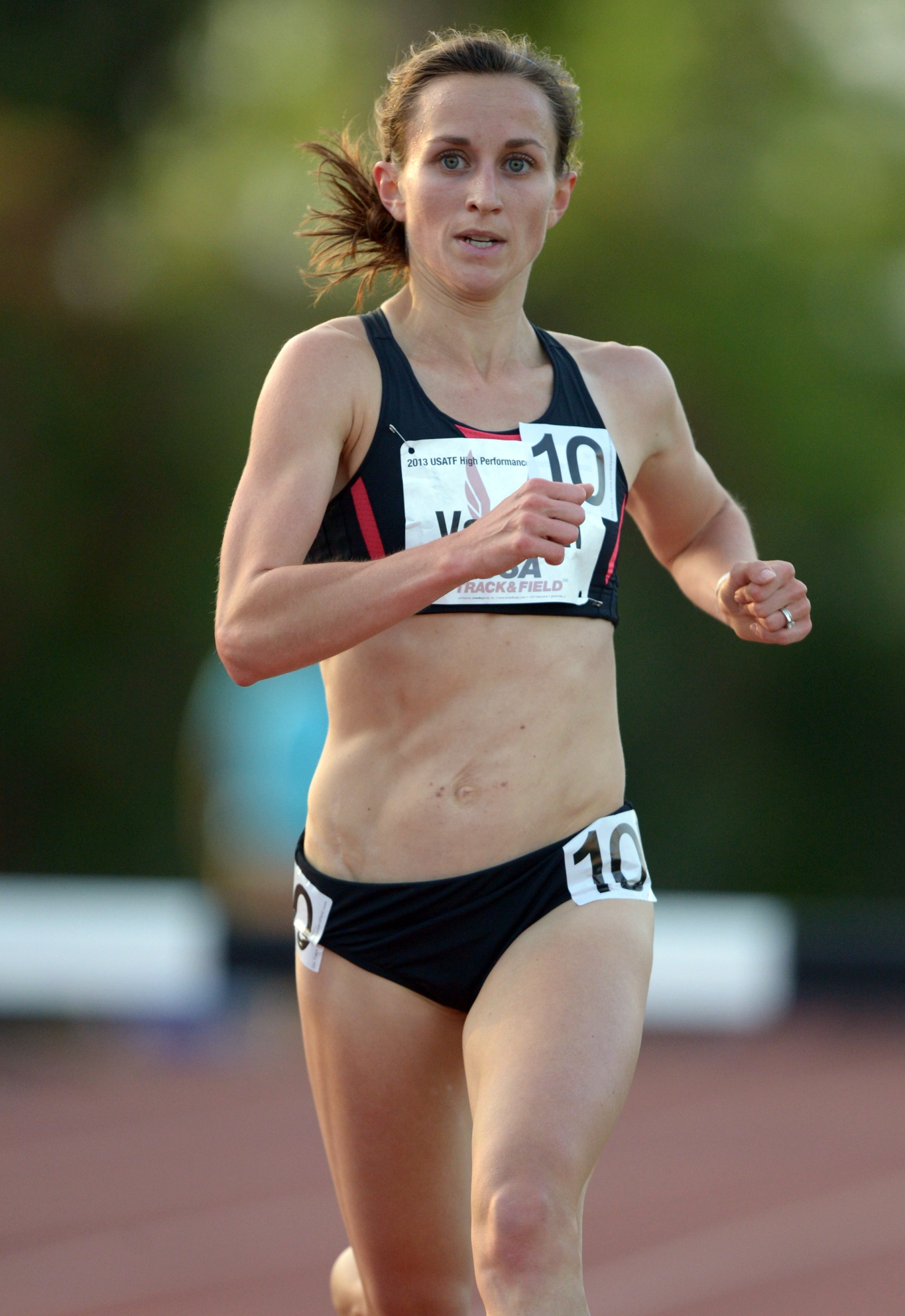 Looking back on juggling motherhood, school, and running, Vaughn is grateful that she had certain resources available to her. She and Brent earned scholarship stipends that were used to pay for a nanny. Brent's family lived nearby in Aurora, CO, and provided support. But ultimately, the experience was life-changing.
"The redshirt thing wasn't a huge deal, but it was the resources and the climate of being pregnant and having a baby on campus as an undergraduate that was tough," Vaughn said. "There wasn't a lot of baby care options for us so Brent and I want to start a fund to help pay for childcare costs."
Admirably, Vaughn was able to graduate in four years, but she is one of the lucky few. About 26 percent of undergraduate students are parents and less than one in 10 students with children complete a bachelor's degree within six years of college entry, according to the
Pregnant On Campus Initiative
.
With these statistics in mind, the Vaughns are hoping to eventually create a nonprofit as a resource for any parent who wants to pursue an undergraduate degree. For the past 10 years, the couple have been saving a portion of their income for the scholarship fund. They saved enough to open the fund, but they still need to raise $12,000-13,000 over the next five years. Vaughn plans to put all of the prize money she earns this year towards the scholarship.
It's been over a decade since Vaughn gave birth to her first daughter, and she is finally able to relish in the opportunity to compete for Team USA. It's her turn to compete at the world championships this August in London, and it's her turn to give more parents a chance to accomplish their dreams.