WATCH AAU JUNIOR OLYMPIC GAMES LIVE ON FLOTRACK
Since 1949, the AAU Junior Olympic Games have been a staple of American youth athletics, and being the largest participatory track and field event in the U.S., numerous AAU track stars have gone on to achieve success in areas off the track, either in sport or other careers. Here are some of the most famous AAU Track Alumni and a brief breakdown of their AAU and professional careers.
Claudia Jordan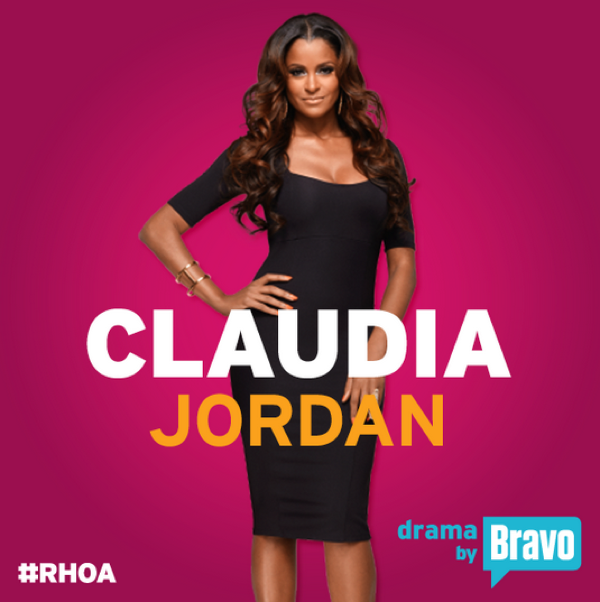 Claudia Jordan
may be best known for her starring role in
The Real Housewives of Atlanta
, being "fired" multiple times by Donald Trump on numerous episodes of The Celebrity Apprentice

, or perhaps co-hosting the Miss Universe 2009 pageant with Billy Bush,

but few know that she was also an all-state sprinter and long jumper from Rhode Island who competed in the AAU Junior Olympics.
Here's a picture of Claudia Jordan's result of 27.8 for the Junior Girls' 200m from the 1987 AAU Region 1 Championships, which was good enough to qualify her for the AAU JOs!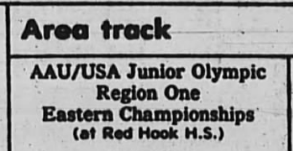 It looks like AAU runs in the family, as her niece, Camille Jordan, split a 2:25 800m at just 12 years old last Friday at AAU Club Nationals:
Six Members of the 2015 NFL Draft
In 2015, the AAU
did some research
into how many of the then-NFL draftees competed in AAU events as youths, and the results were surprising. Six members of the 2015 draft (#4 Amari Cooper, #26 Breshad Perriman, #29 Phillip Dorsett, #47 Eric Rowe, #70 Jaelen Strong, and #251 Tauren Nixon) were AAU alums, and their race results live on to today.
Of note, Phillip Dorsett competed in five events at the 2007 AAU Junior Olympics, with his highest finish being 7th in the Youth Outdoor Pentathlon with a score of 2614, and Jaelen Strong competed in at least the 2003, 2006, 2007, and 2008 AAU Junior Olympics, taking home a national title in the 2003 Boys' Sub-Bantam Long Jump with a 4.39m leap.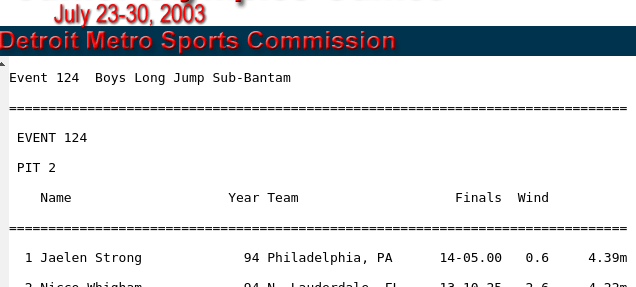 Robert Griffin III

RG3's accomplishments off the track are numerous, including winning the 2011 Heisman Trophy and being the #2 pick for the 2012 NFL draft, forging the way to a very successful career with the Washington Redskins. But almost as impressive were his accomplishments on the track as a youth, as he competed in five AAU Junior Olympic Games (2002, 2003, 2004, 2005, and 2006), winning back-to-back national titles in the Midget and Youth Boys' Pentathlon and High Jump from 2002-2003, followed by defending his boys' pentathlon title in 2004 and then moving on to winning the 110 hurdles (13.46 best) and 400 hurdles (49.56 best) boys' and young titles in 2006 and 2007. You don't have to dig far to find RG3's AAU results -- just look at the section labeled "National Records" in this year's Junior Olympic program, as his 15-16 and 17-18 National Records in the 400 hurdles still stand today.


Ezekiel Elliot

Being voted among the top ten NFL players of 2017
by the NFL Network
, Ezekiel "Zeke" Elliot has seen his fair share of success on the field with the Dallas Cowboys. But Zeke has also been tearing up the track since 2009, when he competed in his first AAU Junior Olympics and was national runner-up in the Youth Boys' short hurdles (14.07) and took 3rd in the Youth 200m (25.60), following those performances up by making the final in the 110m hurdles at the 2010 Junior Olympic Games.
​Watch Zeke get the silver medal in the 2009 AAU Junior Olympics short hurdles here:

These NFL stars are far from being the only notable AAU track alums -- Julian Edelman, Archie Griffin, and Jordy Nelson among others have also been noted as having AAU track careers as youths.