Create a free account to unlock this article!
Get Started
Already a subscriber? Log In
Olympic bronze medalist Galen Rupp and fellow Nike Oregon Project teammate Jordan Hasay are scheduled to compete in this year's Chicago Marathon on October 8, race organizers announced on Thursday. Rupp and Hasay lead a talented and diverse group of American marathoners entered in the race. Along with a stacked field up front, this year's competition will see a performance from 1984 Olympic gold medalist Joan Benoit Samuelson, who is 60 years old and will attempt to set an age group world record 32 years after winning the Chicago Marathon.
"Galen and Jordan are huge talents who have the ability to capture podium finishes," said Executive Race Director Carey Pinkowski. The last time we had an American male and female place in the top three together was 1996. And we have a deep field of Americans who can shake things up this year like Luke Puskedra, Diego Estrada, Sam Chelanga, Sarah Crouch, Becky Wade and Alia Gray, to name a few. And Joanie is a legend. To have Joan attempting a record in Chicago allows us the opportunity to celebrate her as an American icon and running legend."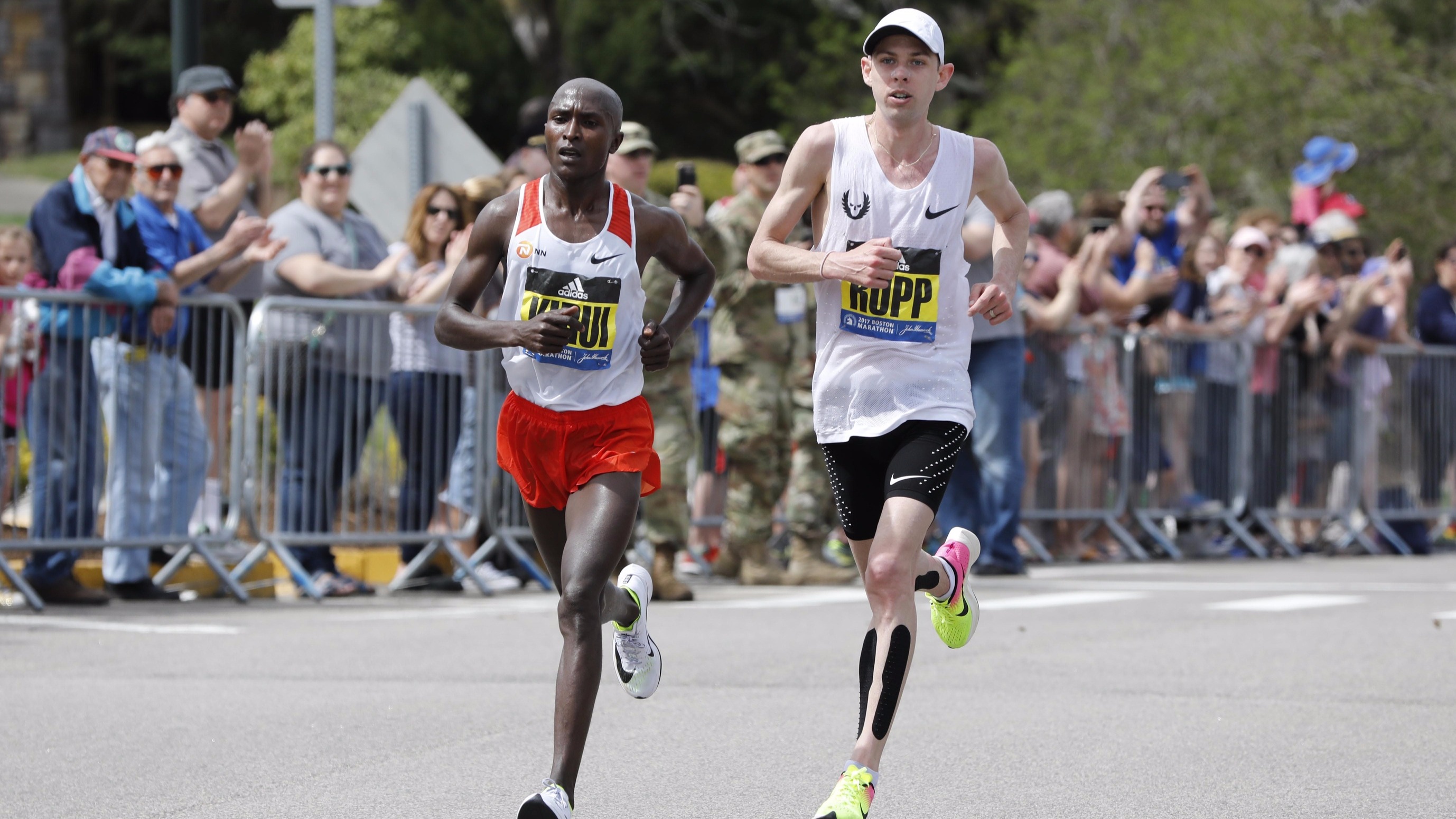 Rupp heads into Chicago after placing second at the Boston Marathon in April. The 2:09.58 performance was a personal best for the three-time Olympian who has made impressive strides in every race since transitioning to the marathon two years ago. In 2016, Rupp made his marathon debut at the Olympic Trials where he captured the victory and made his first Olympic marathon team. He followed the performance by completing the difficult 10K-marathon double at the Rio Games. He placed fifth in the 10K and third in the marathon, where he earned the second Olympic medal of his career. In June, Rupp attempted to make the world championship team on the track, but finished just off the podium -- fifth overall. The race marked the first time in nine years that he didn't win the national title in the distance. Although Rupp won't compete on the track at the world championships, his short transition to the marathon has already been historic for U.S. distance running.
Along with a stacked veteran lineup, the men's side features the much-anticipated 26.2 debuts of Chris Derrick and Noah Droddy. Derrick's debut follows an eighth-place finish in a tactical 10K at the USATF Outdoor Championships. Prior to the national championship, the Bowerman Track Club standout showed great promise on the roads when he ran a 61:12 personal best at the New York City Half Marathon in March. He was also an elite pacer in Nike's Breaking2 project last May. Derrick, who grew up outside of Chicago in Naperville, will be returning home for his debut at the distance.
Initially, Droddy caught the attention of track fans with his long hair, mustache, and sunglasses combination at the Olympic Trials. But Droddy later turned heads with his speed when he blasted a 61:48 performance at the New York City Half Marathon.
Sam Chelanga, Luke Puskedra, Diego Estrada, Jeffrey Eggleston, Aaron Braun, and Andrew Bumbalough will complete the strong men's field assembled.
On the women's side, Hasay leads the group after a historic breakthrough marathon debut in April. The Boston Marathon became Hasay's time to shine when she unleashed a third-place finish in 2:23:00 to become the
fastest American female to debut at the distance
. It was by far the fastest debut in U.S. history as Kara Goucher's 2:25:53 performance held the record for the past nine years. Prior to Hasay's run, Goucher and Deena Kastor were the only American women to debut under 2:27. The performance was not only breakthrough from a historic standpoint, but it was also a breakthrough from a personal standpoint. Six months earlier, Hasay lost her mother unexpectedly and
dedicated the debut to her memory
.
Hasay will be joined by marathon standouts Becky Wade, Dot McMahan, Sarah Crouch, Alia Gray, Michelle Lilienthal, Danna Herrick, and Kristen Heckert.
Benoit Samuelson is attempting to run a sub-three hour marathon at age 60. No woman at that age has ever completed the feat. Chicago is also the site of one of Benoit Samuelson's greatest past performances. In 1985, she set an American record of 2:21:21, which stood until 2003.