The
2017 IAAF World Championships
are right around the corner! Check out the breakdown of the men's 3k steeplechase below.
Men's 3k Steeplechase

When:
August 6, 4:05 AM CT (heats)
August 8, 3:10 PM CT (final)
Top International Contenders:
Conseslus Kipruto (Kenya),
Ezekiel Kemboi (Kenya), Soufiane El Bakkali (Morocco)
Team USA:
Evan Jager, Hillary Bor, Stanley Kebenei
2016 Olympic Steeplechase Final: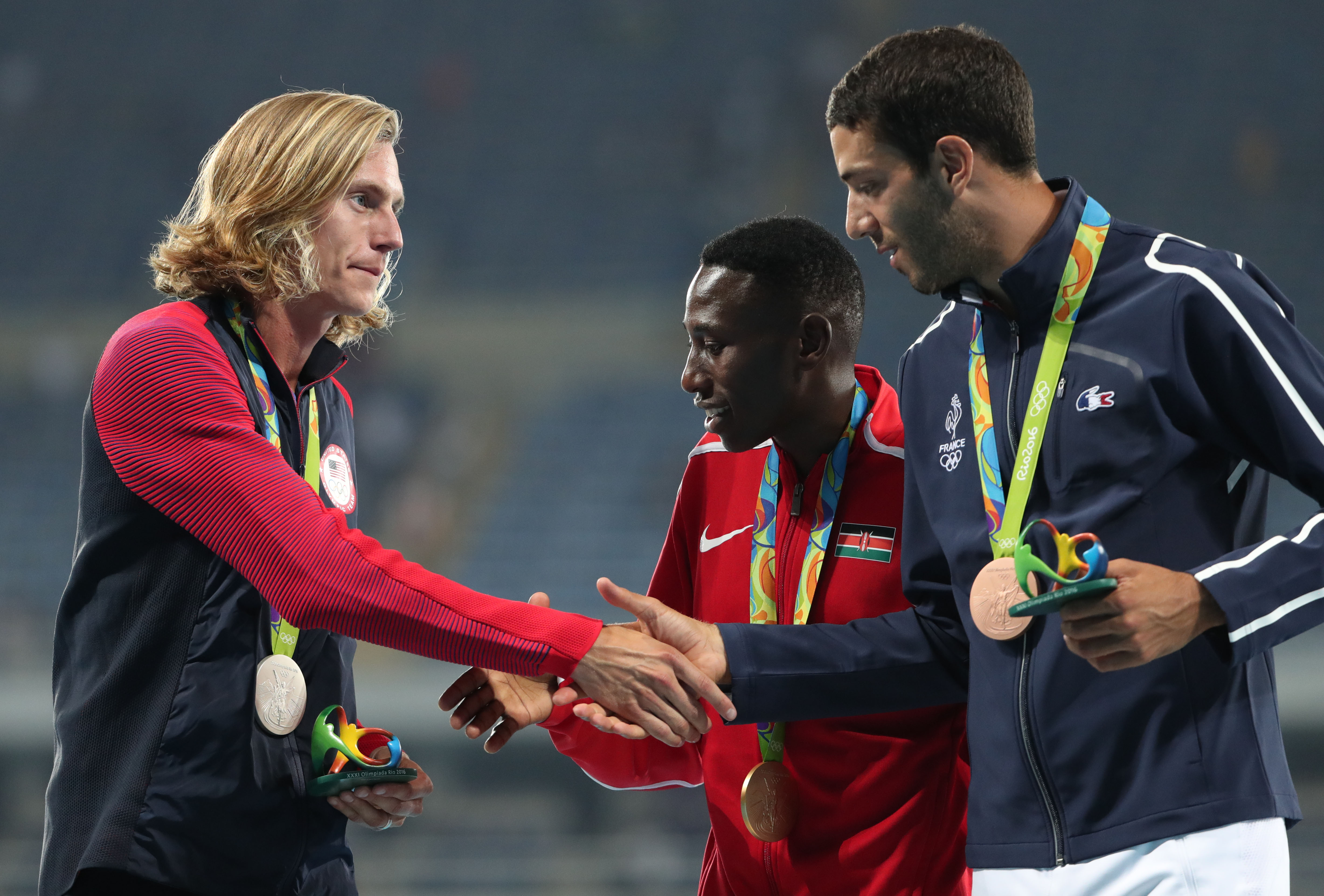 | | | | | |
| --- | --- | --- | --- | --- |
| PLACE | ATHLETE | COUNTRY | TIME | BACK IN 2017? |
| 1 | Conseslus Kipruto | KEN | 8:03.28 | YES |
| 2 | Evan Jager | USA | 8:04.28 | YES |
| 3 | Mahiedine Mekhissi-Benabbad | FRA | 8:11.52 | YES |
| 4 | Soufiane El Bakkali | MAR | 8:14.35 | YES |
| 5 | Yoann Kowal | FRA | 8:16.75 | YES |
| 6 | Brimin Kipruto | KEN | 8:18.79 | YES |
| 7 | Hillary Bor | USA | 8:22.74 | YES |
| 8 | Donn Cabral | USA | 8:25.81 | NO |
| 9 | Altobeli da Silva | BRA | 8:26.30 | YES |
| 10 | Matt Hughes | CAN | 8:36.83 | YES |
| 11 | Yemane Haileselassie | ERI | 8:40.68 | TBA |
| N/A | Ezekiel Kemboi | KEN | DQ (Originally 8:08.47) | YES |
*TBA - athlete's federation has not yet announced official roster for London
When we think of some of the most memorable performances of all time in our sport, it's usually because an athlete totally flips the script due to extraordinary circumstances in the race. Dave Wottle won
that fantastic '72 800m
because the field got out way too fast. Centro won his
metric mile gold
by making it the slowest Olympic final since 1932. Billy Mills upset the Olympic 10K field by running on
the outside lanes
which had more traction. There's a pattern here: When an American has a shot to win an international distance race, we hope for the field to get out differently than they usually do. We hope for a different race.
In 2017, the script is clear: Kenyans have a history of excellence at the steeplechase, owning over 700 of the history's top 1000 performances and being the only nation in any event to go 1-2-3-4 at the last World Championships in 2015. Being the favorite in 2017, Evan Jager is ready to flip that script. But what makes Jager's situation so special is that he can beat the Kenyans at their own game. No outside-lane-running, no tactical brilliance required. Jager can
run
.


As a 3:32 1500m, 13:01 5K runner, Jager is one of the fastest Americans in history, with or without steeple barriers. But he first demonstrated that he could truly do something special on the world stage at the 2015 Paris Diamond League, when he was less than fifty meters away from becoming the first American man to ever win a DL steeple, with a sizable lead over 2014 Diamond Race winner Jarius Birech, and on pace to crush the American record (possibly even threatening the world record) before this happened:
That moment seemed it may haunt Jager for the rest of his career, especially after a disappointing sixth-place finish at Worlds that year. But Jager persevered to earn a silver medal in Rio the next year, and in Monaco last week, Jager
finally got his DL win
in a nice World-leading time of 8:01 that cemented his place as the man to beat in London. Though he wasn't pushed in that race, Jager has also proven he can close with the best of them with an impressive 56.70 last lap over barriers at the U.S. Championships.
Jager has clearly got a lot going for him, but his path to gold will be far from a cakewalk. The only man who beat him at the Olympics, Conseslus Kipruto, is still declared for Worlds despite dropping out of each of his last three races. His injury status is still up in the air, but if Kipruto shows up in any sort of shape he will no doubt provide a formidable challenge for Jager. On paper, there's no reason to think Kenya's Ezekiel Kemboi should even be in this race with an SB of just 8:33, but with two Olympic golds and four world titles to his name, we've learned to never totally count him out. And there's one other Moroccan this year, Soufiane El Bakkali, who has been turning heads of his own, winning the Rabat DL steeplechase in front of his home crowd in an impressive solo 8:05 effort:
If Jager's fitness wasn't enough to get excited about, the two Americans that finished behind him at nationals -- Hillary Bor and Stanley Kebenei -- are also super fit and on the perfect day could maybe even challenge for bronze. Kebenei's 8:08 at Monaco places him fifth on the 2017 World list (and second all-time among Americans), and Bor currently sits at 10th but was seventh at the Olympics last year.
Coming in with the fastest time of the year, this one is Jager's to lose. He'll be hoping for a fast race in London to best capitalize on his fitness -- a strategy antithetical to that of just about every other American distance hope this year. But that's what's so special about Jager -- if he wins in London, there will be no ifs, ands, or buts about it.