2017 AAU Junior Olympic Games
Two AAU Records Means Tamari Davis Is Just Getting Warmed Up
Two AAU Records Means Tamari Davis Is Just Getting Warmed Up
Tamari Davis has already broken two AAU national championship records with four more races to go at the 2017 AAU Junior Olympic Games.
Aug 1, 2017
by Johanna Gretschel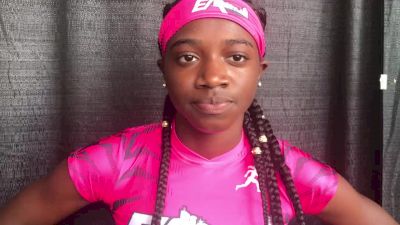 Meet Tamari Davis, one of the stars of this year's AAU Junior Olympic Games in Ypsilanti, Michigan. The 14-year-old from Gainesville, Florida, has broken two AAU national championship records in her age group in as many days here at Eastern Michigan's Rynearson Stadium, clocking times of 11.48 and 23.26 in the preliminary rounds of the 100m and 200m.
The 100m time bested the former record of 11.66, set by Alicia Burnett of Missouri one year ago, and the 200m mark eclipsed one of the longest-standing AAU national championship records, as Njeri McGee of California ran a hand-timed 23.1 in 1985. We ranked the 14-year-old girls' 200m as one of the most impressive marks in the entire AAU national championship record book.
Watch Tamari Davis break the AAU National Championship record for 100m:
Davis' times aren't a shock, as she boasts personal bests of 23.21 and 11.34. The former was set at the Prefontaine Classic, where she outran a field of the nation's top high school recruits at the historic Hayward Field, and the latter was set at the Florida Middle School State Championships, because -- believe it or not -- Davis only just finished the 8th grade.
Her 200m personal best is the world age group record for 14-year-olds.
"When I was warming up, my coach told me (to) stay in the inside of lane three, pass the girls by the 60m mark, and come up in my drive phase, work on my form, knee lift the whole way to the finish line so I can get a record," Davis said of the 200m.
Davis trains with Gary Evans of Empire Athletics Track Club, who also coaches professional athletes for adidas.
"He helped me to push out my blocks in the 100m," Davis said of what she has focused on with Evans. "And in the 200m, to work hard off the curve and pass everybody at the 20 or the 30 and just do good on the straightaway to the finish line."
"Every year I come out here, I want to get better and better and break more records, which I did today and yesterday," Davis said after her 200m record. "I want to progress and break more in the semis and finals."
Expect Davis to stay true to her word and improve those times. She knows a thing or two about setting AAU national championship records, as she now owns six total all-time marks. In addition to the records set so far this week, Davis is also the record-holder for the eight and under girls 100m (14.07), 12-year-old girls 100m (11.92), 13-year-old girls 100m (11.87), and nine-year-old girls 200m (27.75).
We talked to Tamari Davis after she broke the AAU National Championships record for 100m in the prelims:
How to Watch The 2017 AAU Junior Olympic Games
On TV: Available on Roku and Apple TV 4 — download the FloSports app now.
Streaming: Only on FloTrack with a PRO subscription. A yearly PRO subscription provides access to ALL FloSports sites. JOIN NOW

BONUS: Yearly subscribers on any of our sites get access to all premium content throughout our network. On MileSplit.com, Universal subscribers get premium access to all sites. Existing monthly subscribers can upgrade to an annual subscription in their account settings.
MileSplit now offers Club Rankings, the definitive guide to the 2017 boys and girls outdoor leaders in every track and field event.
Get all the hype!
Sign up for the FloTrack newsletter for instant access to: Breaking News, Results, Rankings, Archived Race Footage, Live Broadcasts and more!