2017 AAU Junior Olympic Games
Seth Norder Rises To AAU Title With Help From Olympian Coach Paul McMullen
Seth Norder Rises To AAU Title With Help From Olympian Coach Paul McMullen
AAU Junior Olympic Games champion Seth Norder is aided by track coach Paul McMullen, a 1996 Olympian and Eastern Michigan legend.
Aug 3, 2017
by Johanna Gretschel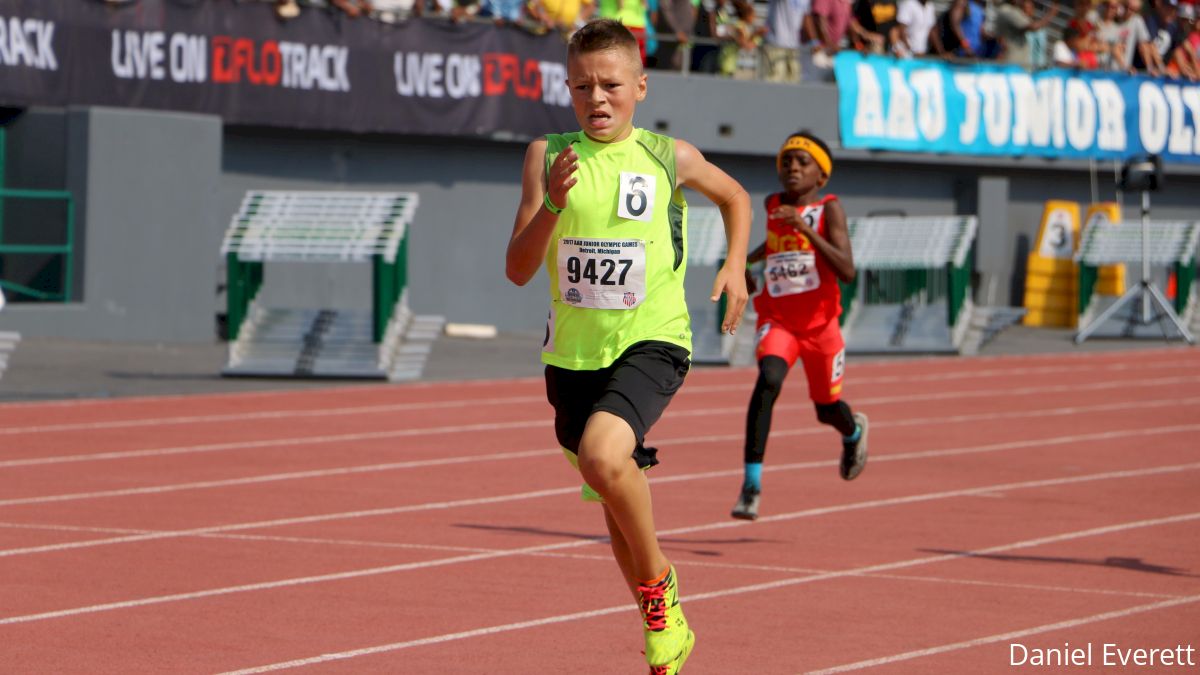 When Seth Norder was three years old, his favorite book was one from the Berenstain Bears series. His mother, Karen, says the book's plot involved the family of friendly bears throwing out all the junk food from the house and competing in a local road race, complete with a finish line tape and a trophy as prize.
"Mom, when can I run a race? When can I run a race?" Seth would bug his mother until, finally, at four years old, he was deemed old enough to participate in a one mile fun run.
"He was four years old and he never walked or stopped," Karen remembered. "That's when we knew . . . he was something special."
Seven years later, Norder is an AAU national champion.
He won the 11-year-old boys 1500m title yesterday in Ypsilanti, Michigan, with a personal best of 4:47.36 over Devin Jones of Miami Gardens Xpress. The day before, Norder placed seventh overall in the 800m -- good enough to make the medal stand -- after entering the event ranked No. 17 overall and winning the unseeded section by three seconds with a swift 2:21.35.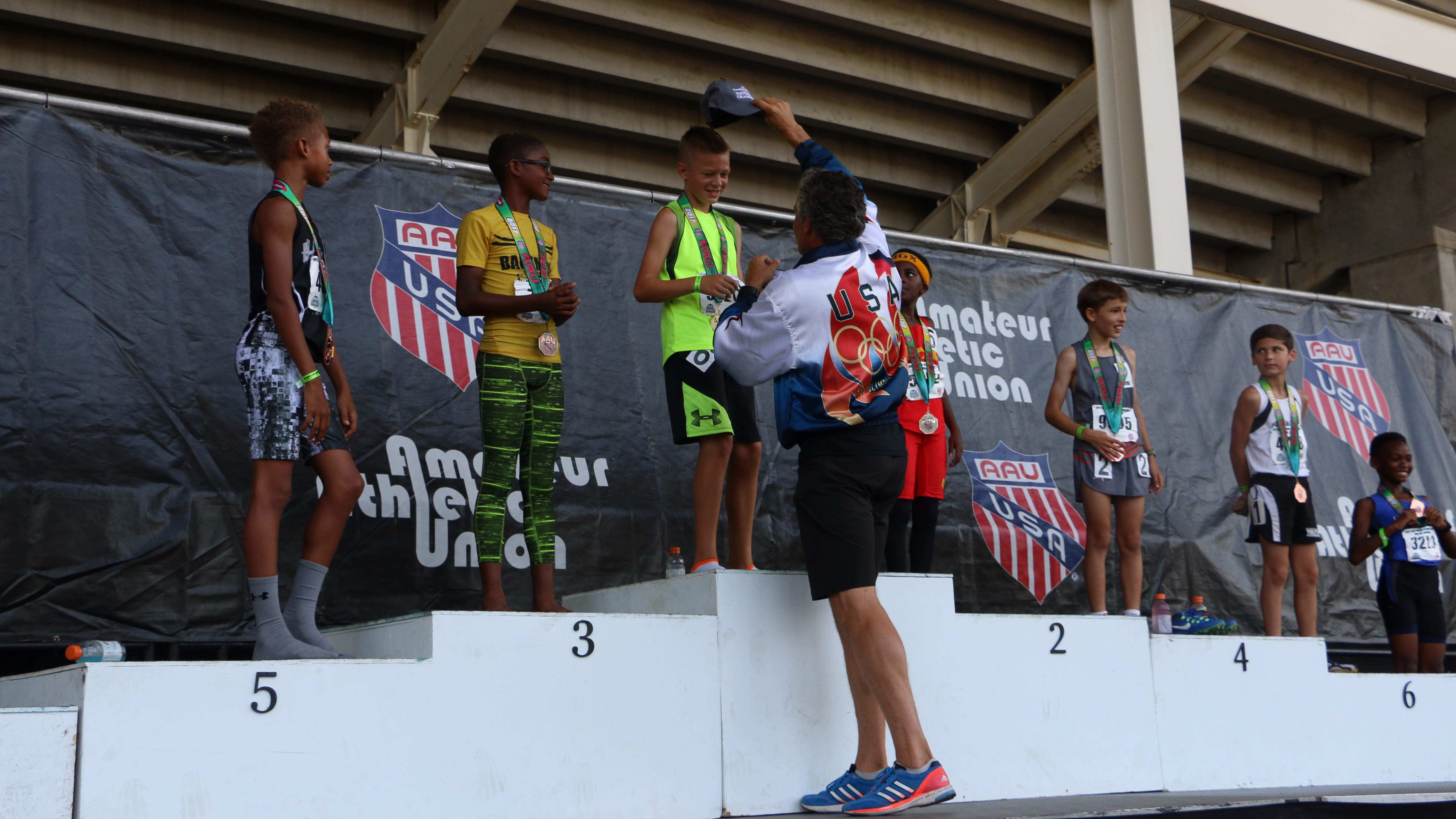 ​Paul McMullen presents Seth Norder with his first-place award.
Norder, a Michigan native, trains with the Chariots of Fire Track Club, which is coached by Paul McMullen, a former professional middle distance runner for Saucony and the Coast Guard who won his first of three U.S. national titles in the 1500m in 1995, 11 years before Norder was born.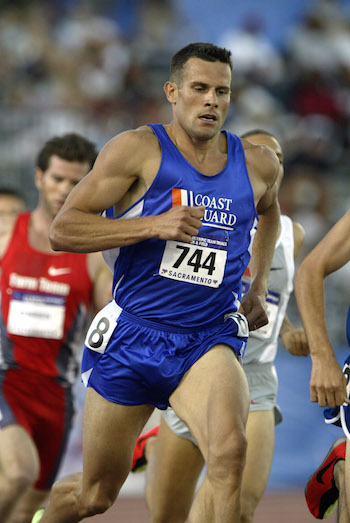 McMullen was an eight-time All-American for Eastern Michigan, the same university that is hosting this year's AAU Junior Olympic Games. He won the U.S. Olympic Trials in 1996 and advanced to the semi-finals of the 1500m at the Atlanta Games.
"It's really cool," Norder said when asked what it's like to be coached by an Olympian. "He keeps everything fun. We run in the sand dunes, play in the water, go up Bigfoot Trail which is a quarter mile up stairs and down stairs."
McMullen, who started the group in the fall of 2015 when he noticed potential for track success in some youth soccer players, is a firm believer in using "the running style of play" as the main training base for young athletes.
"Seth is the national champion in the 1500m and his average miles per week is nine," McMullen said. "We play a lot of tag games where the kids are matching their speed against each other bare feet in the grass. We go on a lot of what's called 'adventure runs,' where we run three miles over an hour and stay away from pavement. We run through the water in Lake Michigan on the sandbar to develop resistance for sprinting and teach us how to raise our knees high."
​Seth Norder reacts to his 1500m national title:
Norder is an active kid who also plays midfield on the soccer team and small forward on the basketball squad, the latter of which he says is still his favorite sport. When he has time, he also likes video games, namely NBA 2K.
McMullen is new to coaching youth athletes and 2017 is his first time bringing a group to the AAU Junior Olympic Games. He may be an Olympian, but he's quickly learned that age group championships are an entirely different beast in terms of race tactics.
"They're not running like a typical trained athlete," McMullen said of the rising stars racing in Ypsilanti. "There's more of an expression of speed, if you will, in the first 400 meters. What I recognized is that they go out in the first 100m at below four-minute pace, which is amazing! So my athletes, preparing them for the strength they're gonna need coming down the homestretch, I have them allow that natural excitement and speed to burn off in the first 400m and then slowly work their way through the pack. [Seth] may be 6-7 seconds down in the first lap but he slowly keeps coming and coming."
​Olympian Paul McMullen explains his training philosophy for youth athletes:


And that's exactly what happened. While the early leaders of the 11-year-old boys 1500m torched the opening quarter in 67 seconds, Norder bided his time in the very back of the pack, instantly distinguishable in his neon yellow singlet.
During the race, McMullen -- having promised me an interview after he watched his athlete -- turned to me and said, "Just watch this. You're about to see something very special.
"And this isn't about a special coach, he's a special athlete."
Speedster Jones of MGX dictated the pace up front while Norder patiently picked off athletes one by one.
"'Just trust the method and you can try, you still have three more laps,'" Norder said he told himself after running the opening 400m well behind the leaders.
With 500m remaining, Norder caught Joseph Socarras and Jones. At the bell lap, he made his big move -- but still left enough in the tank to ensure a kick over the homestretch to stay ahead of Jones, who would place second with his own hard-fought kick, and Brendan Johnson of Baltimore City TC, who made up the most ground over the final 400m.
​Watch Seth Norder win the AAU Junior Olympic Games 11-year-old boys 1500m:
Karen Norder said her family wasn't aware of McMullen, an area Olympian, before a friend advised her to have Seth join the Chariots group.
"We knew since he was four that he had something special," she said. "We hoped he maybe had this ability, to win an event like this, but we weren't sure. We didn't have any knowledge of the sport, really, until Paul came along."
How to Watch The 2017 AAU Junior Olympic Games

On TV:
Available on Roku and Apple TV 4 -- download the FloSports app now.
Streaming:
Only on FloTrack with a PRO subscription. A yearly PRO subscription provides access to ALL FloSports sites.
JOIN NOW

BONUS:
Yearly subscribers on any of our sites get access to all premium content throughout our network. On MileSplit.com,
Universal subscribers get premium access
to all sites. Existing monthly subscribers can upgrade to an annual subscription in their account settings.
MileSplit now offers Club Rankings, the definitive guide to the 2017 boys and girls outdoor leaders in every track and field event.
Get all the hype!
Sign up for the FloTrack newsletter for instant access to: Breaking News, Results, Rankings, Archived Race Footage, Live Broadcasts and more!